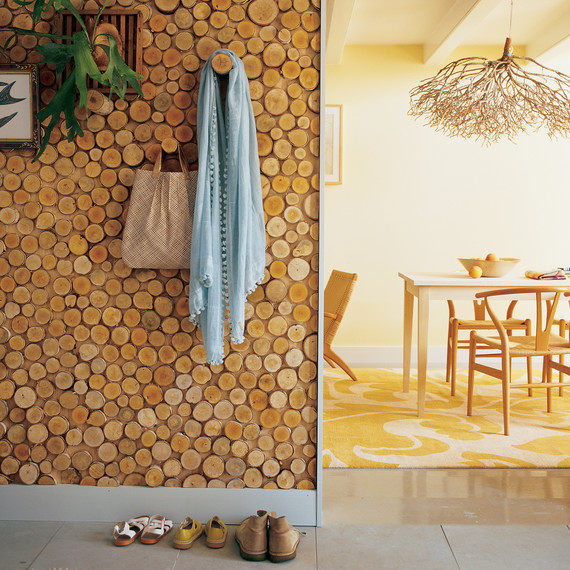 What differentiates a wall "covering" from traditional wallpaper?
Wallpaper implies a flat sheet with a pattern on it. That can be fun, but it's not all that's out there! A wall covering could be a wood veneer, grass cloth, patterned upholstery, rubberized coating.... It can be solid in color, but it adds dimension and personality to the space.
Where are the best spots in the home to do a wall covering?
Large rooms without a lot of architectural interest. It's an affordable, elegant way to add depth without going the molding route, which can look bland or cheap if not done well. Particularly in newer homes, where you're surrounded by Sheetrock in all directions, a wall covering can really make a room feel vibrant.
I love an upholstered dining room. It muffles sound and makes the space feel more intimate. I don't use a lot of tablecloths and don't always want to do a rug -- say, in a breakfast nook where there's a toddler throwing Cheerios -- so it's nice to bring in fabric another way to keep that warmth and coziness.
And remember that the room will determine what kind of wall covering works best. A bold, heavy wall can be perfect for something like a guest room or a powder room, where you don't spend tons of time. Then you can keep it cleaner in high-traffic areas, where anything too over-the-top might slowly drive you insane.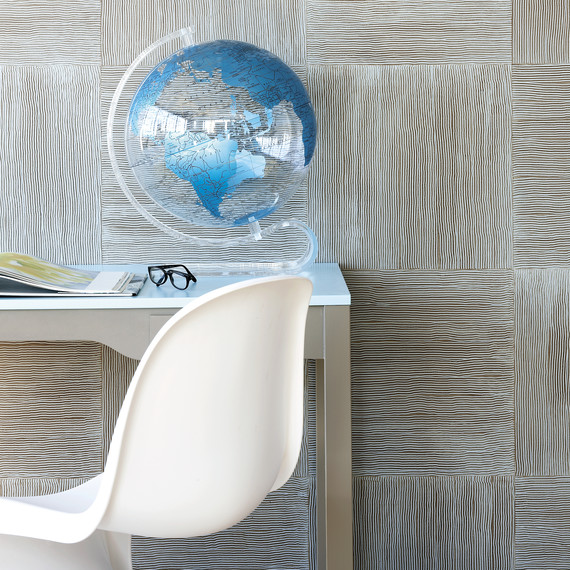 What advice would you give someone who is hesitant to try this look?
Strangely, holding a bunch of patterned thumbnails in your hand can be more overwhelming than seeing it in the actual space. If you're just doing one wall, or one panel, the proportion is very different.
People are more willing to take risks in fashion than in design because you can experiment, try things on in front of a mirror very quickly, and say "too much" or "not enough." With a room, people think, well, what if we don't like it? Then we have to live with it! It's true that the commitment of a wall covering is significant compared with paint, but it can bring the room to a level paint will not.