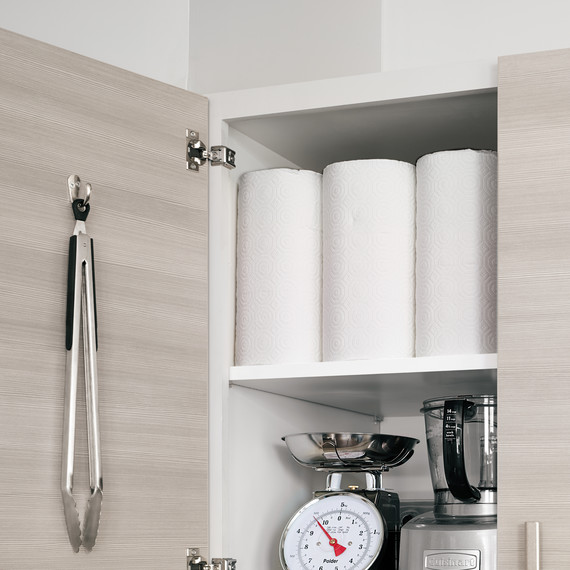 An extra pair of (extra-long) hands. Kitchen tongs, which can hang out of sight on the inside of the door, make hard-to-reach items a nonissue. This genius hack forever changed how I think about storage. While you'll want to keep items you use every day in fingertip range, there's no reason bulk and specialty items can't be stashed up and away. And with those tongs, you can reach any of it at any time.
Mirrored backsplash. Tile, who? Mirrors wipe off easily, make small rooms seem larger, and give off a modern, polished vibe. I can't imagine a more perfect backsplash.
Hidden appliances. Keep your toaster, coffee maker and even your refrigerator behind closed doors -- perfect for those with limited counter space (or a penchant for clean lines). Installing electrical outlets under or inside the cabinets means you can have your coffee and your elbow room, too.
Felt drawer divider. Plastic inserts, while easy to find at stores, don't always fit the drawer or the silverware. Industrial felt can be customized to fit your drawer's specific dimensions -- and it looks a lot sleeker too.
Pantry art.  Let your pantry play home to a floor-to-ceiling bulletin board that provides inspiration, memories, and a creative outlet for the family. I love the idea of designating a walk-by space that's easy to reach, but won't dominate the whole room.