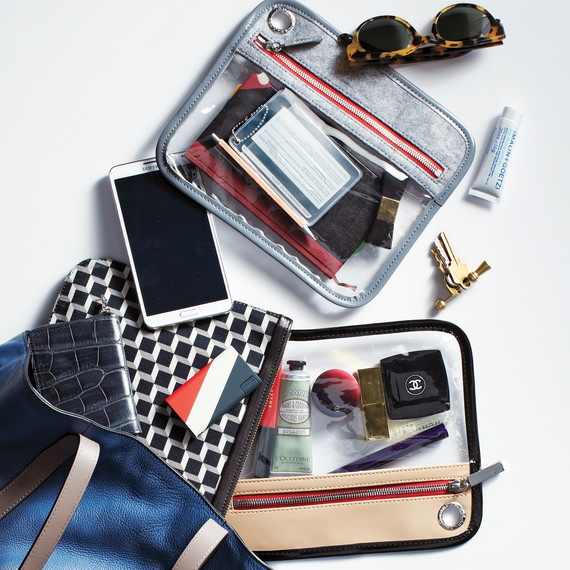 Handheld planner: Work meetings, doctor appointments and soccer games -- how will you keep track of it all? Most of us use our mobile devices to keep on schedule, but in the event that your phone dies of low battery with no plug in sight, you'll still be able to stick to your commitments and not be late by a minute.
Wallet: This holds your driver's license and identification, credit cards, insurance cards, checkbook, and cash. Preferably, choose one with lots of sleeves and pockets to further compartmentalize your handy guides, notes, and receipts.
Makeup bag: This carries your favorite beauty items (like your go-to red lipstick, eyeliner, or blotting wipes), feminine products, bobby pins, hair ties, Band-Aids, and a roll-on perfume vial or sample-size spray bottle.
A pen: How often have you been caught without one? Always at the worst of moments. Carry one with you to write down a reminder or jot down an important note.
Phone case: Inside this convenient carryall, hold your cell phone, keys, and any other assortment of indispensables.
Mending kit: Uh-oh. A loose button? A snagged sweater? A torn seam? You may already have a main mending kit assembled for these kind of household chores, but it's a good idea to keep on hand when you're out and about. Pack a travel-size case including thread and needle for mending small tears, spare buttons for replacing lost ones, and a small pair of scissors for clipping threads.
Tissue pouch: Remember the golden rule of stain removal: Blot, don't rub. To spare your blouse from a pesky wine stain from settling in, spare of tissues are always a lifesaver.