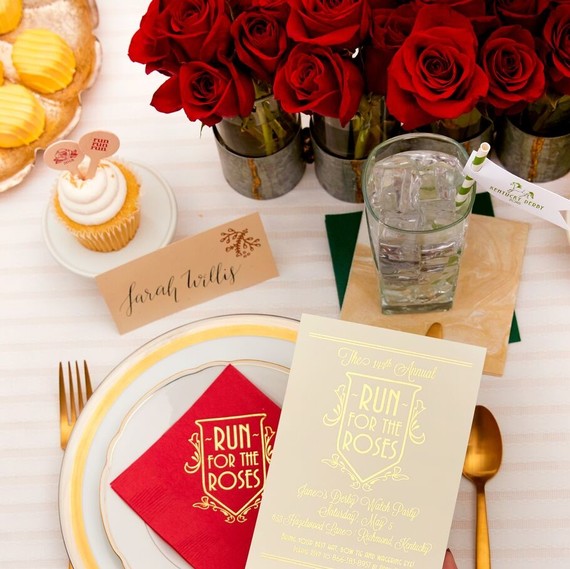 Spring ushers in warm weather, fresh flowers, and perhaps the biggest event of the spring season: the Kentucky Derby. Not only is it the most esteemed horse race in the country, it's called "The Most Exciting Two Minutes in Sports." And these two minutes of intense suspense have led to days of fun fêtes. No need to make the trip to Churchill Downs in Louisville to experience the Derby. Courtesy of Sari Mintz, founder and president of For Your Party, here is how to host a celebration of your own with a few well-chosen Southern staples: a beautiful bar of mint juleps, a fanciful hat, rosy decorations, games for guests to place their bets, and of course—some Southern hospitality.
1. Don Your Derby Best
Start with a Derby-themed dress code. This weekend, more than a hundred thousand spectactors will attend the Derby suited in seersucker and pastels, and parading in oversized, over-the-top hats. And why should present company be excluded? Invite your guests to come dressed in their Millionaire's Row best. "After all, is it really the Kentucky Derby if there are no hats to envy?" Mintz remarks. "Be sure to include this note on your invitations." For the guys—think pastels, bright colors, and blazers. This is the perfect time to break out fresh khaki pants and a pair of worn-in, but attractive, loafers. For the ladies—a statement spring hat or fascinator is a must. (And of course, it doubles as a great conversation starter.) Since it tends to be warm, look for clothes made of linen and cotton. These fabrics will breathe and help you stay cool all day.
[DON'T MISS: Our DIY Derby-Inspired Hats and Headpieces]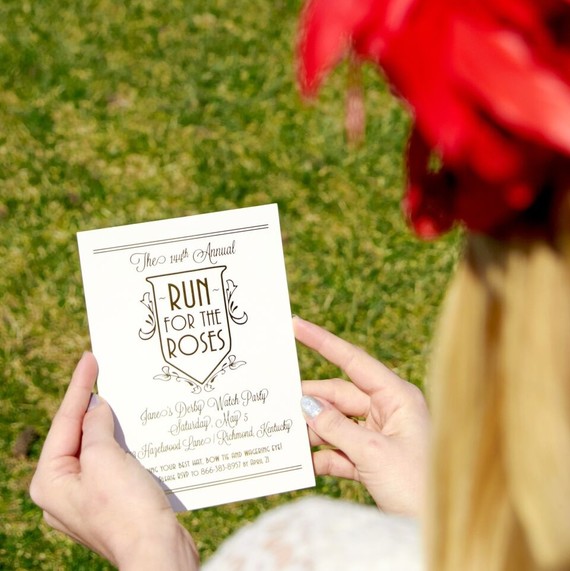 2. Personalize the Details
Your guests are dressed in formal attire, so it's only fitting that your space suits up accordingly. Take your cue from the Kentucky Derby's nickname, "the Run for the Roses," and decorate with the iconic flower. Here, red rose stems are clustered into galvanized-metal glasses for a extravagant centerpiece. Serve personalized touches at the place settings: foil stamped napkins, place cards in handwritten calligraphy, and marbleized coasters will give the table a pop of color.
3. Help Them Make Memories
Keep things interactive: "Put a few Polaroid cameras on the tables or bar cart for guests to take quick photos of their fabulous hats and festive cocktails." In Mintz's words, give them something to snap about. "Let's face it, these days people love 'Instagram-worthy' parties they can share on social media," she says. "Give guests their moment by topping each classic mint julep with a Derby-themed straw tag."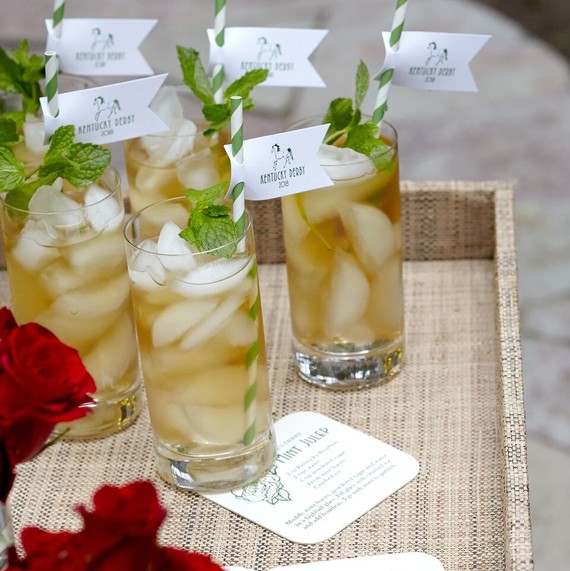 4. Serve a Surprise with the Signature Cocktail
And these bourbon beverages? It goes without saying: The mint julep is the undisputed libation of choice at the Kentucky Derby, best served muddled with mint leaves. For large crowds, opt for a big batch cocktail recipe. For a more intimate guest list, encourage them to visit your well-organized bar cart and serve themselves. Encourage guests to mingle and make the day interactive (beyond the "most exciting two minutes in sports") with Mintz's go-to? Recipe coasters for guests to mix up their very own mint julep. "The coasters are reusable, so they can act as themed party favors, too," she says.
[LEARN: 3 Julep Cup Decorating Ideas for Derby Day]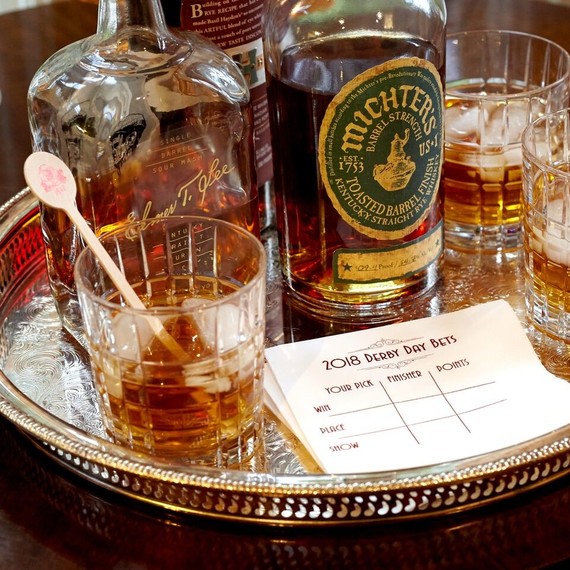 5. Pair Your Drink With a Game
Mint juleps aside, keep the bar well-stocked for Derby Day for other tastes. Think a Sour Cherry Old-Fashioned, Peach and Blackberry Muddle, and Citrus Arnold Palmer with Bourbon—the traditional lemonade and iced tea combination spiked with bourbon and a hint of orange. Another essential bar cart accessory, according to Mintz? Bet cocktail napkins! It works on two levels: "Pay homage to the Derby tradition of a day at the race track and entertain your guests with ease."
Entertaining outside? Watch this video for more ideas: