It's that time again; you're thinking about dinner and what to cook. So here's our weekly list of suggestions: dinner recipes that take less than an hour of mostly hands-off time. Some recipes will be much faster than that. We'll suggest what you can do to prep ahead and cut down on weeknight work. Recipes will be family-friendly, but we'll stretch the boundaries beyond chicken tenders and broccoli. Yes, there will be pasta, and, yes, it will be delicious. So visit us every week for dinnertime inspiration.
Monday: Baked Eggs in Whole Roasted Tomatoes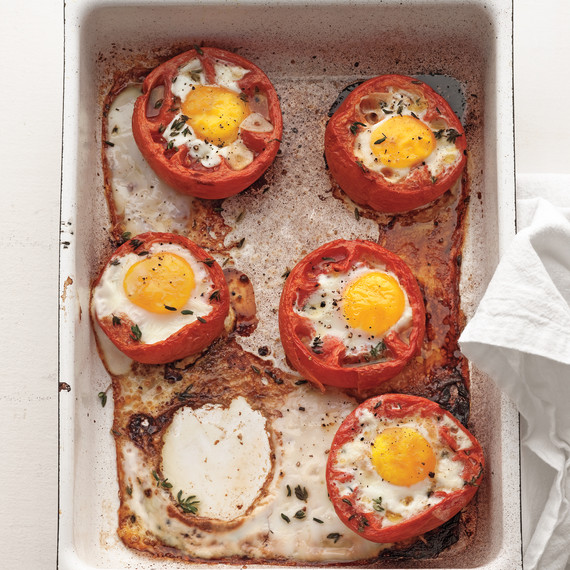 Eggs are a versatile food indeed -- and, yes, we know tomatoes are not at their peak at this time of year, but this dish is too tasty to miss out on and soon turning on the oven might not be so appealing. So try this colorful, flavorful entree where the eggs soak up tomatoey juices as they cook. Serve with roasted asparagus (that cooks in the oven at the same time as the tomatoes), or a salad, atop some brown rice -- or go the breakfast-for-dinner route with buttered toast!
Get the Baked Eggs in Whole Roasted Tomatoes Recipe
TUESDAY: Taco Night, Picadillo-Style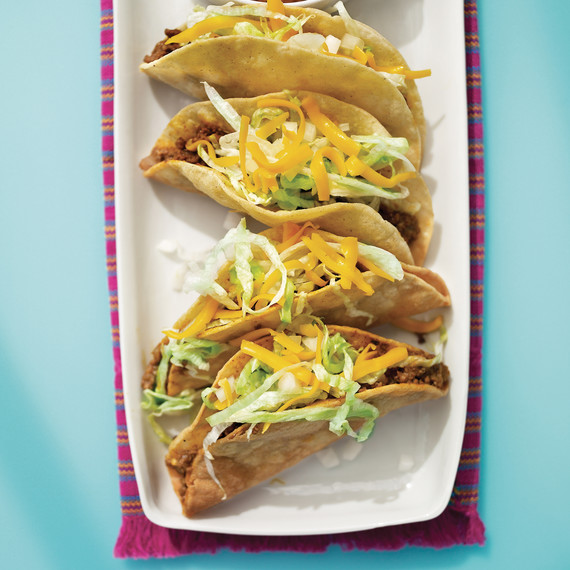 With a nod to the grand festivities of Cinco de Mayo, tonight is the time for these beefy tortillas. Feel free to pair them with a margarita, a beer, or maybe a michelada.
Get the Crispy Tacos Picadillo Recipe
WEDNESDAY: Warm Quinoa and Chicken Salad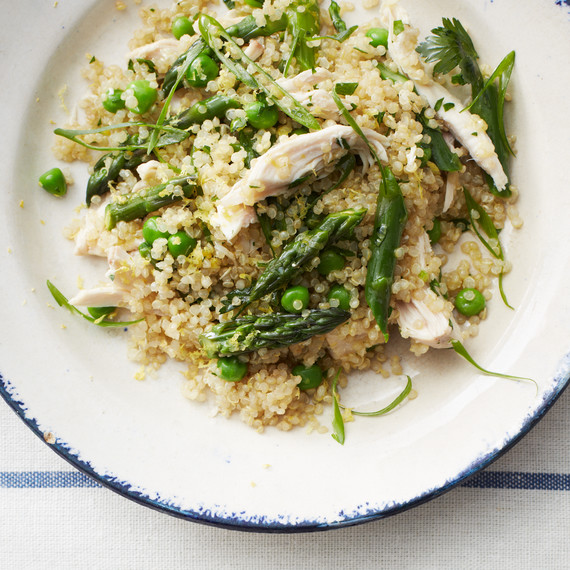 A main-course salad with chicken, springy vegetables and everyone's favorite, quinoa -- that protein-, iron-, and fiber-packed wonder. Adding to the sheer fabulousness of this dinner, it's all made in one pot.
Get the Warm Quinoa and Chicken Salad Recipe
THURSDAY: Cheesy Pasta Primavera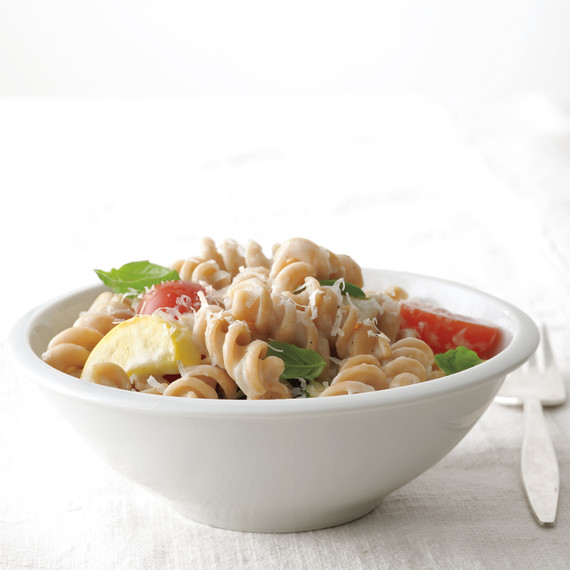 A crowd-pleasing cheesy pasta with a secret -- those corkscrews (fusilli) are whole-wheat. Easy to make and easy to like, this is a dinner kids and grownups will all adore. Be sure to add the fresh basil; it elevates this dish.
Get the Cheesy Pasta Primavera Recipe
FRIDAY: Paprika Shrimp with Hummus and Mint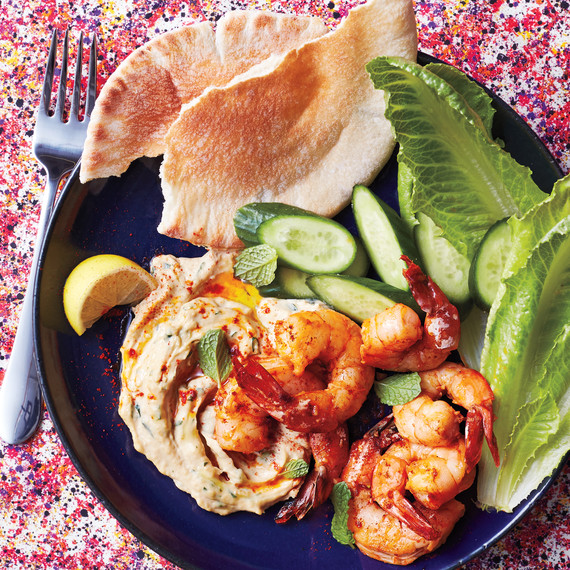 When hummus meets pita ... yes, you've been there before, but not like this. Store-bought hummus is elevated by a sprinkle of fresh mint and paprika shrimp. Dinner in 15 minutes!
Get the Paprika Shrimp with Hummus and Mint Recipe
SATURDAY: Slow-Cooker Spanish Meatballs
If Monday is meatless, well, maybe Saturday is all about the slow cooker. It is today for sure when we suggest you make these pork meatballs that cook while you run errands and maybe do some work in the garden. Pick up some good bread to sop up the sauce while you're out, and round out the menu with a spring salad.
Get the Slow-Cooker Spanish Meatballs Recipe
SUNDAY: A Simple Spring Supper with Salmon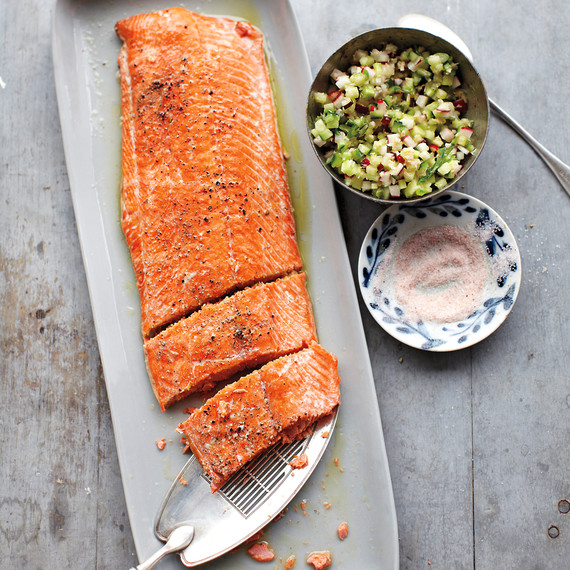 This is a time of year when you want to be outdoors enjoying the weather, so we keep the menu easy: Everything in this seasonal meal is simply roasted and can be served at room temperature. The side of salmon is served with a cucumber-radish relish and sides of Barley Salad with Herbs and Roasted Asparagus with Lemony Breadcrumbs.
Get the Salmon with Cucumber-Radish Relish Recipe