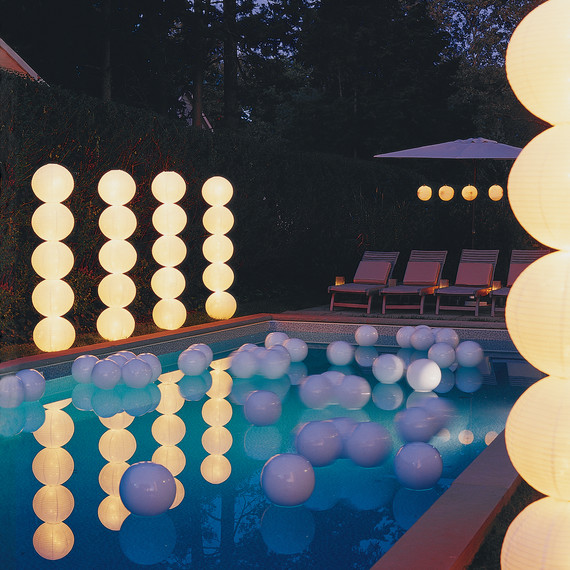 Here's a secret: The way to turn a mediocre party into a memorable party is to look at things in a new light. Literally.
Take for instance, the classic summer pool party: Host it at night when the sun sets, the temperature drops, and the fireflies come out in a flickering, romantic display.
I know what you're thinking: "But the water: It's too cold." At a daytime pool party, the idea is to beat the heat. At a nighttime pool party, the idea is to enjoy the outdoors as much as possible! Obviously, having a pool with solar, gas, or electrical heating is ideal; but in the absence of this, you can purchase a solar pool blanket, which absorbs natural heat over the course of the day to warm up the water. Oh, and remember to keep a fluffy stash of towels in arms' reach.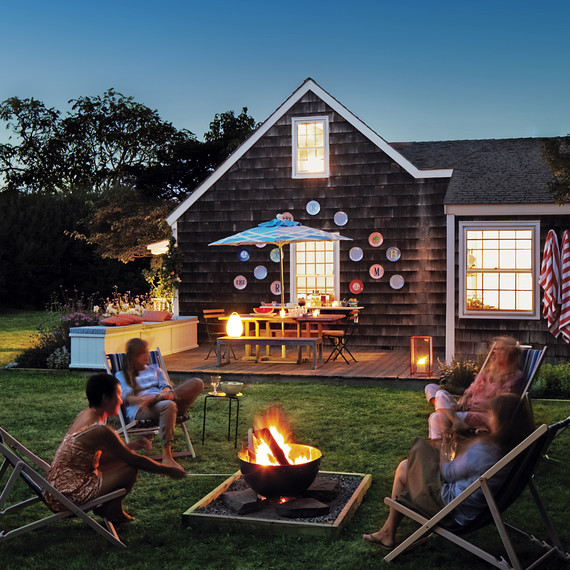 Keep Your Friends Close
Create an intimate space that encourages cozying up. After climbing out of the water, your guests can gather round a low-rise table lit with "fire and water" candles or a crackling bonfire. Tall, lush plants and faux greenery coated in fluorescent paint create the illusion of a secret hideaway.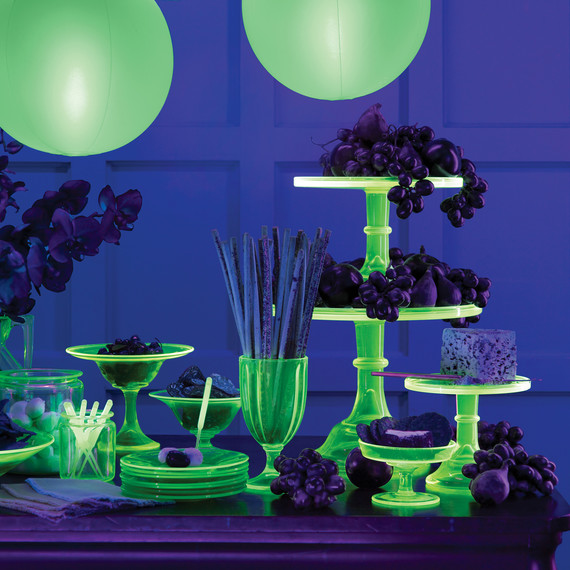 Sweet Dreams Are Made of This Buffet
Guests can find their way to a self-serve bar (try a drop-down shelf mounted below the window on the exterior of the house) that is brightened with glowing pedestals, containers and cups. Fill the table potluck-style with all sorts of summer fare like grilled kebabs, sweet-spicy glazed shrimp, watermelon, orange, and feta salad, make-your-own ice cream waffle sanwiches and firecracker mixed drinks. And if they need to step into the house for more ice, don't forget to set up a wash-off station by the door to sideline grit and grime before it's tracked into the house. You can do this by attaching a sprayer to a hose and positioning a bench for balance. Make sure that they have everything they came with -- and nothing got lost in the dark -- before you bid them good night.