Summertime and the living is easy! I heard that song recently and was instantly transported back in time to my grandmother's stoop. As a kid, come summer I would dream of sitting on that stoop: hiding from the afternoon sun, shoes kicked off with a giant slice of watermelon in my hands ... juice dripping to my elbows as I chomped on its cool, fragrant, sweet flesh.
As an adult I've tried harnessing those flavors (and memories) into more civilized offerings, ranging from Thai watermelon salad to watermelon mojitos. My favorite by far though has to be a watermelon martini. For this drink I like to use a botanical gin like Aviation or Cap Rock, but vodka or a nice white rum will work just as well. Add into the mix some fragrant herbs such as Thai basil or fresh mint and you too will be dreaming of kicking off your shoes and relaxing in the summer sun. This recipe can be multiplied to make a pitcher for brunch gatherings or ... just because. As a bonus, watermelon juice is great on its own, and perfect to chug down after your morning yoga class or run.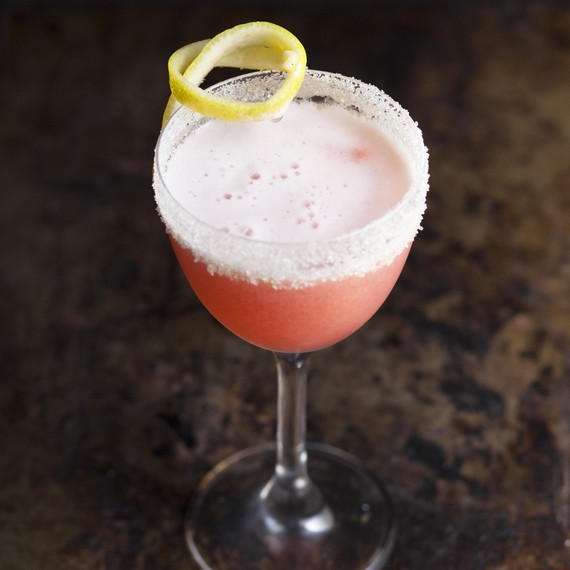 Watermelon Juice
- 1/2 ripe seedless watermelon scooped from the rind and chopped into 2-inch (-ish) cubes
- 1 cup Thai basil leaves (packed tight)
- 1/2 cup mint leaves
Run herb leaves through a veggie juicer, then push through the chunks of watermelon. The watermelon will pick up the botanical flavors and any leftover pieces of herbs as it passes through the juicer. Strain through a fine mesh strainer and set aside.
Watermelon Martini
- 2 oz gin or vodka
- 1 oz watermelon juice
- 3/4 oz lemon juice
- ½ oz simple syrup
- ½ oz aloe vera juice (keeps the drink light and refreshing)
- 5 dashes Peychaud's Bitters
Shake everything in a cocktail shaker for 10 seconds with 6 ice cubes, then strain into a chilled cocktail glass. To make it fancy, put a sugar rim on your glasses ahead of time. Garnish with a lemon twist or a speared cube of watermelon.