Wine and cheese: delightful on their own, unforgettable together! In an ideal wine and cheese pairing, we achieve that elusive experience that food lovers everywhere covet: the "third taste." That's what happens when two flavors combine. Not only do they sing in harmony, but we get a whole symphony of the senses accompanied by a fireworks display!
Create a festive and fun gathering that your guests will be talking about long after the evening is over.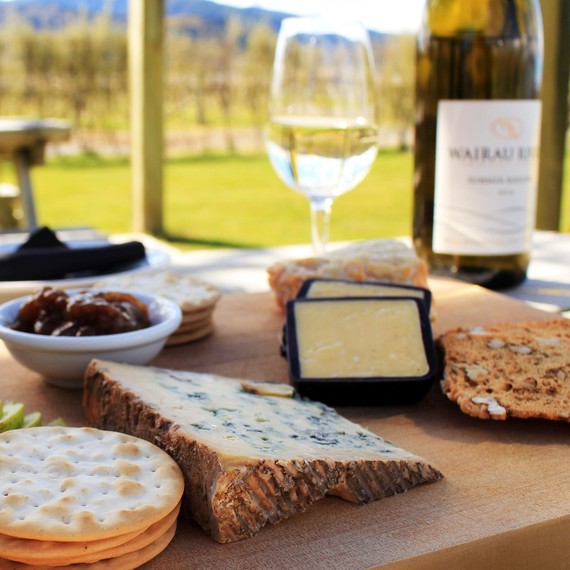 Regional Pairings
Repeat after me: "What grows together, goes together!' Probably the most foolproof method of pairing wine and cheese is to source them from the same region and enjoy them together. It only makes sense that when the livestock are feeding off a field next to a vineyard, the indigenous vegetation they consume will create milk used for cheese that shares a certain harmony with wine made from grapes grown in the same soil.
Try a goat's-milk cheese from the Loire Valley in France alongside a sauvignon blanc from Sancerre -- a major wine region of the Loire -- and you will experience the natural harmony that these two share. Try the famous cheese of Emilia-Romagna in Italy, Parmigiano-Reggiano, with the iconic wine of that region, lambrusco, or even a Belgian washed-rind cheese paired with a Trappist ale! When planning your party, create some regional tasting stations that will transport your guests on a global journey through flavor.
Everything in Balance: Strength Match
They don't necessarily need to come from the same place to be delicious together, but when pairing wine and cheese, it's important that we pay attention to the intensity of flavor and pair cheeses with wines in their own weight class. For example, a super pungent "stinky cheese" paired with a very light and delicate wine would be no fun -- the cheese would taste so overly powerful that we wouldn't be able to appreciate the flavors in the wine. Create dynamic duos that are a strength match for each other.
Here are some to try:
- Young, fresh soft goat's-milk cheese with a delicate and aromatic white like sauvignon blanc or riesling
- Semisoft cow's-milk cheese with a medium-bodied white like chardonnay
- Funky washed-rind cheeses with a rich, floral and honeyed white such as roussane or viognier
- Alpine-style cheeses like Gruyere, Emmenthaler,  or Comte with a fresh and fruity red like pinot noir, Barbera or gamay (the grape of Beaujolais)
- Hard sheep's-milk cheese with a rich and full-bodied red like cabernet sauvignon or grenache/syrah blends 
Sweet and Savory
I also refer to this as the "peanut butter and jelly" pairing. Some wine and cheese combos are stellar because they have a natural harmony; but in this case, opposites attract because it's the unexpected flavor combos that are so dazzling -- they offset and balance out contrasting flavors. Pairing a salty, savory cheese with a sweet and fruity wine can be as delicious as a classic PB&J.
Try a ruby port with a luscious triple-cream, a cream-style sherry with a funky washed-rind cheese, or a sweet dessert wine like Sauternes with a racy blue cheese.
Wine and Cheese "Speed Dating" Round
This is a really fun party idea for all of you that have adventurous palates, but definitely not for those that prefer to play it safe. Invite your guests to each bring one wine and one cheese, and put them all out for sampling. For the really daring, you can even do this as a blind tasting: cover your wine bottles with tinfoil, remove the labels from your cheeses, and assign each wine and cheese a number or letter. Then invite everyone to go dive in and try to identify the most delicious pair! It's like speed dating; we don't necessarily know which pairings are going to create sparks until we get them all in a room together and try them out. Who knows, there just might be a love match!
Don't Forget the Snacks
The secret to any wine-centric soiree is to have plenty of food available. Your cheese is the star attraction of course, but offering a selection of other savory nibbles will take it to the next level. Assorted breads and crackers are a good place to start. Other fun ideas are bowls of rosemary and sea-salt Marcona almonds, truffle popcorn, and skinny, crunchy Italian Grissini breadsticks; assorted martinated olives, a charcuterie board with different mustards and cornichons, some dried fruit, and as a final touch, a platter of chocolate truffles as a sweet ending to the evening.