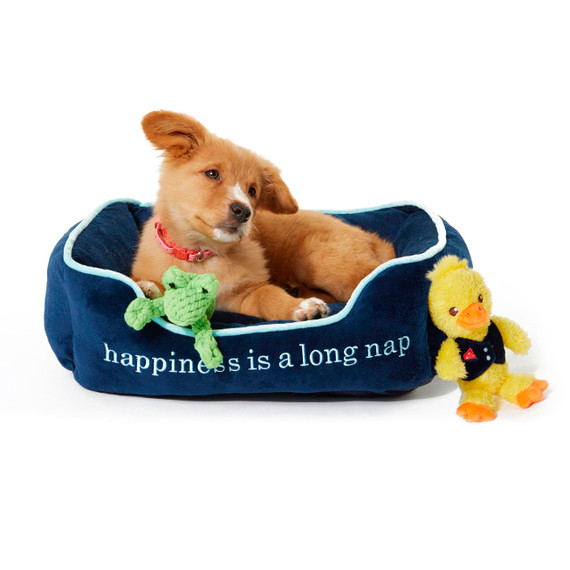 1. Travel Carrier: Your new puppy should have a safe haven to sleep in especially when it cannot be supervised, which also helps with housebreaking. Are you an on-the-go pet owner? Let your pet travel in style with their own carrier.
2. Collar and Leash: These items are essential for walking your puppy. Make sure to measure for an appropriate fit, so the collar isn't too tight, or too loose. Choose restraints made from strong, durable materials so they can stand the test of time.
3. Food and Water Bowls: Create an area specifically for your puppy to eat and drink to keep their feeder bowls. Consider a rubber mat to place underneath them to help catch any mess.
4.Training Pads: Housebreaking your pet can be tough, but training pads help keep accidents under control and also protect your carpet and flooring from being ruined.
5. Toys: Having an assortment of different toys will keep your puppy occupied and prevent it from getting into mischief. Plush toys can keep your pet company at night, rope toys and balls are great for teething and outdoor play, and toys that can be stuffed with treats keep your pet occupied while crated. What pup doesn't like a good game of fetch? If your pup is a chewer, be sure not to leave them alone with toys that can easily be torn or broken.
6. Grooming Tools: Keep your puppy looking great and manage loose hair with brushes. Brushes with metal pins help comb out mats, while bristles help shine a coat. A shedding blade can also be useful for getting rid of extra hair.
7. Puppy-Safe Shampoo: Make sure to choose shampoo that has been specifically formulated for puppies, because they are gentler for their skin. When possible, use soaps with natural ingredients.
8.A Cozy Bed: Nothing says "welcome home" like your puppy's new bed. A cuddler bed will make your pet feel safe and comfortable at night, so they stay out of yours.
9. Training Harness: While you're training your puppy, a harness offers better control than just a collar and a leash. They also help tame excess pulling.
10. Waste Bags: No walk would be complete without these! Protect parks and public property by properly disposing of your pet's waste.