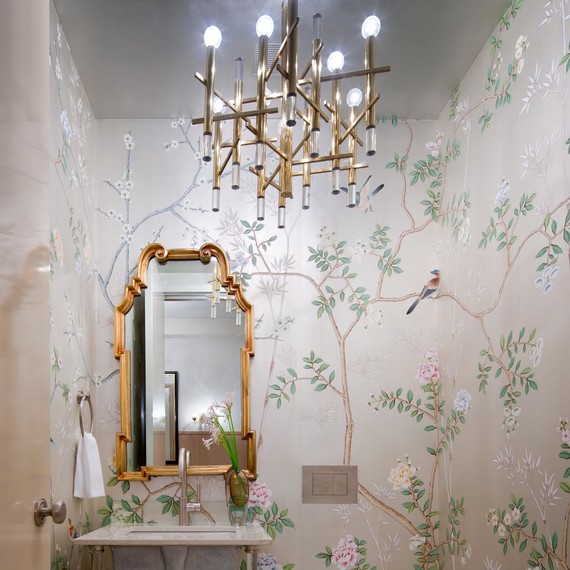 Quite often during new construction or a renovation project, I find myself getting most excited about designing the powder room. While it is usually the smallest space in the home, I always encourage my clients to have some fun with it. Think about it: While you may spend your hours primping and lounging in your presumably larger en suite or master bath, the powder room is a space for guests to come visit ... so why not give them something interesting to experience?
For me, the small size means big potential. One perk to designing such a small space is that using a bold color, print, or pattern (whether it's on your walls, floors or even accessories) is less overwhelming. A wallpaper that would be overstimulating on all of your bedroom walls suddenly feels funky, charming, and daring in these small little spaces. Another advantage of the small footprint of these rooms is that choosing to splurge on custom pieces or high-end materials doesn't necessarily mean breaking the bank. For example, upgrading from a ceramic tile to marble for your floors may only mean the difference of a few hundred dollars. Or if you aren't interested in the maintenance of natural stone, create an interesting tile pattern and turn an ordinary material into a statement.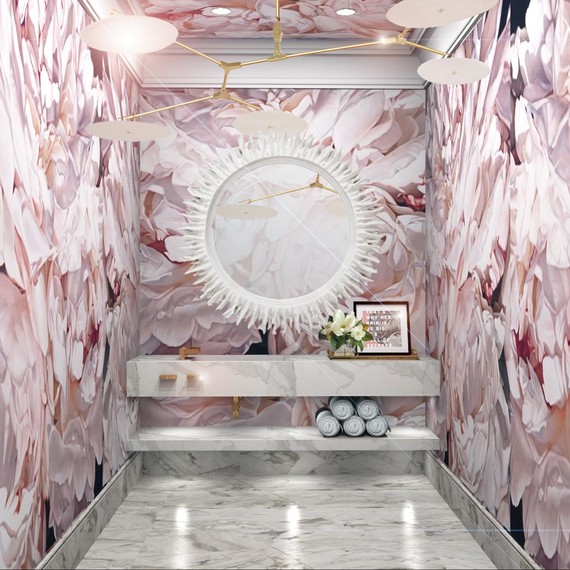 Shown above is a feminine and dreamy powder room we are currently working on at Gillian Segal Design. With pink peonies floating across the walls, it really shows how transformative a bold print can be. Here are some other tricks of the trade we kept in mind while coming up with this design:

1. Use "decorative" mirrors in a powder room instead of using the standard wall to wall mirror. Whether you are a minimalist or a traditionalist, this is an easy way to give the space personality and a more custom look.

2. Have fun with your lighting! Because the powder room is generally not used for tasks (like shaving or makeup application) you don't need to worry about seeing every hair or shadow -- good-bye, ugly bathroom fixtures! 

3. Remember the experience. Good design isn't limited to what instantly meets the eye. Stimulating your other senses by incorporating things like scent and texture are easy ways to enhance the function of the space. Find soft hand towels and keep your favorite candle in the bathroom. Even unlit, a good candle adds a soft and beautiful fragarance to a small room.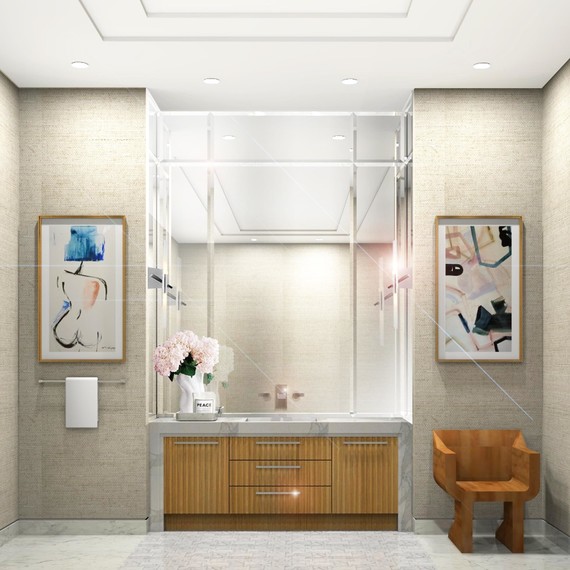 I must admit, the floral wallpaper is a personal favorite, but I understand it may not everyone's cup of tea (as confident in his masculinity as my husband may be, it's possible he would have a heart attack if he came home to find this in our bathroom). But going more gender neutral with muted tones doesn't mean saying good-bye to statement-making design. In this bathroom, we used grass cloth on the walls to create a subtle and sophisticated vibe. Playing with texture (two types of floor tiles in different patterns), a unique treatment to the millwork, and this incredible eclectic chair give the space a ton of interest. While there are no shortage of details here, repetition of rectangular shapes with the mirror panels, ceiling details, and the two incredibe paintings by NG Collective Studio help maintain a more calm and restrained look.