Use Simple & Crisp dried fruit crackers. If you can't find them, you can try this with artisinal crackers.
Blue Cheese & Jamon Serrano with Pear

Delight all your Mom's taste buds with this incredible sweet and salty bite. The subtle sweetness of the pear crackers pair perfectly with the savory jamon serrano and salty blue cheese. You can't go wrong with this flavor combo -- and to top it off, add a fried sage leaf for an extra palate-pleasing treat!
- Jamon Serrano
- Blue Cheese
- Fried Sage Leaves
- Dried Pear Crackers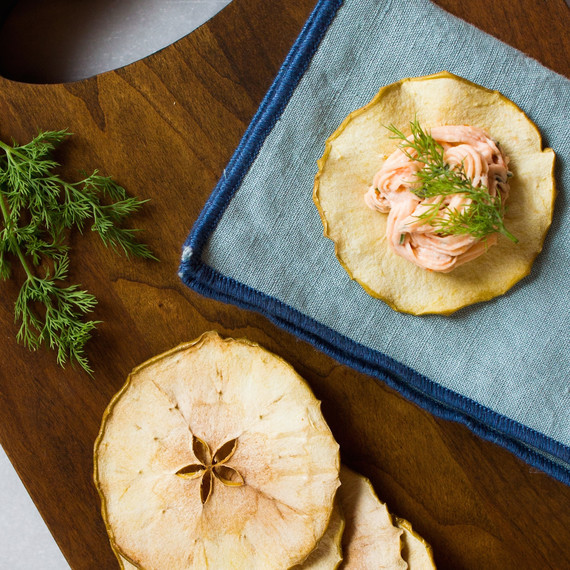 Smoked Salmon Mousse with Apple
Smoked salmon is always on the brunch menu for a reason -- it is light and delicious. Make Mom extra happy with this gluten-free version of smoked salmon mousse. Instead of wheat–based crackers or bread, pair the creamy and smoky mousse with a sweet and subtly tart apple cracker –- then add a garnish of fresh dill for a perfectly balanced mouthwatering bite!

- Smoked Salmon Mousse (To make, blend together smoked salmon, cream cheese, heavy cream, lemon juice, fresh chives, salt and pepper)
- Fresh dill garnish
- Dried Apple Crackers
Heart-Shaped Pancakes & Maple-Syrup Bacon with Orange
There's no sweeter way to tell your mom "I love you" than with heart-shaped pancakes drizzled with maple-syrup bacon bits. But take it up a notch and make this brunch staple with mini, finger-lickin' bite sizes by serving them on citrusy orange crackers. The orange crisp adds a fragrant marmalade flavor, as well as a visually stunning wow factor!

- Mini Heart-Shaped Pancakes
- Maple Syrup with Bacon Bits
- Dried Orange Crackers