To host a boozy cupcake party, you will need:
1. Real Food
Make sure you have plenty of healthy and/or salty snacks out for your guests to enjoy. They will balance out the sweets. I typically create a spread of hummus and vegetables, mixed nuts, cheese and crackers, and either salsa or guacamole and chips. Remember: It's always better to have too much food than too little.
2. Beverages
I am a big fan of pairing cupcakes with Champagne, but red and white wines are great options as well. Really committing to the theme? Pick up some Cupcake Champagne or wines. Be sure to give your guests options: one type of Champagne, two different whites wines, and one to two different reds (go with a lighter red, like a pinot noir -- the sweets are filling enough).
3. Cupcakes
Make a couple of variations and be sure they are baked and completely cool before your guests arrive! I recommend baking enough that there are two cupcakes per guest. You never know when there could be a cupcake catastrophe, or someone is extra hungry.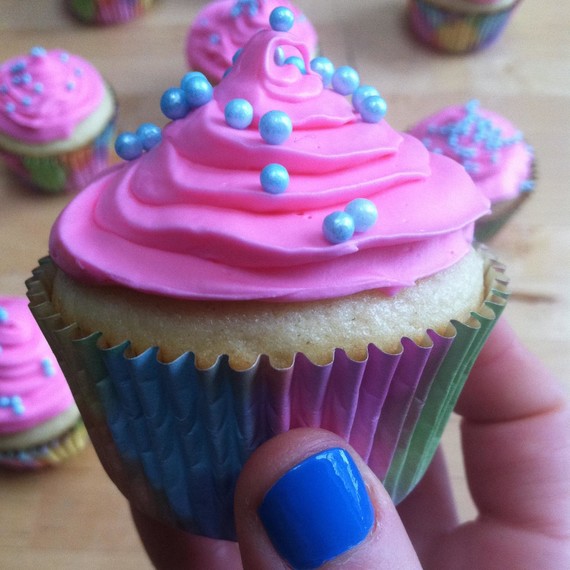 4. Decorations
The first step in cupcake decorating is the frosting. You can save yourself some trouble by buying several containers of chocolate and vanilla Duncan Hines frosting. Or you can make your own assortment of frostings. Additionally, have a variety of sprinkles, cupcakes toppers, colorful candy (i.e. jelly beans, Nerds, Skittles, M&Ms, etc.) out to spice things up.
5. A Good Work Space
If you're as crazy about presentation as I am, you will want your decorating table to look organized, festive, and fun. Make sure you place the frosting in several bowls (with multiple knives), and that any/all of your candy or cupcake toppings are placed in labeled bowls (incase there are any allergies).  
Then, go to town! After your guests have created the cupcakes of their dreams, let everyone walk around the room to admire each other's work before they dig in! Everyone has a different style, and, believe it or not, it can shine through even in cupcake decorating.