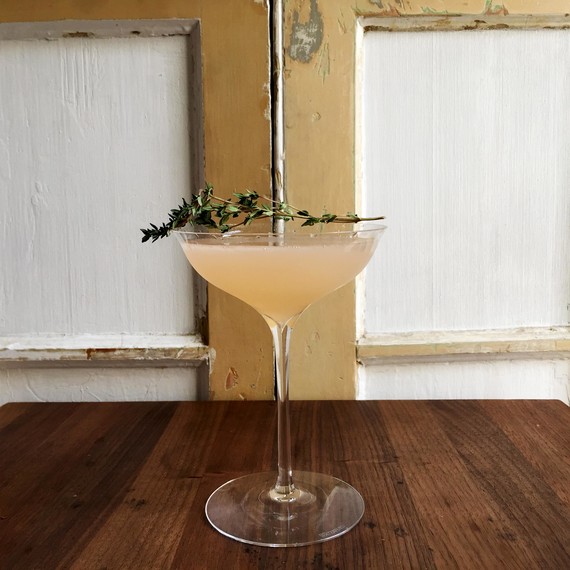 If you're anything like me and you're ready for something transitional -- a cocktail that simultaneously hints at the warm weather ahead but still retains enough richness to satisfy on a cold night -- then you'll love our newest creation. We call it the "One Foot In, One Foot Out" cocktail. It features a daring combination of gin and Drambuie. You may be familiar with both -- gin is a famously wonderful cocktail spirit, imparting complex aromatics in a lighter package. Drambuie is a fragrant and herbal Scotch liqueur made from a recipe that is approaching 300 years of age and, and in my opinion, completely underutilized.
To render the best results, please make sure all the juices are fresh squeezed (a la minute is always best). The addition of thyme syrup ensures a doubling of the herbal elements provided by the Drambuie. Here's how to make it:
Ingredients
- 3 oz white sugar
- 2 or 3 leafy sprigs of thyme
- 3 oz boiling water
- 1.5 oz London Dry Gin
- .75 oz lemon juice
- .25 oz grapefruit juice
- .25 oz Drambuie
- .25 oz thyme syrup
- 1 dash Hella Bitters Orange
Directions
First, make the thyme syrup: In a jar, add the sugar and thyme. Then, add 3 ounces of boiling water, and stir until sugar is dissolved. Let it sit for about 10 minutes, then give it a try -- the syrup should be nice and aromatic. Strain and reserve. This will make enough syrup for about 12 cocktails. 
To make the cocktail, combine the remaining  ingredients with about a cup of ice in a cocktail shaker. Shake vigorously for 8-10 seconds. Strain into a cocktail glass. Garnish with a sprig of thyme across the drink -- the aroma of the thyme will enhance the flavor of the cocktail. Enjoy!