The strawberry daiquiri is somewhat of an anomaly. As prevalent and popular as it might be in certain restaurant chains or beachside getaways, it doesn't exist in the cocktail bars we frequent or cocktail books we reference. Few other drinks are so widely known but rarely embraced. Unlike most other tropical drinks, you can't find a classic recipe for the strawberry daiquiri! After much research, we concluded that there is no old standard that is respected and reproduced by good bartenders. To a purist, the strawberry daiquiri might even be an abomination.

We get why this is: The strawberry daiquiri as we think of it, isn't really a daiquiri at all. It's very sweet and sometimes packed full of artificial flavors and colors.  A classic daiquiri, on the other hand, is supposed to be bright and tart, with the richness of rum being prevalent but never overwhelming.

We have no idea how the strawberry daiquiri got to this sad place. Why can't it just display all of the wonderful characteristics a classic daiquiri exhibits? We honestly believed that there was no reason that a perfect rum daiquiri could not be equally delicious with the addition of ripe, sweet strawberries.

So, we created this recipe; we call it the "Redacted Strawberry Daiquiri" -- inspired and heavily influenced by the most standard daiquiri and yet wholly unique. For starters, this is not a blended drink you could eat with a spoon. Instead, it's shaken in the traditional manner, and strained into a cocktail glass. You'll be tempted to drink it quickly while it's ice cold (and we won't stop you from doing so).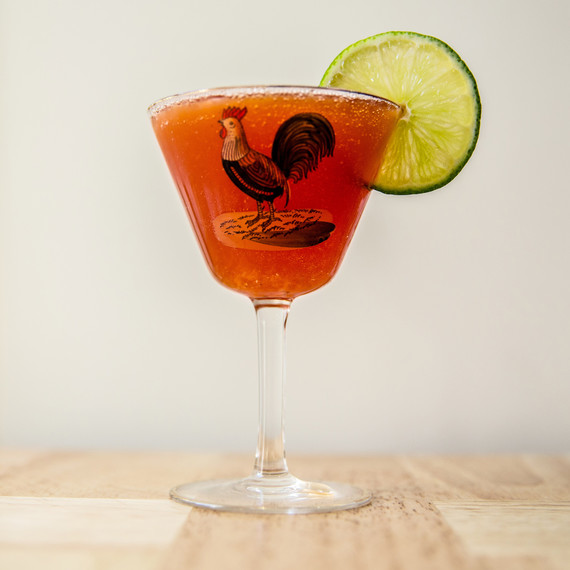 Ingredients
• 1 cup quartered fresh ripe strawberries -- (small, whole frozen strawberries will work too)
• 1 cup water
• 1 cup sugar
• 1.5 oz dark rum (we used Goslings)
• .75 oz fresh-squeezed lime juice
• 1 dash Hella Bitters Aromatic

Directions
First, make the strawberry syrup: In a saucepan over low heat, add the strawberries and cook, stirring frequently for about 5 minutes. When they begin to soften, add the water and sugar and stir. Simmer over low heat for about 10 minutes, until syrup is vibrant in color and tastes immensely like strawberries. Remove from heat and pour into a warm canning jar. There is no need to remove the pieces of strawberry.

Once your strawberry syrup cools, make the cocktail: Combine the syrup with the rum, lime juice, and bitters with ice in a cocktail shaker and shake vigorously for 8 seconds. Strain into a cocktail glass and garnish with a lime wheel.