Having several older siblings, I am frequently commissioned to make cakes for baby showers, christenings, and subsequent first-birthday parties of my nieces and nephews. Over the years I've re-created strawberry shortcake in icing with a star tip, sculpted dogs out of fondant, and of course made a few Barbie Cakes.

A few things I've learned over the years:
1. A reliable white, yellow, or chocolate cake is always a safe bet among adults and kids alike.
2. Stick to a sturdy icing that will stand up at room temperature for a few hours.
3. Don't be overly ambitious! I can't help but dream up grandiose ideas for fondant characters, 3-D chocolate decorations, and monogram chocolate seals. Over time, I've (slowly) realized that in order to fully enjoy the event, it's better to pare things down and stick to recipes that I know and trust. I can tell you from experience: If you're involved in the event, you won't want to be stressed out or sleep-deprived and not fully present. After all, celebrating with family and friends is what it's really all about!
 
For this christening event, I chose a classic yellow cake and used this raspberry filling, then iced with my go-to Swiss Meringue Buttercream. For icing a cake, it's essential to have a good offset spatula that's large enough to smooth the top of a large cake in one motion; I love my Martha Stewart Icing Spatula. I doubled the cake, filling, and buttercream recipes and made a few small 4-inch-diameter round cakes for the kids. As a general rule of thumb -- reserve 1.5 cups of buttercream for decoration for one 8-inch round cake.
 
Keeping with the tradition of using pastels on baby occasion cakes, I decided to naturally dye my buttercream with freeze-dried raspberries (I'm a big fan of using freeze-dried fruit, as evidenced in this Valentine's Day post).
 
To make a raspberry powder, blend 1/2 cup freeze-dried raspberries with 1/4 cup confectioners' sugar in a food processor until finely ground.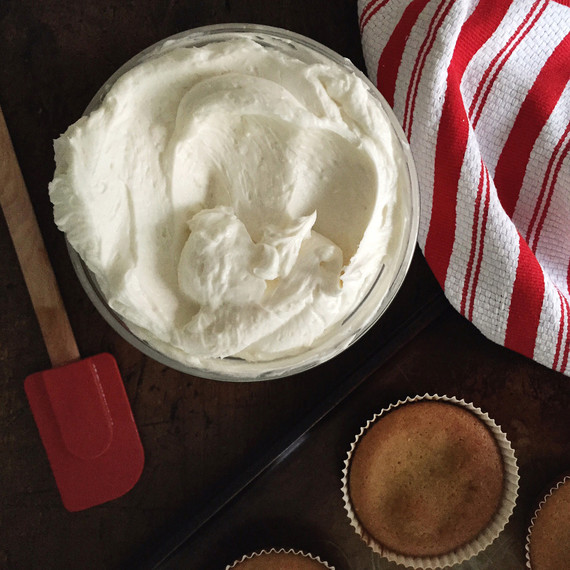 Divide the reserved buttercream into 4 to 6 small bowls (depending on how gradual you'd like the ombre effect to be). Mix different amounts of raspberry powder into each bowl until you've achieved the variations of pink color you want.
Using a small cookie scoop (7/8-inch width), drop 1 scoop of the darkest icing onto the cake about 1/4 inch from the edge. Then, using the rounded edge of the offset spatula, drag the icing from the center of the circle down -- mirror the curve of the cake edge. At this point, it's a good idea to map out the distance between scoops in order to fit all the different shades of pink. Repeat this step, dropping each scoop slightly on top of trail of the previous scoop. I repeated the ombre effect twice to completely circle the edge of the cake. I did a similar effect on the small 4-inch cakes but used a small spoon to drop the icing. You can also use a pastry bag fitted with a plain tip and pipe the circles for a cleaner look.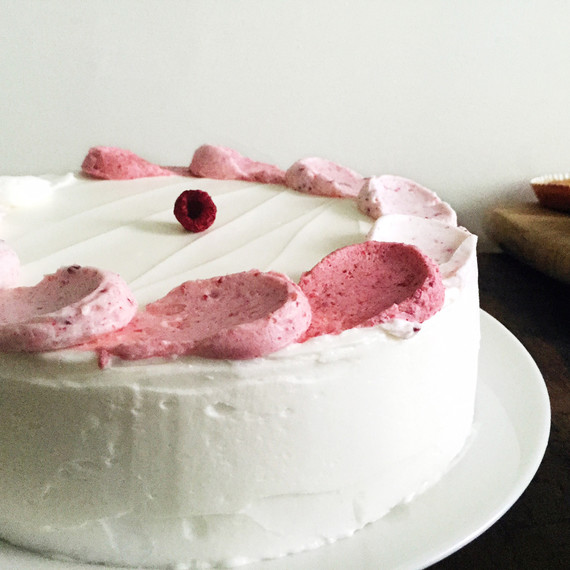 I finished the large cake with a freeze-dried raspberry in the center to give the guests a hint at what's inside, and added a rose made of icing to the center of the small cakes for added embellishment. As you can see, although the decoration is relatively simple, the effect is beautiful and sure to impress.