Buying food for entertaining can be tricky. Too little fare can leave guests feeling unsatisfied, and overbuying feels wasteful and excessive. Provisions that always please a crowd are artisanal cheese and cured meat boards -- it is a power duo that is not to be ignored.
We met with local cheese expert Jessica Mark co-owner of Greenpoint Cheese and Meat (one of our favorite neighborhood stops), who was sweet enough to show us how to set up three different spreads that will perfectly accommodate a party of any size.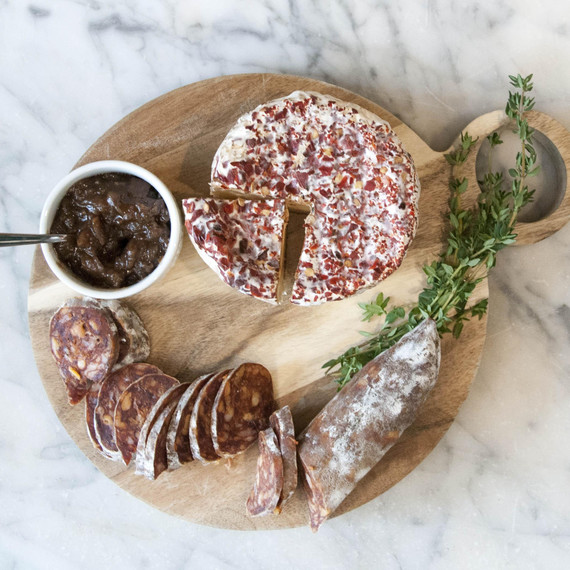 This board is the perfect starter for a large dinner party. If you've prepared a lot of main-course food and you don't want you guests to fill up on apps beforehand, Jessica suggests the less-is-more approach. Keep things simple, and choose one excellent cheese (we chose Devil's Gulch, an organic triple cream from Cowgirl Creamery) and one quality meat (we used Chorizo Rioja from Olympic Provisions). For your presentation, consider leaving the cheese mostly whole and the chorizo half sliced -- the food will speak for itself. To finish off this board, add some crisp bread and apple onion jam in a small bowl.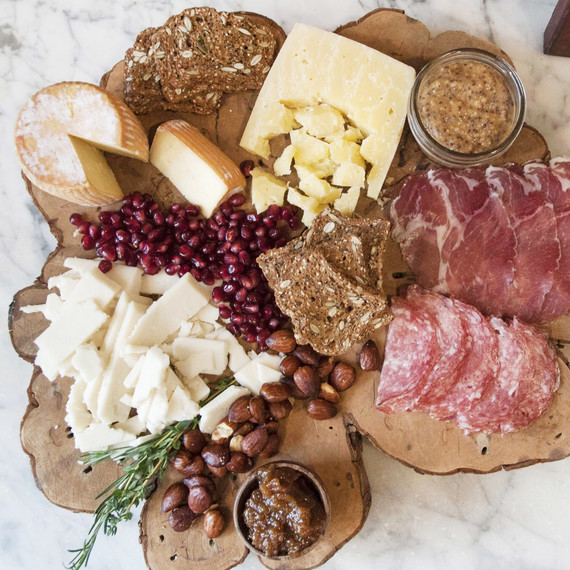 Our next board is the perfect table centerpiece, beautiful and functional! It is also just the right size for a cocktail party. Using a reclaimed wooden slab as our canvas, we chose three cheeses and two cured meats and arranged them in an organic manner. This 3:2 ratio is ideal when entertaining. For cheese, we chose a goat's cheddar, a raw cow's milk with a soft washed rind, and a hard sheep cheese. Jessica advises choosing one cheese from each animal. She also suggests including a fresh seasonal fruit element to accent the flavors of your board. We decided to include pomegranate seeds to add a bold pop of color! Small bowls of fig and honey jam, herb mustard and a sprinkling of Marcona almonds fill up the negative space and visually enhance the presentation. Meats chosen for this board are sopressata from Molinari & Sons and coppa from Biellese Salumeria.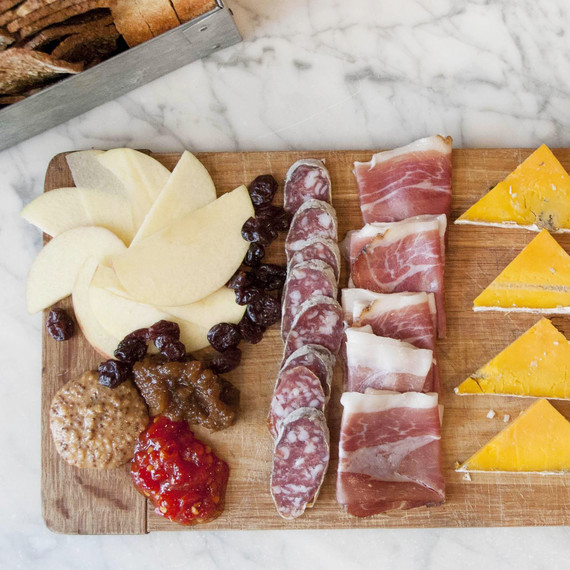 Our last board is best suited for large parties. To keep things from looking too crowded, we decided to go with a more modern, angular design. For our cheese and meat selection, Jessica directed us toward a Red Rock cheddar, a camembert from Old Chatham Sheepherding Company, saucisson sec from Olympic Provisions, and speck from Salumeria Bielesse. Arranging the ingredients in a clean design allows for easy access to each item. Fresh, tart apple and dried cherries are the perfect accompaniment to the sharp and sweet cheese, and the spreads are simply spooned onto the board to allow for easy dipping.
Tips:
• Cut harder cheeses into bite size pieces for sharing.
• Choose a variety of animal milks, colors, and textures for multiple cheese boards.
• Estimate 2-3 slices of meat per person when buying for a group.
• Small sprigs of fresh herbs elevate the presentation with little effort.
• Fresh seasonal fruit is always a plus. Think beyond apples and pears -- pomegranate seeds, blood orange, Concord grapes, and kumquats are all fun additions.
• Dish your condiments into small jars or bowls with a spoon to keep things tidy.