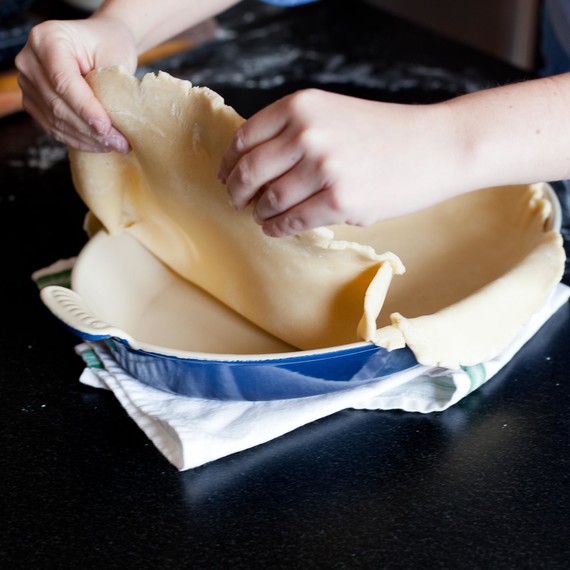 Follow a good recipe for double-crust pie dough. If using a larger baking dish, be sure to double the recipe so that you have plenty of dough to work with. Once it is ready, roll half out on a lightly floured surface. Press the dough into an oval baking dish. Trim the sides, leaving a 1-inch overhang. Reserve the scraps.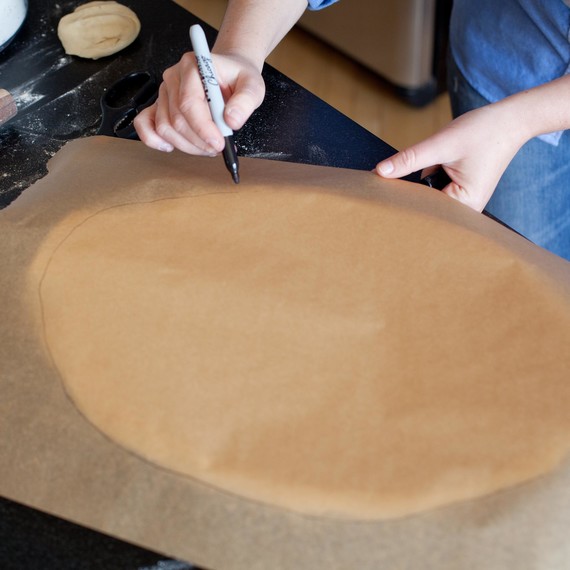 Lay a piece of parchment paper over the top of the dough-lined dish. Using a marker, trace the outer edge of the dish to create a stencil for the top crust. Roll out a second piece of dough and cut to the size of the stencil for the top crust. Reserve the scraps, then separately transfer both the top crust and dough-lined dish to the refrigerator.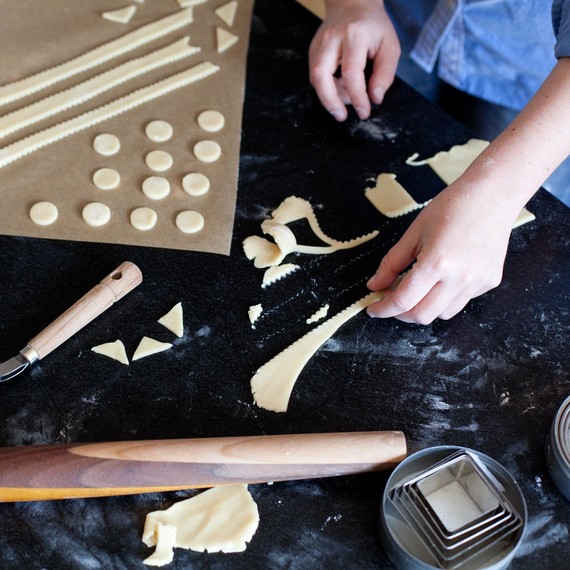 Use the reserved dough scraps to cut out and create Easter egg-like decorations for the top crust. Re-roll scraps as necessary. Place on parchment paper and transfer to the refrigerator until ready to use.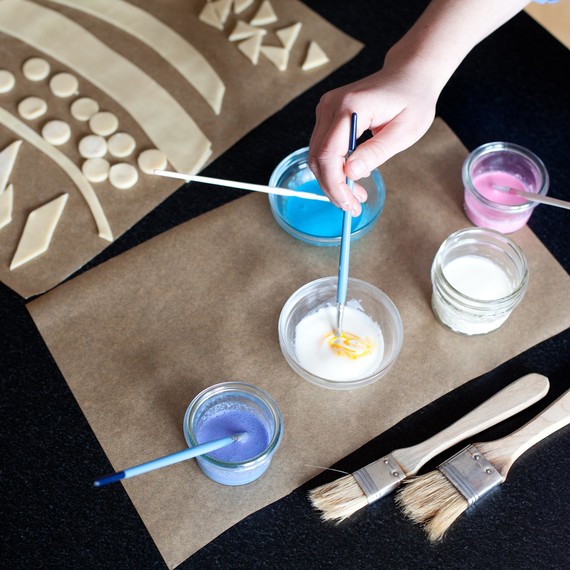 Prepare the colorful cream wash by adding food coloring to a small amount of cream. Gel food coloring seems to works best for creating bolder colors, but liquid food coloring will work too.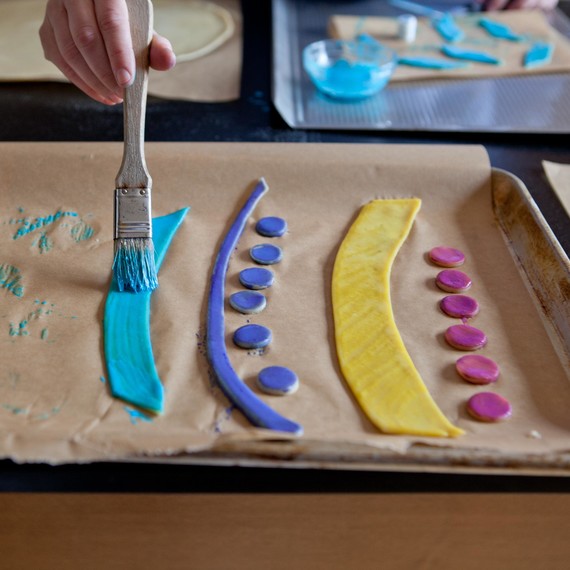 Paint each of the prepared dough pieces.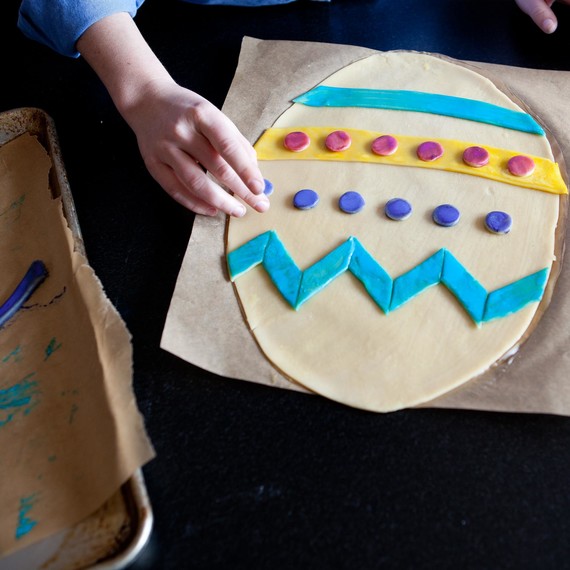 If you want your colors to be more opaque, brush the top crust with undyed cream before you start to decorate. This will provide a whiter, more matte-like finish to the baked pie. Place the painted dough pieces on top in a decorative pattern. Chill the finished top crust for 15 minutes.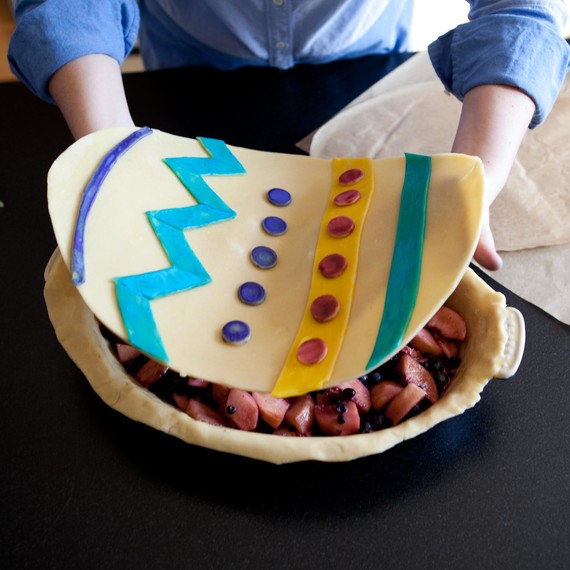 Preheat oven to 375 degrees. Fill the dough-lined baking dish with prepared pie filling. Brush the edges with egg wash, then place the finished top crust on top. Fold over and crimp the edges, then brush only the crust edges with egg wash.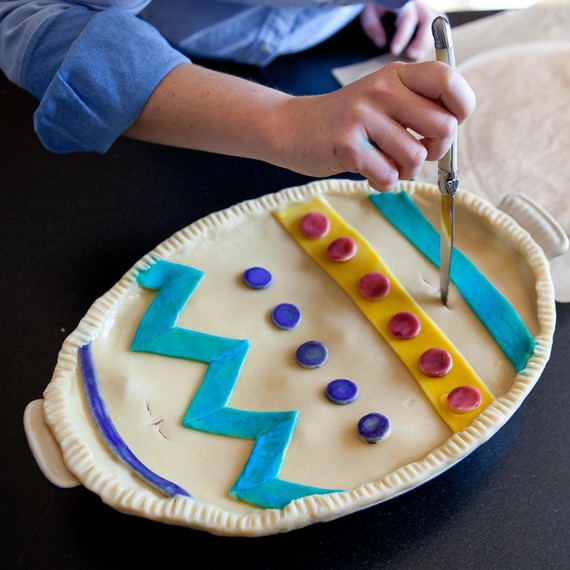 Cut two steam vents across the top of the pie, then sprinkle with sugar. Bake on lower oven rack until crust is golden brown and the juices are bubbling. Cover with aluminim foil if the pie starts browning too quickly. Let pie cool for at least one hour before serving.
Photography by Steven Karl Metzer.
For more Easter Inspiration, check out the video below!