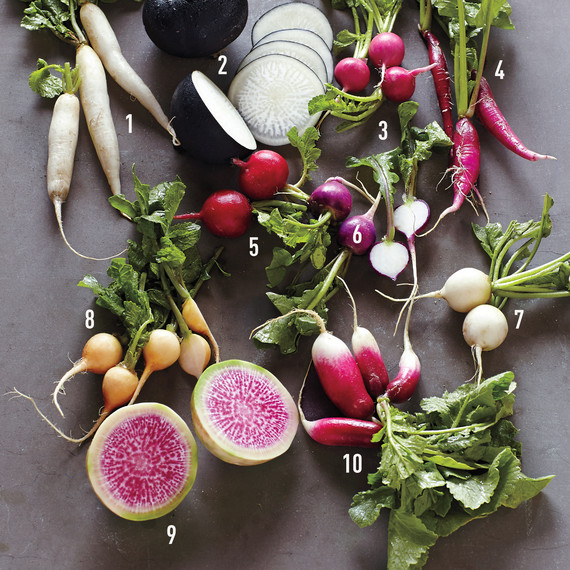 1. White Icicle
Mildly pungent with peppery undertones, the slender white icicle tastes terrific raw -- try grating it into a slaw with Asian flavorings. Grilling or roasting will bring out its inherent sweetness.
2. Round Black
Also known as the black Spanish round, this large, dramatic winter radish has flesh that is crisp, white, and usually quite peppery. A hardy dipper, the round black can also be creamed like its close relative, the turnip.
3. Pink Beauty
If you're not a fan of the bite that is the calling card of many a radish, try this sweet variety. It's as versatile as its more familiar red cousin but milder, making it a natural for tea sandwiches with fresh ricotta and lemon zest or chives.
4. Cincinnati Market
Its tapered shape and crimson skin have earned this heirloom the nickname "long scarlet." Its spiciness works particularly well in tacos, tortas, and other Mexican dishes.
5. Cherry Belle
There's a good reason this small red globe has become the embodiment of "radish": It's an all-purpose wonder that works for dipping, layering into sandwiches, or roasting.
6. Purple Plum
Mild, sweet, and regally hued, the petite purple plum is a prince among radishes. It stays fresh longer than many varieties, and the stark contrast between its vibrant skin and white flesh makes it a standout any way you slice it.
7. Snow Belle
The spicy white snow belle (also called snowball) has a uniform creamy shade inside and out. It pairs especially well with rich foods like cream, butter, and avocado.
8. Zlata
A native of Eastern Europe ("zlata" means "gold" in Czech), this spring and summer radish is juicy and medium-spicy. Delicious raw, it is even better when braised (less bite, more sweetness).
9. Watermelon
Like its namesake, this heirloom radish is large, sweet, and gorgeous beneath its plain skin. It makes a lovely garnish, quick pickle, or addition to a cheese plate (try it with feta or chevre) alongside fresh fruit.
10. French Breakfast
These heirlooms (also known as flambeaux) are mild, sweet, and crunchy—just right for slicing and enjoying on a buttered baguette, a la francaise. They are also delicious sauteed or stir-fried.