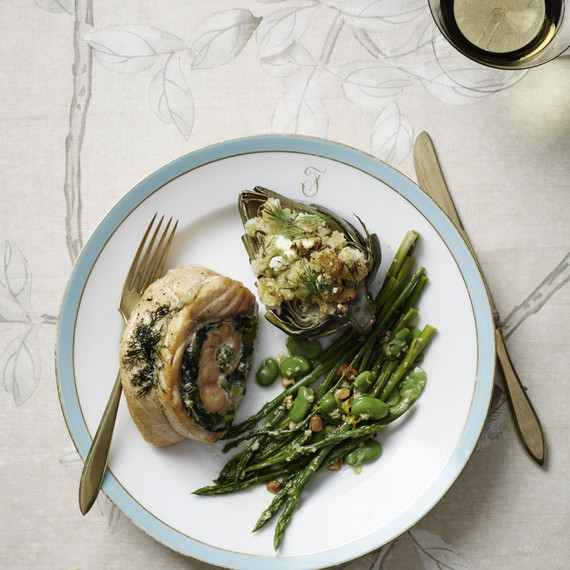 The eight recipes here make it a breeze to put together a meal worthy of a spring celebration, whether Easter lunch or dinner or a gathering in honor of the season's first warmer days. Choose a main course, a couple of sides, and a dessert. It's like a multiple-choice test—but a lot more fun and with no wrong answers. All the recipes have harmonious flavors, textures, and colors, so any combination works beautifully. Expecting a big group? Go for "all of the above."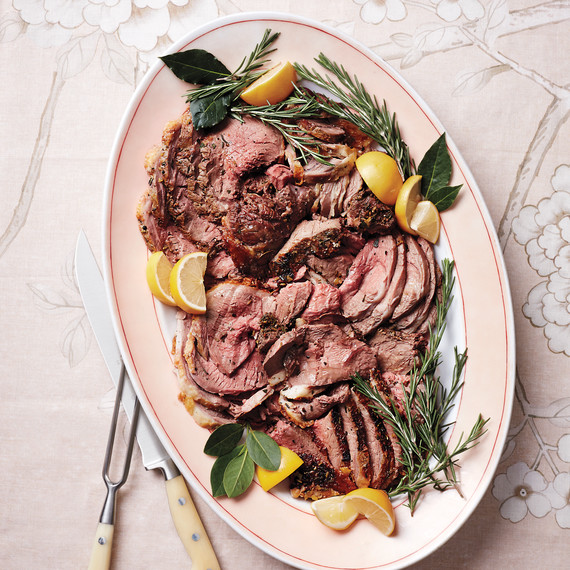 1. Choose a Main Course
Start here, with the centerpiece of the meal. Leg of lamb and salmon are both seasonal favorites, but our renditions—like the other dishes on these pages—have been given a few fresh tweaks. Each is assertively flavored with seasonings evocative of Mediterranean cooking, including lemon, fresh herbs, pungent spices, fruity olive oil, and tangy yogurt.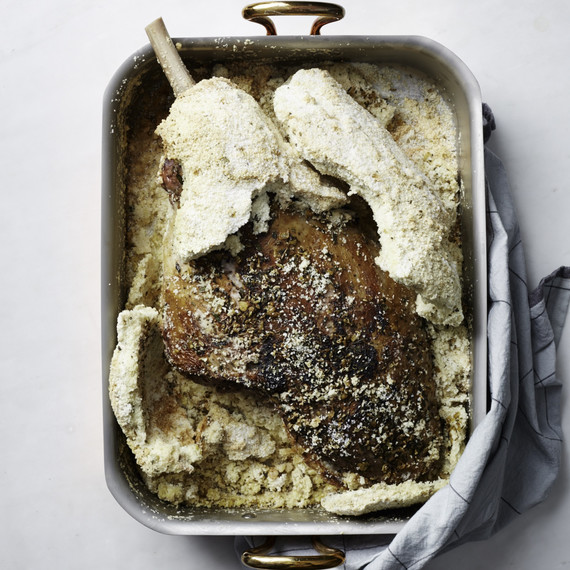 Salt-Crusted Leg of Lamb
A few simple steps ensure that every bite of this roast is tender, juicy, and infused with the heady flavors of herbs and lemon. Begin by broiling the lamb, caramelizing the exterior to enhance its texture and taste. Next, coat it with herb oil. Finally, pack a thick layer of salt all over the lamb; as the meat roasts, the salt crust keeps it moist and leaves it perfectly seasoned—but not salty.
Get the Salt-Crusted Leg of Lamb Recipe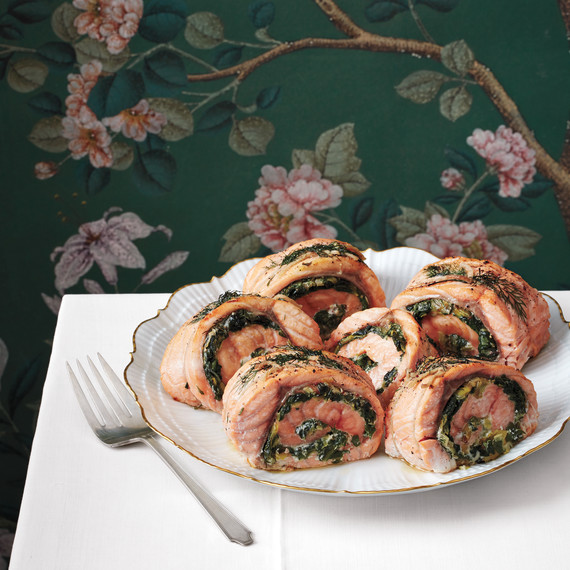 Rolled Stuffed Salmon
These bundles of salmon are spiraled with sautéed Swiss chard and leeks for a dish that's both pretty and delicious. The individual portions are easy to assemble—and easy to serve at a buffet.
Get the Rolled Stuffed Salmon Recipe
2. Select Your Sides
Knowing how to combine flavors for an interesting menu can be tricky, but there's no guesswork here: These four dishes complement one another while highlighting some of the season's best produce. For a meal serving six people, two sides are plenty. For more variety, or if some of your guests are vegetarian, include another option or two.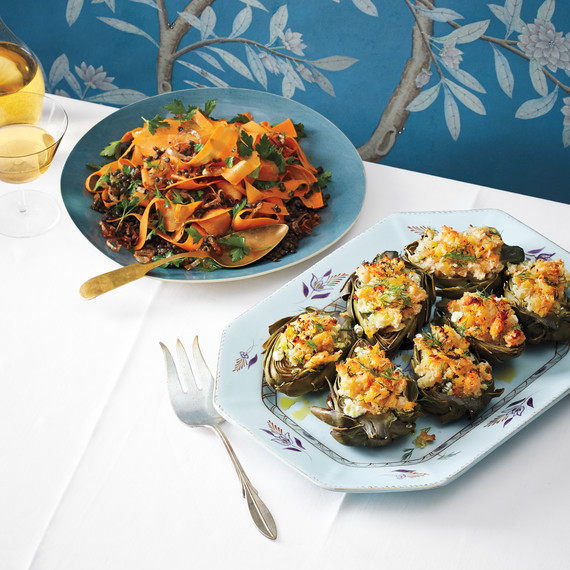 Feta-and-Dill-Stuffed Artichokes
A special-occasion dish, streamlined. You can trim and steam the artichokes in advance, then fill them just before baking. The five-ingredient stuffing includes bread, feta cheese, and dill, moistened with chicken broth and olive oil. Another drizzle of oil helps the dish brown in the oven.
Get the Feta-and-Dill-Stuffed Artichokes Recipe
Carrot-and-Lentil Salad
Ribbons of carrot wind through dressed black lentils in a dish that's colorful, light, and packed with protein. A generous sprinkling of parsley leaves and a vinaigrette with grated ginger give the salad freshness and zip. To make the ribbons, just use a vegetable peeler.
Get the Carrot-and-Lentil Salad Recipe
Asparagus and Fava Beans with Toasted Almonds
Two of spring's stars come together in this dish. Fava beans, with their buttery, nutty flavor, are a true delicacy. But prepping a whole bowl of them is admittedly a bit of work. (After you remove the beans from the pod, you blanch them and remove the tough skin from each bean.) This recipe makes a modest amount of favas go a long way, for maximum effect: sprinkled over blanched asparagus, topped with a lemony dressing, and finished with toasted almonds. The end result is one standout side.
Get the Asparagus and Fava Beans with Toasted Almonds Recipe
Saffron-Rice and Potato Skillet Cake
Inspired by the Persian tahdig, which translates to "bottom of the pot," this skillet rice cake gets especially crisp as it cooks. A layer of potatoes goes into the pan first, then fragrant golden rice that's been simmered with saffron and studded with dried cherries is layered on top. Turn out the dish and slice it into wedges to serve.
Get the Saffron-Rice and Potato Skillet Cake Recipe
3. Pick a Dessert
As it warms up outside, desserts with bright, sunny flavors like the ones in these two treats are especially appealing. So which to choose? With these two, it might come down to texture. The tart is a seductive study in contrasts, with an intense jammy filling over a sweet, crisp crust. The cake is moist, dense, and rich. It's also almost bracing in flavor. Lemon lovers won't be able to resist it.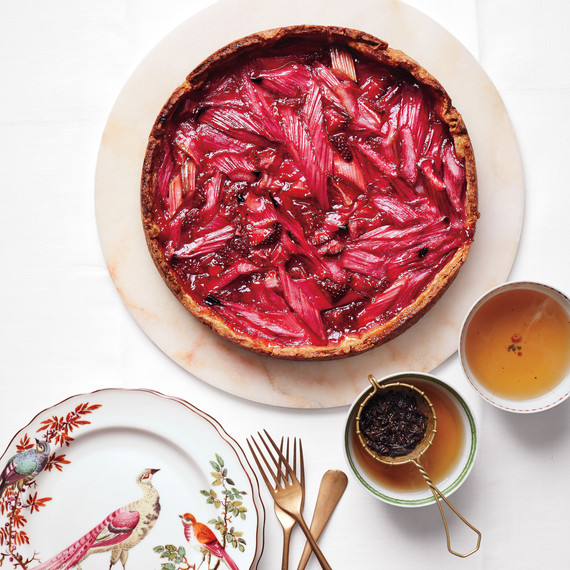 Rhubarb-Strawberry Tart
These two spring ingredients make a famous pair, with good reason: Sweet strawberries temper rhubarb's trademark tartness. The glistening, jewel-like filling in this rustic tart cooks down in the oven.
Get the Rhubarb-Strawberry Tart Recipe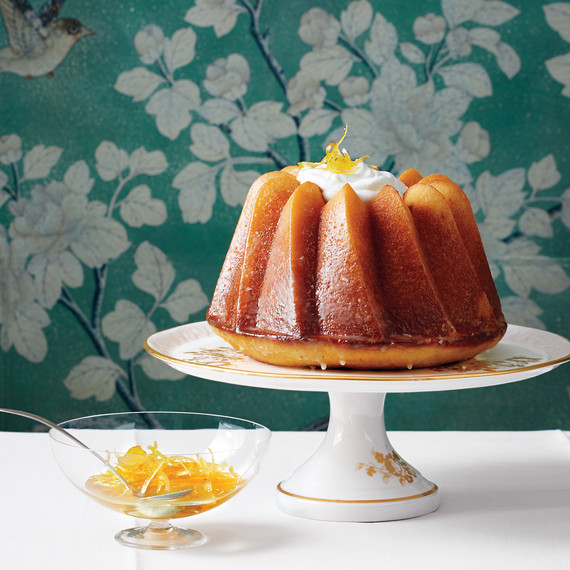 Triple-Citrus Bundt Cake
This spin on the familiar Bundt cake shines with lemon and orange. They flavor it in three ways (make that four, if you count the candied-zest garnish). There are segments in the batter, a syrup soaked into the baked cake, and, finally, a glaze. Fill the center with whipped cream and you'll get some with every slice.
Get the Triple-Citrus Bundt Cake Recipe