Yes, it's true -- container gardening is here to stay! I have a huge arrangement of containers on my deck, and I grow flowers and edible plants in everything from colorful coffee and olive oil cans to a rusted colander to a vintage wooden crate. You don't have to invest in fancy pots to get your garden growing. Just about anything with a drainage hole will do. Besides, an arrangement of containers of various sizes and materials is so much more interesting, and it'll allow you to show off your creative and resourceful side. Pro tip: Stay away from anything too big, as soil is heavy and you want to be able to possibly move your pots around.
If you want purely decorative plants to enliven your outdoor space, choose three different ones with complementary colors. Grow one in the center (or a little off-center) as a focal point, choose another that will spill over the pot edges, and last but not least, add a filler for leafy color all season long.
You can take container gardening a step further and put your pots to work by combining ornamentals and grasses with vegetables and herbs. What's better than a combination of beauty and practicality? I've compiled my best tips for container gardening below; follow along, and a tasty harvest will be right outside your door before you know it.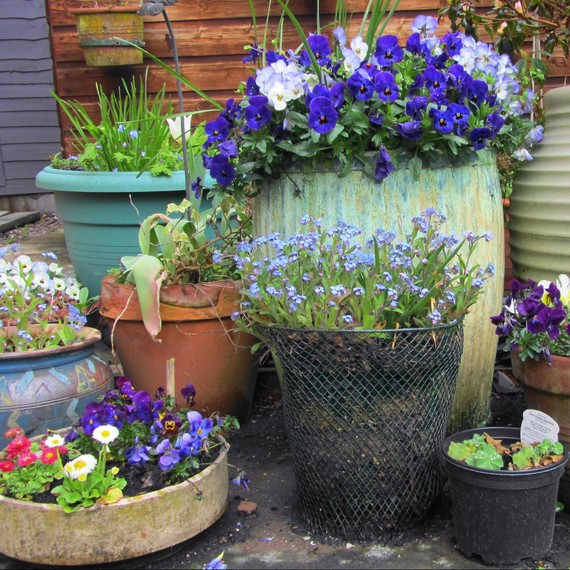 1. After bringing your plants home, arrange them in different ways before planting, to see what is most pleasing to your eye and aesthetic. Don't go crazy picking out a hodgepodge of everything that catches your eye at the nursery, advises Taylor Patterson, owner of Fox Fodder Farm in Brooklyn, New York. She likes to keep it simple, preferring the look of one or two statement-making plants per pot. Lavender has a glorious display, or try two or three ornamental grasses planted together. Though she tends to stick to ornamentals for her containers, Taylor does like to mix herbs with a deeply colored, hardy coleus and a trailing, variegated sweet potato vine.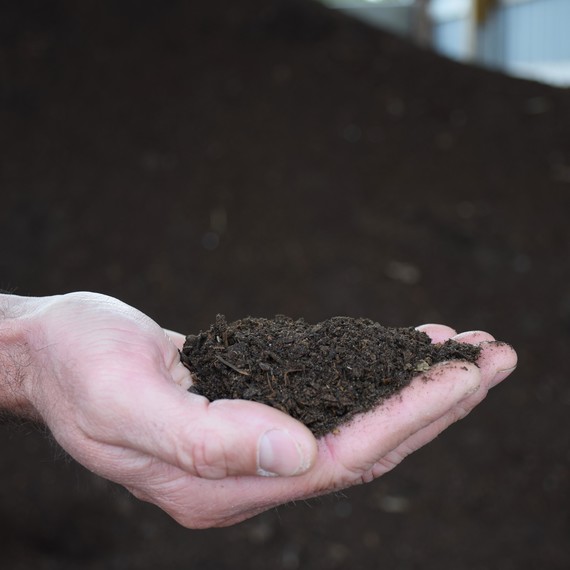 2. Once you've assembled your containers, make sure to start with a high-quality potting soil, mixed with a bit of perlite and compost. In a large tub, mix the elements together with your hands.
3. To grow your container garden successfully, Pam Ruch, horticulturist at Morven Museum and Garden in Princeton, New Jersey, suggests wetting the mixture before putting it into the pots. Get it nice and moist (not dripping wet). If the soil is not moist, it will repel water and never be moist enough, and the water will just run through the soil. Container soil dries out quickly, especially in warm weather. You can water a few times a week in spring, and more often as temperatures rise. Test the level of moisture in the soil by feeling it.
4. It is not necessary to add gravel to the bottom of the pot if the soil is properly moist. Leave about two inches from the top of the pot when you put the soil in, so the water won't spill out. When removing the plants from the containers they were grown in, tilt the pot and gently shake out the plant, squeezing the pot a bit if the plant is stuck. "Gentle" is the word: Don't yank it out. Loosen the root ball before planting, again, gently, and leave a bit of growing room around your plants. Once everything is nestled in place, water thoroughly.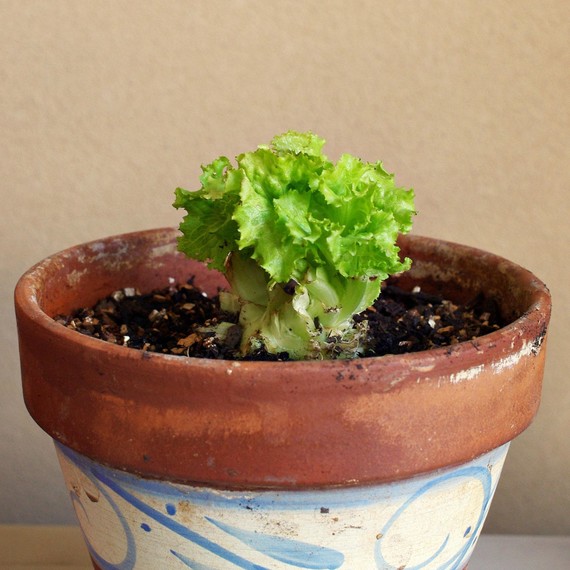 5. If homegrown salad whets your appetite, you're in luck. Lettuce is an ideal container plant and can be planted in succession all season long, though in hottest weather it might need a time out from the sun. You can move the pot into a shady area during those times. I prefer magnet lettuce or "little gem romaine" (from Baker Creek Heirloom) planted in a ring around the outside pot edge. In the middle, a cherry tomato seedling will surprise you with a late summer harvest. Husky cherry is quite pretty and tasty, and your nurseryman can tell you about other cherry tomatoes that grow well in pots. Keep the tomato plant upright by tying it loosely to a stick pushed into the soil, or surround it with a small tomato cage or tuteur you can make from sticks.
6. For a decorative and edible arrangement, plant mini petunias around your tomato plant. For fragrance, plant mint around your tomato and enjoy it all season in homemade lemonade and salads. Another lovely arrangement starts with a small rosemary (news flash: rosemary repels mosquitoes, as does mint) planted in the center with lettuce circling this fragrant beauty and a colorful sweet potato vine gracefully spilling over the pot edge.
7. When it comes to rectangular containers, I always have maximum success with nasturtiums. This plant is both a graceful ornamental and edible: The blossoms are tasty in salads. In the center I plant a row of Mascotte bush beans with their lovely white blossoms, followed by a plentiful harvest of crunchy beans. Purple basil and lively golden marigolds not only look so lovely together, they are also companion plants that thrive together. Basil is also a good companion for your tomato plants, and you get the fixings for a sauce for pizza or pasta all in one pot. 
There really is no limit to what you can grow in containers, and with the advice of your nurseryman, you can choose plants that will thrive together in the conditions available to you. Plants work for us in so many ways and will give you so much pleasure once you start container gardening. I would love to hear what you are growing in your containers, and if your efforts are successful. Get more ideas on container gardening here.
Photography by Janne Moren.