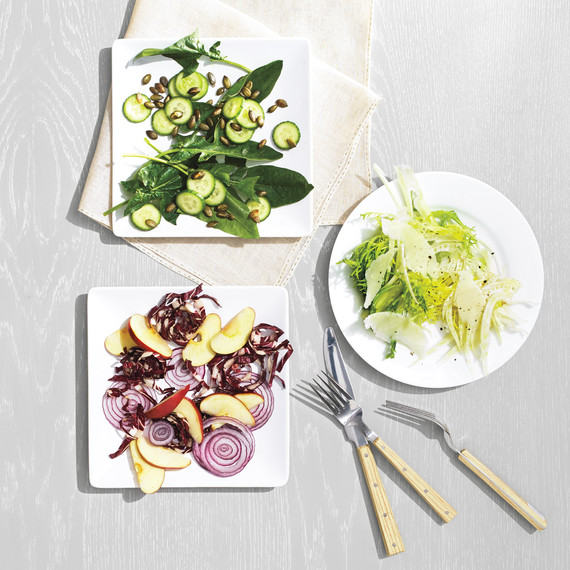 This time of year is tricky for salad, everyone is over roasted vegetables, the farmers' market has slim pickings, and local tomatoes are months away. What to do? Follow our lead, and chose a trio of ingredients seasoned with salt and pepper -- plus a splash of extra-virgin olive oil and vinegar or lemon juice. That's all it takes to make a standout spring salad.
Go for color, and crunch and be sure to pair the bitter with the sweet: The key is to choose delicious ingredients with varying but complementary flavors and textures -- a bitter item such as radicchio, for example, with the sweetness of apples and the crunch of red onions.
Here are our favorite early spring salad trios, clockwise from top:
• Spinach + Sliced Cucumber + Toasted Pumpkin Seeds

• Frisee + Sliced Fennel + Shaved Pecorino

• Shredded Radicchio + Sliced Red Onion + Apple Wedges
Use these combinations as a starting point and be sure to let us know what early spring salads you create.
Watch Thomas Joseph show how to get the most out of your salad greens: