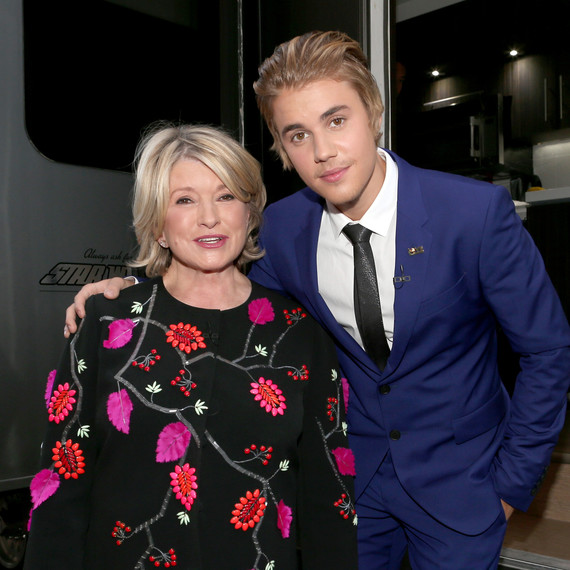 "I'm never sick. Why get sick? It's a waste of time."
Famously known for her work ethic, Martha made this proclamation on "Nightline" in 2009 when Cynthia McFadden asked her how she tackles all her duties when she feels under the weather.
"I followed all my followers and friended their friends. I replied and retweeted and commented and tweeted back and forth as the conversation got bigger and bigger."
Tough one, eh? You wouldn't think that somebody who grew up in the digital age would sound so confused about social media, but this one goes to Bieber! He actually goes more in depth about it in his autobiography, "First Step 2 Forever: My Story."
"I don't think about me as much as I think about others."
This one is a giveaway. This is clearly Martha unless it is opposite day. Martha talked about philanthropy during a recent Forbes 400 Summit interview.
"It's cool when fans spend so much time making things for me. It means a lot."
Who does this next generation of crafters belong to? Type Ms are pretty crafty, but you have to see how creative some of these beliebers can be. In an old interview with "Seventeen" magazine, Bieber let his appreciation for the homemade gifts be known.
"They're having me make dirt. They're making me make air. They're making me make water!"
Though plenty of kids think of Bieber as a young god,  this quote came from a "60 Minutes" interiview where Martha talked about the ridiculousness of a parody magazine that came out right after Martha Stewart Living was launched.
"I'm looking forward to influencing others in a positive way. My message is you can do anything if you just put your mind to it."
See, there is a good boy hiding in there somewhere. Bieber posted this quote on his website right after graduating from high school in 2012.
"I think it's just cool to be able to laugh at yourself. I've done some things that may not have been the greatest. I just want to be able to laugh about it and own up to some of the things."
This was Bieber's response when Ellen asked him why he agreed to get roasted. Sounds like Biebs is growing up? 
We'll see how well his sense of humor holds up at the roast! Remember to tune into Comedy Central on March 30 to catch Martha Stewart alongside celebrities including Snoop Dogg, Ludacris, Hannibal Burress, Shaquille O'Neal, and more for the official Justin Bieber roast on Comedy Central March 30. Check your local listings for air times.