It's that time again; you're thinking about dinner and what to cook. So here's our weekly list of suggestions: dinner recipes that take less than an hour of mostly hands-off time. Some recipes will be much faster than that. We'll suggest what you can do to prep ahead and cut down on weeknight work. Recipes will be family-friendly, but we'll stretch the boundaries beyond chicken tenders and broccoli. Yes, there will be pasta, and, yes, it will be delicious. So visit us every week for dinnertime inspiration.
Here is an easy one using leftovers. We hope you took our suggestion and cooked extra rice this weekend! Yes, leftover rice is a wonderful thing. There are so many ways to transform it into fried rice. You can really toss in whatever you have left in the fridge -- vegetables, chicken, shrimp. If you are not feeling that creative, go porky or try our clever veggie version. 
Get the Pork Fried Rice Recipe
TUESDAY: Broccoli Rabe Pesto with Whole Wheat Pasta and Sausage
WEDNESDAY: One-Pot Chicken and Rice with Swiss Chard
Get out your trusty Dutch oven for tonight's one-pot meal. The flavors meld together, creating a dinner to savor -- and a meal with minimal cleanup. Another wonderful thing about this dish is its ease and versatility: no Swiss chard, use spinach; no basmati, then use another rice such as Carolina or jasmine. There's no skipping the lemon zest, though, as it really adds a certain something.
Get the One-Pot Chicken and Rice with Swiss Chard Recipe
THURSDAY: Fish Stew with Herb Toasts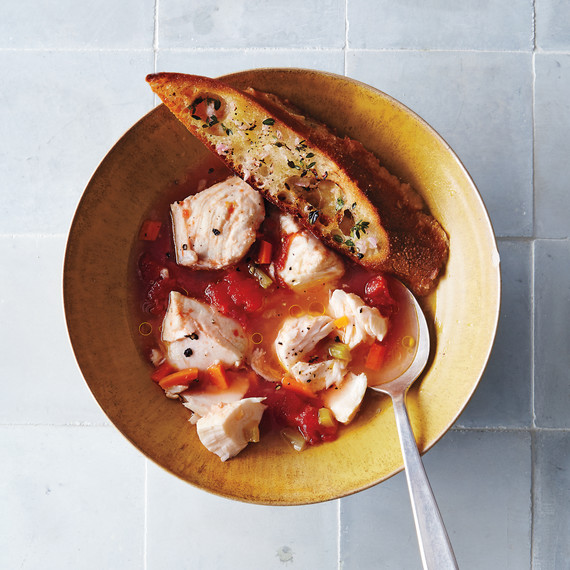 This stew tastes delicious, like a nuanced restaurant dish, and takes just 30 minutes from start to bowl. Plus it's a great vehicle for any kind of firm-fleshed white fish. Hint: You'd better make more than just four slices of herbed baguette toast -- everyone will want extra.
Get the Fish Stew with Herbed Toasts Recipe
FRIDAY: Asparagus and Watercress Pizza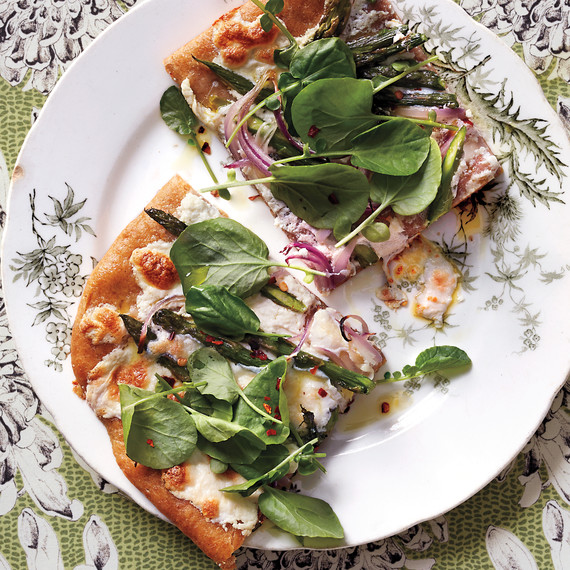 Yes, you can have homemade pizza on a weeknight! Use store-bought dough (whole-wheat, please), and make it feel like it really is spring by topping it with asparagus and watercress. Open a bottle of wine and maybe add some slices of proscuitto to the mix.
Get the Asparagus and Watercress Pizza Recipe
SATURDAY: Seared Rib-Eye Steak with Smashed Potatoes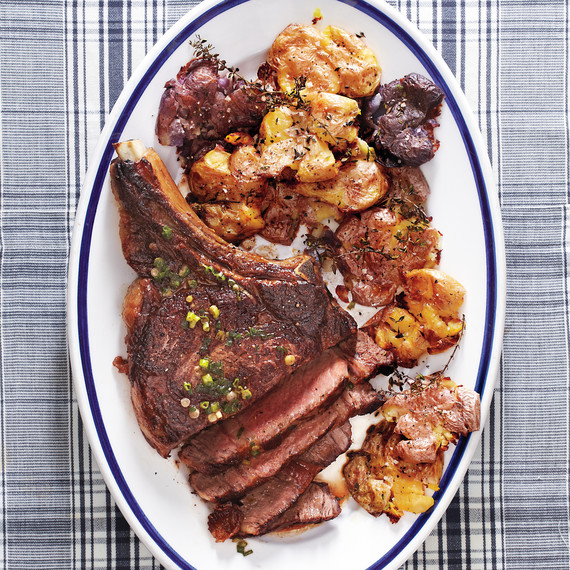 Sometimes you just need a steak. If tonight is the night, then try this steakhouse-worthy rib-eye dinner for two. Get out your cast-iron skillet and pair this entree with some roasted broccoli rabe (put it in the oven along with the potatoes), sauteed spinach, or a favorite salad. 
Get the Seared Rib-Eye Steak with Smashed Potatoes Recipe
Sunday: Dates in Your Dinner -- and your Dessert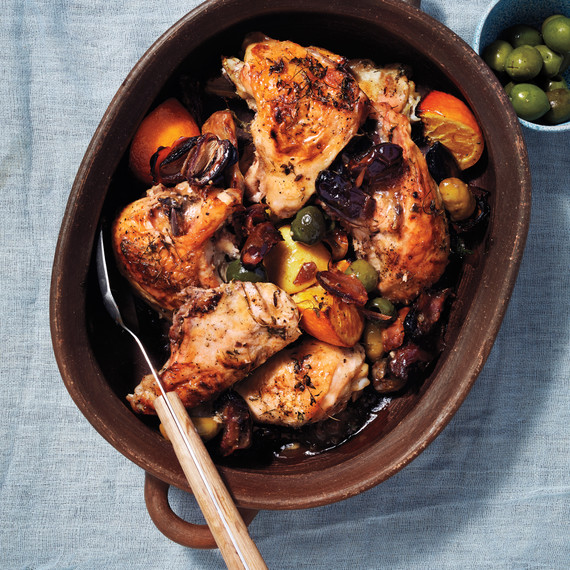 Go luscious with our divine date recipes, this chicken transports you to a brighter, sweeter world. Serve it with plenty of bread to soak up the sublime juices and a crisp green salad. And for dessert: Go all out for dates by also making the Lemon-Date Bars or the Flourless Chocolate Date Cake. You really can't have too much of some good things!


Get the Roasted Chicken with Dates, Citrus, and Olives Recipe