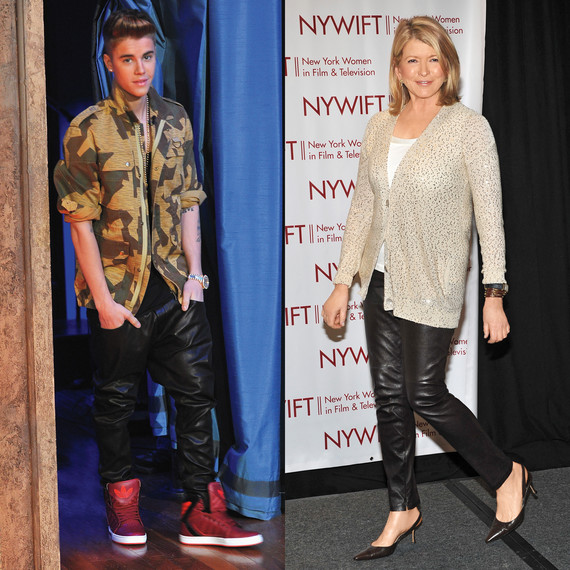 Martha and Justin Bieber: Each style icons in their own right. 
Martha's become known for her boldly hued and sparkly blazers, preppy sweaters, and Hamptons-ready linen ensembles. But also, she's Martha; she can make a denim button-down look high-end.
Then you have Justin, whose style is eclectic and youthful. One minute we're looking at MC Hammer pants; the next, crazy high-top kicks. 
Martha and Justin can agree on one thing when it comes to wardrobes: black leather pants are a classic style staple.
But who wore it better: Martha or Justin?
On the left,  Justin enhances his hide with a camouflage jacket (it's not working, Biebs; we still see you!) and a typical pair of red Adidas sneakers. He tops it off with a touch of coyness: a hands-in-pocket stance that says "I'm just looking for my one and only. Could it be you, girl?"
On the right, Martha dressed up her black leather slacks with a glittery blazer (we refuse to call it a cardigan), a sleek pair of pointy-toed pumps, and a look that says "This is my one billionth appearance on a red carpet. Take note, Biebs." (The one thing we can agree on is that these two are always impeccably coiffed.) 
So you tell us: Who wore their black leather pants better: Martha or Justin? Let us know in the comments below! 
Remember to tune into Comedy Central on March 30 to catch Martha Stewart alongside the likes of celebrities including Snoop Dogg, Ludacris, Hannibal Burress, Shaquille O'Neal, and more for the official Justin Bieber roast on Comedy Central March 30. Check your local listings for air times.