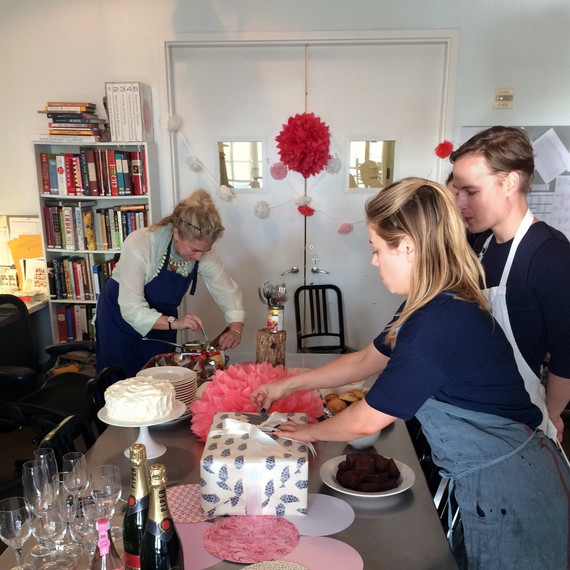 When Lucinda Scala Quinn started to plan a surprise shower for test kitchen expert and Eat Clean host Shira Bocar, she thought of doing all sweets. Shira has a sweet tooth and especially favors dark chocolate.
Then Lucinda talked to her friend Sara Graalman, who, like Shira, hails from Oklahoma. "Sarah had just inherited her grandma's recipe box and we had an epic conversation about the recipes." The friends talked about that mysterious delicacy Frito pie, and Lucinda was inspired: "I thought it would be fun to make Frito pies in the Frito bags for the party. That's when we decided to go Okey chic for our Friday afternoon shower."


Colorful paper decorations were courtesy of assistant managing editor Paulie Dibner who went "pretty and pink" because Shira was having a "sweet baby girl." Pom-poms adorned the walls and table and Paulie got creative with a circle cutter and craft paper for other table decor.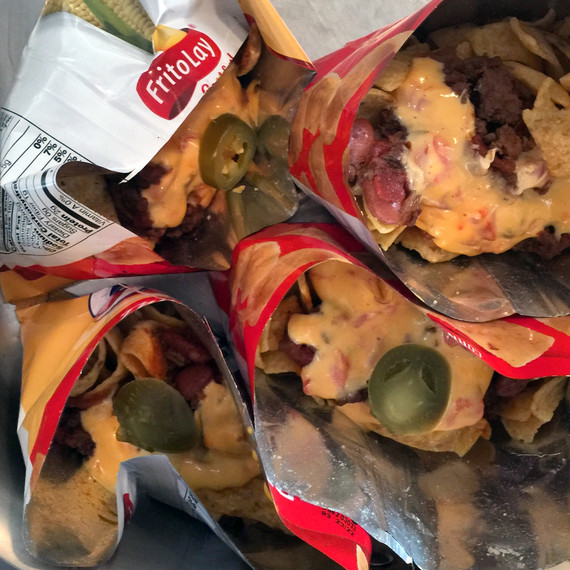 Fabulous Frito Pies
The Frito pies, as you can imagine, were the hit of the party. In case you aren't from Texas, Oklahoma, or parts thereabouts, Frito pie -- also known as Frito chili pie -- is a thing. Fritos are topped with chili, cheese, chopped raw onions, and other ingredients. It's the kind of food you hanker for, especially when you move far from home. None of the other food editors had eaten Frito pie before, but Shira calls the dish "a national treasure."


Lucinda made her favorite chili (you can use any chili, with meat or not) and made queso, with Ro-Tel canned tomatoes and chiles and Velveeta cheese, to go on top. "Ah, the magic of that cheese sauce," sighs food editor Greg Lofts. Pickled jalapenos garnished the top of each pie. "It was so good" says Shira, who noted those "super-duper salty tortillas have the heft to support all the chili and toppings."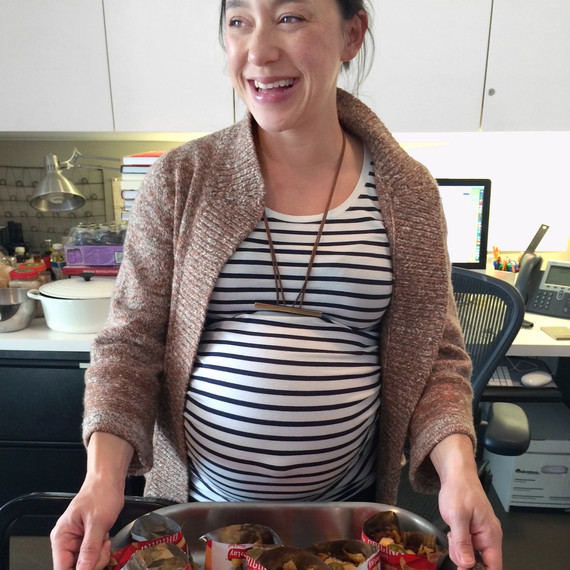 Showered with Love
And Shira? She was very surprised. Surprisingly, she hadn't suspected anything when her coworkers were all baking cakes in the test kitchen -- ones that weren't for upcoming stories, mind you. The shower was full of "all my favorite things," she gushed, "and there was ice cream!"
We think this Okey shindig was a-okay. Hopefully baby-to-be enjoyed it as much as the test kitchen team!