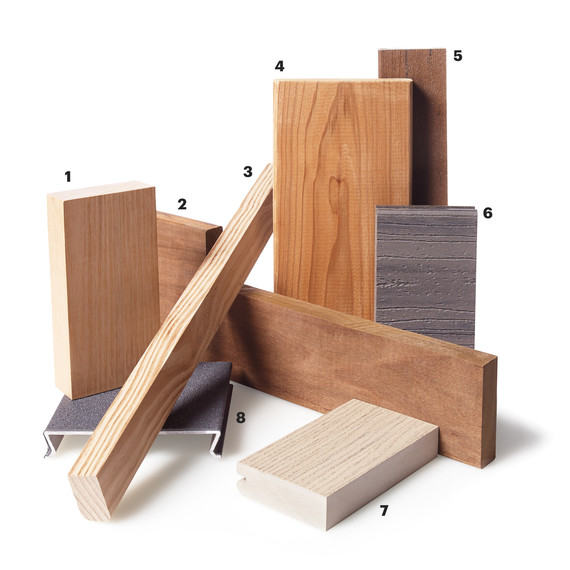 Material: Wood
1. Black Locust
An increasingly popular hardwood, it's naturally rot- and insect-resistant and "can last 20-plus years," says Al Terry, president and CEO of New York Decks, in New York City.
PRO Black locust is sustainable and domestically grown.
CON It's a hardwood but not as dense (and thus durable) as others like ipe (see below) and teak.
blacklocustlumber.com.
2. Ipe
An exotic hardwood, ipe (pronounced EE-pay) is prized for its virtually knot-free appearance and natural durability.
PRO Its rich color is similar to that of teak, a more expensive hardwood.
CON The imported wood can cost as much as man-made decking materials. And because the trees are slow-growing, it's not the most environmental option.
advantagelumber.com.
3. Pressure-Treated Pine
The softwood is treated with preservatives to ward off decay, fungus, and termites.
PRO It's widely available at lumberyards and home centers across the country.
CON The wood is saturated during treatment and can take several months to dry; as the planks dry, they can shrink and warp.
homedepot.com.
4. Cedar
Plentiful in the Pacific Northwest, cedar "is a good choice for those who want to be environmentally sensitive and budget-minded," says Spillers.
PRO Light in comparison with hardwoods like ipe, it's easier to work with.
CON Because cedar is an untreated softwood, it can easily scar.
homedepot.com.
Material: Composite
5. & 6. Timbertech Earthwood Evolutions' Legacy Collection and Trex Transcend
All composite decking is made up of wood and recycled plastics. "Encapsulated" composites have a polymer coating that makesthem stain- and scratch-resistant. Aside from cleaning with soap and water or a pressure washer, they require little maintenance.
PRO Unlike regular composite decking, encapsulated types won't fade in color, which means you can easily match and replace a damaged board.
CON Like all engineered options, they can't be painted; you are limited to the colors offered by the manufacturer.
Earthwood, timbertech.com
Trex Transcend, trex.com.
Material: PVC
7. Azek Arbor Collection
This lightweight decking is entirely plastic (polyvinyl chloride). Resistant to mold, termites, and rotting, it's a great option for high-traffic outdoor areas.
PRO The product is virtually maintenance-free.
CON PVC looks and feels like faux wood. It can also get extremely hot in the sun, and so may not be ideal for desert climates.
azek.com.
Material: Aluminum
8. Versadeck Versaplank
Popular in areas that have strict fire-related building codes, aluminum decking is the only option that can achieve a watertight seal between planks.
PRO It's cool underfoot and highly fire-resistant.
CON If you want the look of wood, this isn't for you. Also, aluminum is pricier than all other decking materials.
versadeck.com.
Make It Last
Should you decide to build a wooden deck, expect to schedule regular reapplications of a protective finish— according to Terry, every year for a semitransparent stain, every three years for a solid stain, and every five to seven years for paint. For a deck that gets lot of sun, avoid transparent stains, which offer little UV protection. Painting the wood is a better option, as it offers the most coverage, provided you use high-quality outdoor paint with UV protection.