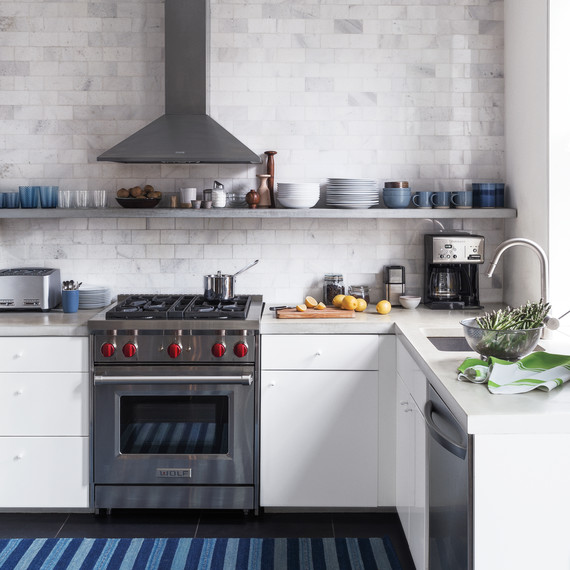 Range Hood
The hood is on the receiving end of cooking-induced humidity—and, as a result, a lot of dust-trapping, grease-attracting residue. Once a week, wipe down the exterior with hot, soapy water using a soft cloth. If your fan is vented to the outside, check your owner's manual and remove and clean the filters accordingly; if not, you'll need to buy replacement filters.
Do use a plastic scrubbing brush to gently dislodge grease particles from filters that are especially dirty.
Don't put the filters in the dishwasher— even if they're labeled as dishwasher-safe: Cleaning them that way may discolor them.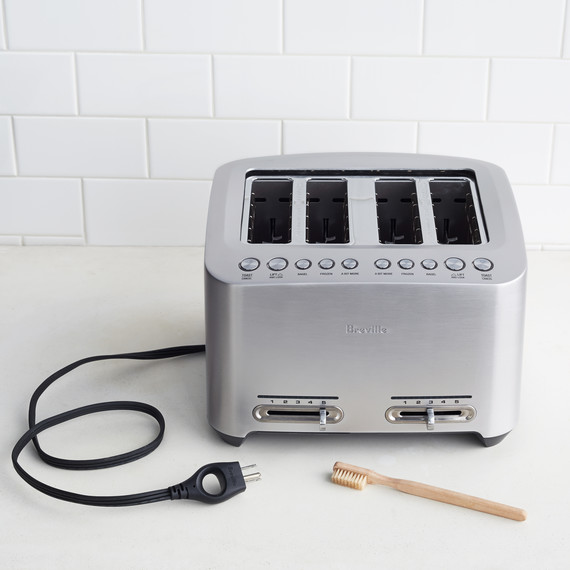 Editor's Favorite: "I use a toothbrush to dislodge stuck-on pieces from the toaster."
—Lorna Aragon, home editor
Toaster
Slices of toast pop out; crumbs stay in. Unplug the toaster and hold it over a trash can. Pull out the crumb tray and shake out the crumbs. If it's removable, wash it with soapy water; otherwise, wipe it with a damp cloth. If there's no tray, turn the toaster upside down and shake.
Do use vinegar and a soft cloth to shine the outside of a stainless steel toaster. If it's chrome, ball up some dampened aluminum foil and gently scrub away any rust spots.
Don't clean the toaster if it's warm. Wait for it to cool completely.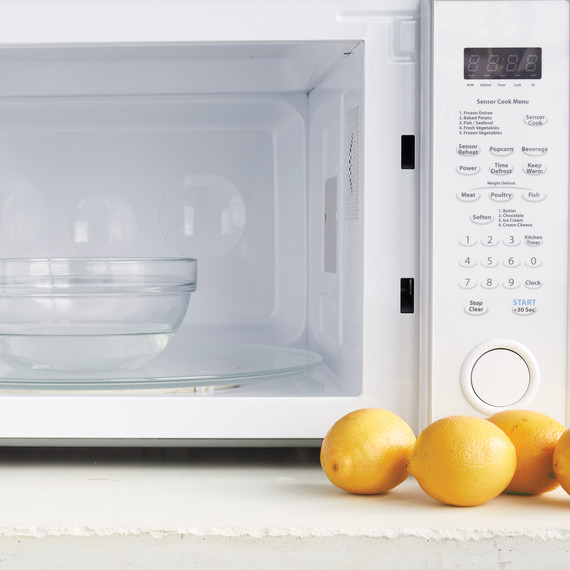 Microwave
Harness the power of steam to sanitize the interior of the machine. Heat 1 cup of water in a microwave-safe dish on high for 3 minutes, then leave the doors closed for 5 minutes more to let the steam soften any splatters. Finally, open the door and wipe everything clean with a sponge or soft cloth.
Do use lemon juice or vinegar to get rid of persistent odors. Simply mix 1/2 cup of lemon juice or distilled white vinegar into the water before you heat it.
Don't use harsh cleaners that may leave a strong scent, which can permeate food cooked inside.
Dishwasher
Take the racks out, and use a toothpick to clear any gunk from the holes in the spinning arms. Wash the grate where the water drains, as well as the removable filter (if there is one) with warm, soapy water. Wipe the rubber door seal with a damp cloth soaked in vinegar.
Do sprinkle 1 cup of baking soda on the bottom, then run the machine on a short hot-water cycle to battle stains and odors.
Don't use chlorine bleach to wipe out mildew if the machine has a stainless steel interior; bleach can corrode it.
Garbage Disposal
The best way to deodorize and scour your automatic disposal is to grind vinegar ice cubes in it.
Do throw in a halved lemon or orange and flip the switch for a fresh citrus scent.
Don't pour bleach or drain cleaners into the disposal. They can damage the blades and pipes.
Ice Maker
Turn off the ice maker, take the bin to the sink, melt the ice, and pour a solution of 2 tablespoons of baking soda for every quart of warm water into the bin. Wash and dry it thoroughly before replacing.
Do change your refrigerator's water filter if it's more than six months old.
Don't let ice sit in the bin for a long time, as it can pick up food odors. Empty and clean the bin once a month so the machine makes fresh cubes.
Vinegar
Look to your pantry for cleaning products. Vinegar is a great all-purpose cleaner; try it on stainless steel. It also cuts grease and deodorizes—naturally!
Bright Idea
To clean a vent filter, Remove and soak it in a mix of hot water and dishwashing liquid. Let the filter dry completely before reinstalling.
Did You Know
For streak-free stainless steel, wipe it with vinegar and a soft cloth, always working in the direction of the grain.
Turn It On!
Blender
Coffeemaker
Coffee/spice grinder
There's rarely a self-cleaning feature on these small appliances, but degunking and deodorizing them is almost as simple. To get your blender sparkling, pour ½ cup of water and ⅓ cup of baking soda into the blender jar, cover it—and turn it on. Then wash the parts with warm, soapy water. Fill the carafe of a sluggish coffeemaker with equal parts water and white vinegar. Pour the liquid into the reservoir and— you guessed it— turn it on. After several cups, turn it off and let it sit for an hour. Then turn it back on to finish the cycle. (Follow with a few cycles of water, just to remove any traces of vinegar.) As for grinders, pulverize bread or uncooked rice in them to pick up coffee or spice residue.