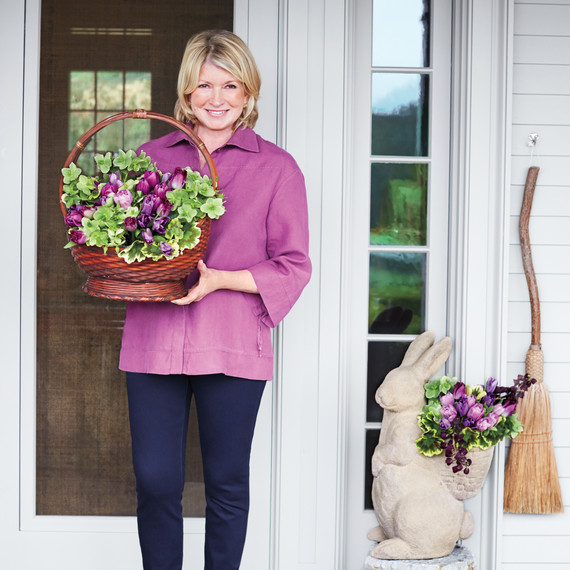 It's no secret that Martha does holidays in a big way. For Easter, that means decorating the house with baskets, blooms, bunnies, and more; dyeing hundreds of eggs; and making cookies by the dozen. "It was one o'clock in the morning and I was still decorating cookies," she says of her most recent preparations. "My entire kitchen was covered with colored sugars!"
Her late-night efforts are appreciated on Easter morning by the family members, friends, and neighbors she's invited for brunch. The gathering is an annual event with traditions that everyone looks forward to, but that doesn't mean it's always the same. This year, Martha was inspired by the deep purples and bright greens of flowers in her garden. She planned her decorations and dyed eggs around that palette, which is still springlike but also surprising and sophisticated.
The egg hunt is the highlight of the day. Make that egg hunts—Martha has figured out that having two makes for happier hunters. There's one field simply strewn with eggs for the toddlers to find, and another with the treasures hidden in more challenging spots for older children to discover. "I've been doing this for so many years," she says. "And I'll continue to do it—especially as long as there are kids." Indeed, her grandchildren, Jude and Truman, are two of those eager to fill their baskets and come across the coveted golden egg, the finder of which is rewarded with a giant chocolate bunny.
Shades of Spring