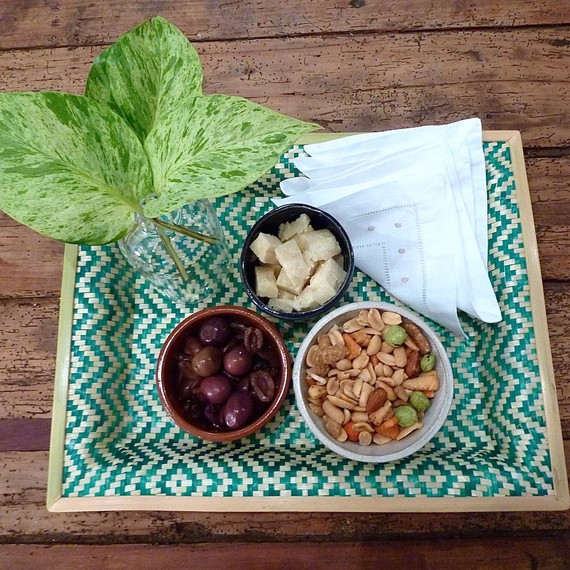 Plan ahead.
No matter the occasion or size of the party, it is essential to plan ahead. The more things you can do ahead of time, the more likely your get-together will go off without a hitch.
Make a menu.
Meal menus should be mapped out with consideration for guest's eating preferences (no creamy lasagna for lactose- and gluten-intolerant friends!). If your gathering is not centered on a meal, there should always be a little something left out for guests to nibble. Some easy choices are mixed nuts, a variety of olives and cubes of Parmesan cheese. Even if you are just having friends over for tea, put out a few cookies, bits of chocolate, or even clementines on a tray alongside your teapot.
Stock your fridge or bar with drinks -- both alcoholic and nonalcoholic -- ahead of time.
Make sure that you have a variety of beverages for your guests -- sparkling water, juices, teas, wine and a choice of alcoholic drinks.
Make some music.
Create a lengthy playlist for the occasion that will allow you to sit back and enjoy yourself -- you don't want to have to constantly get up to fidget with the music. It will help the flow of the evening.
Set the scene.
Flowers, candles, and dim lighting always set the mood. Some fresh flowers can really brighten up a space, and I especially love to put a rose or two in the bathroom -- it is an elegant touch.
Pay special attention to the table settings.
Setting the table is one of my favorite things. It does not require a ton of creativity or a large budget -- just add some beautiful blooms, tea candles, folded cloth napkins and place mats, and voila! Instant party.
Make your guests feel comfortable right from the start.
Making guests feel at home is a huge requirement for hosting a successful party. An easy way to do this is to offer a drink as soon as your guest walks in the door. The worst thing is to feel thirsty in someone else's home and to be too bashful to ask for something. It's always good to offer to take everyone's jackets and bags and put them in a safe place. Not only is it welcoming for your guests, but it will decrease the amount of clutter in the room.
Photography by Cristina Soriano and Ava Pessina.
Watch how to make the perfect cheese plate.
LEARN: The 5 Serving Essentials Every Host Should Own