It's that time again; you're thinking about dinner and what to cook. So here's our weekly list of suggestions: dinner recipes that take less than an hour of mostly hands-off time. Some recipes will be much faster than that. We'll suggest what you can do to prep ahead and cut down on weeknight work. Recipes will be family-friendly, but we'll stretch the boundaries beyond chicken tenders and broccoli. Yes, there will be pasta, and, yes, it will be delicious. So visit us every week for dinnertime inspiration.
Monday: Stove-Top Pasta and Cheese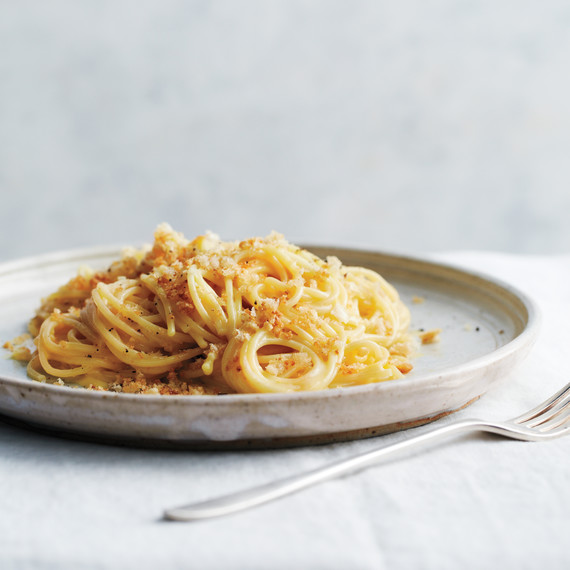 No box, no bechamel (typically used in from-scratch mac and cheese), and this recipe is so fast, so unbelievably delicious. It's a simple, silky cheesy spaghetti that's as easy as using a mix and as sublime as a more-involved baked mac and cheese. It's revolutionary, really. Serve with sauteed broccoloni or brocoli rabe or another green that has just a touch of bitterness, all the better to complement the creamy cheesy pasta.
Get the Stove-Top Pasta and Cheese Recipe
TUESDAY: Potatoes or Cabbage?
Two options today: the slow-cooker approach and the once-you-get-home from work route; either results in dinner with an Irish slant for St. Patrick's Day. If you have a slow cooker, then make Corned Beef and Cabbage. Alternatively, shop ahead for pork sausages (your usual Italian aren't quite right today) and serve them with Mashed Potatoes or Colcannon (takes a tad longer but worth it!). Show your green by starting the meal with this gorgeous platter of vegetables with a Green Goddess Dip. All it requires is rinsing and cutting up cucumbers and celery to go with some asparagus and cauliflower (blanch them the night before and store in the refrigerator). The dip can be made a day or two ahead. We love make-ahead . . .
Get the Platter of Gorgeous Greens Recipe
WEDNESDAY: One-Pot Roasted Mustard Salmon
Everyone loves salmon, but we could all use a new way of cooking it. This one-pot wonder cooks in the oven and is packed with assertive flavors. And for dinner prep and clean-up, nothing is better than a one-pot dinner -- except having someone else clean up for you!
Get the One-Pot Roasted Mustard Salmon Recipe
THURSDAY: Kale and White Bean Stew
Because what is a week without kale?! Once spring produce hits the markets, we might be a tad less mad for this hearty green, but for now it's a staple. This vegan stew is hearty and fully flavored but cooks in just 30 minutes.
Get the Kale and White Bean Stew Recipe
FRIDAY: Leek, Bacon, and Pea Risotto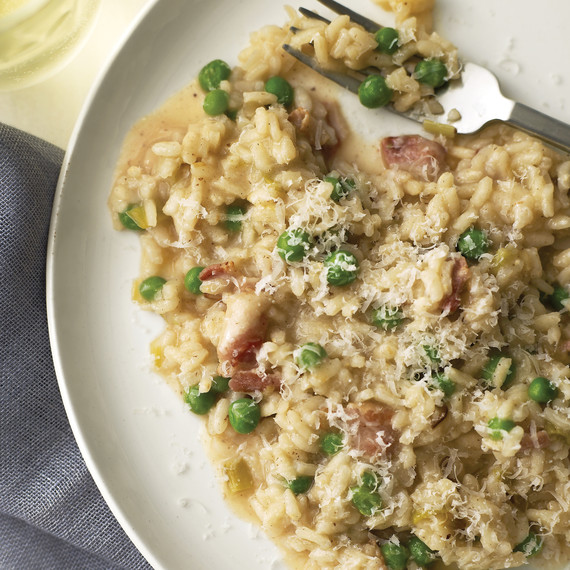 Risotto is definitely a dish to have in your dinner repertoire. Keep homemade stock in the freezer and an Italian rice meant for risotto (Arborio, Carnaroli, or Vialone Nano) in your pantry, and you're ready to go. This risotto nods to the coming spring; we're waiting impatiently for when the peas will be fresh not frozen. The recipe calls for making twice as much risotto, so you can make risotto cakes with the leftovers. That's a mighty fine idea.
Get the Leek, Bacon, and Pea Risotto Recipe
SATURDAY: Beer-Friendly: A Gastropubby, Snacky Meal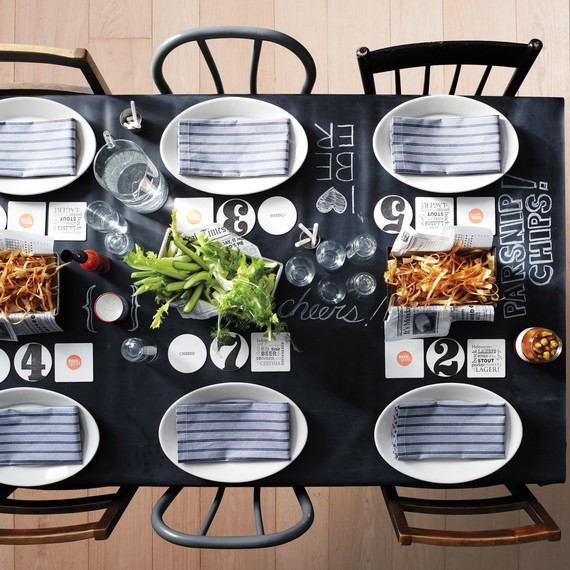 With bold flavors (Roasted Buffalo Shrimp and Bacon-Blue Cheese Sandwiches among others), this gastropub-inspired menu is just right for a beer-tasting evening but also makes a wonderful grazing menu if you're having friends over to watch a movie or just hanging out at home.
Get the Recipes
Sunday: Get Ahead + Kale and Farro Salad with Feta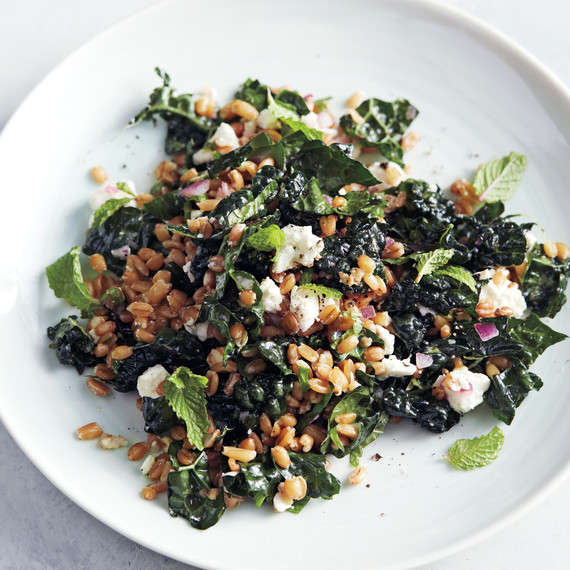 Get ahead in the kitchen by cooking up a pot of lentils and plenty of rice (you know, so you can use it as a side dish this coming week or have it star in a fried rice dinner). For today, try this whole-grain-and-hearty-green salad for lunch or supper. Use any leftovers for workday lunches; it's one of those fabulous salads that can be tossed a few days ahead and doesn't go limp and soggy. In fact, you might think it tastes even better.
Get the Kale and Farro Salad with Feta Recipe