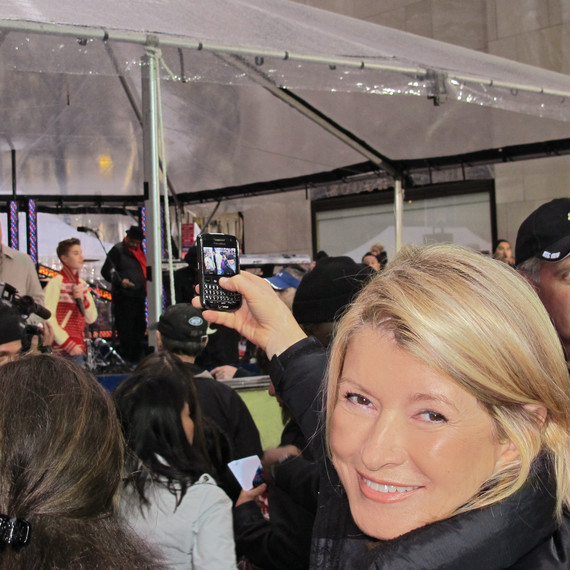 Martha Stewart is famous for her pork roasts, pot roasts, and beef chuck roasts, but this March 30, expect a different kind of roast from America's queen of creative living: Martha will be roasting pop star Justin Bieber in a can't-miss, star-studded event on Comedy Central. And if you don't think Martha's got the chops to rib Justin with the best of them, then brace yourself for her sillier side.
So how does Martha feel to be part of a nationwide broadcast, throwing playful, sarcastic jabs at a heartthrob with almost 78 million Facebook followers? "A little queasy, but excited to be sitting on a dais with some of my favorite people, like Snoop Dogg and Ludacris!" That's why we love you, Martha.
We asked Martha if she had some preliminary advice for bad boy Biebs on how to handle his fame with, well, a little more tact. "Fortunately, when I was growing up, there was no Internet or social media, so we could do naughty things without public attention and ridicule. Now there's nowhere to hide!" she says. "I have two words for him: be careful."
Martha actually has a few more choice words for the pop star who can't seem to steer his way out of trouble. "He just has to cool it!" she kids. "And why does he have to have a Lamborghini? He should have a GMC Suburban. Lamborghinis are stupid cars. You can't get in or out of them!" She quips with a laugh. "And what does he need more attention for, anyway?"
But there's one more thing we know you're itching to know about Martha: Is she a Belieber? "Of course I am!" she proclaims. Why else would I drag myself to California on the first day of my first vacation in nine months?" We guess Bieber fever is hard to resist.
Tune into Comedy Central on March 30 to catch Martha Stewart alongside the likes of celebrities including Snoop Dogg, Ludacris, Hannibal Burress, Shaquille O'Neal, and more for the official Justin Bieber roast on Comedy Central March 30. Check your local listings for air times.