When my husband and I decided to move to New York City from Los Angeles, we knew it would be hard to find an apartment that would fit all of the items that we had in our house. My top priority was finding a kitchen that I could do more than boil water in -- let's just say my "sweaters in the oven" days are over. It took me too many years to finally have a KitchenAid Mixer to just store it away! After looking at 15 different places (and shedding a few tears), we finally decided on a renovated 114-year-old duplex in Chelsea. It was so cozy, the kitchen was equipped with full-size appliances, and the layout was great! The one thing it did not have were drawers. That's right! Not one drawer.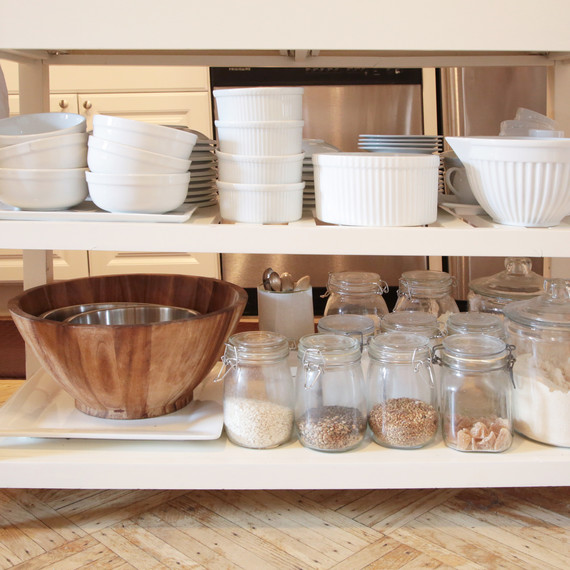 The lack of drawers was stressing me out before we moved in. I frantically searched high and low for a small island because I wouldn't have been able to unpack without it. I finally found a simple kitchen island on Amazon with an easy-to-clean top, open shelves on the bottom, and yes...TWO drawers. In L.A., we had open shelving so I re-created that on the lower racks. It's easier to find what I need because I can clearly see it all.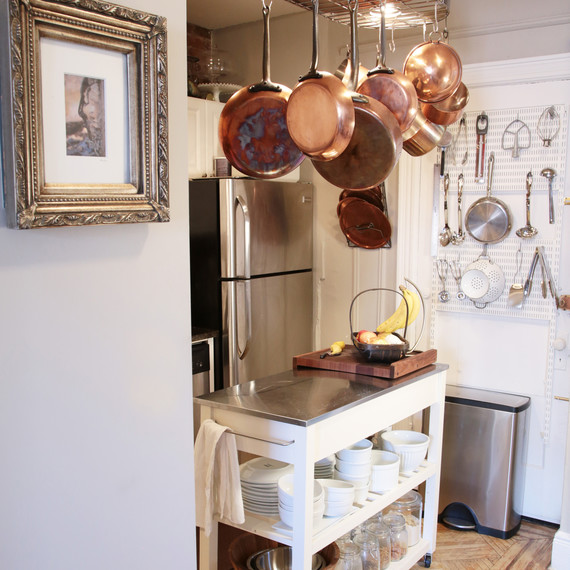 With limited space, an absolute must is a hanging pot rack -- once you get one you will never go back to trying to shove them in a cabinet. I found this one online and I loved that it had lights built right in -- the last thing you want is a pot rack blocking much needed light. I used this amazing app called Handy to hire someone to install it -- think Uber for handymen -- it was a lifesaver.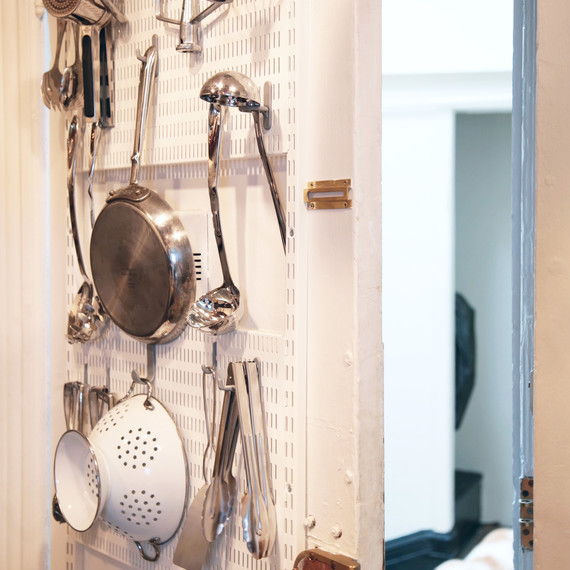 To fit more of my tools into this kitchen, I took a cue from Julia Child and decided to hang them on the wall, or, in this case, a door. No one even notices, but this is actually a door to the hallway that I hung an Elfa utility board onto. I love this modern storage solution because it has so many hooks to accommodate all of my different gadgets. When I open the door, nothing budges at all! Just make sure that everything you put onto the board has space around it so your don't feel like you live in a junk shop!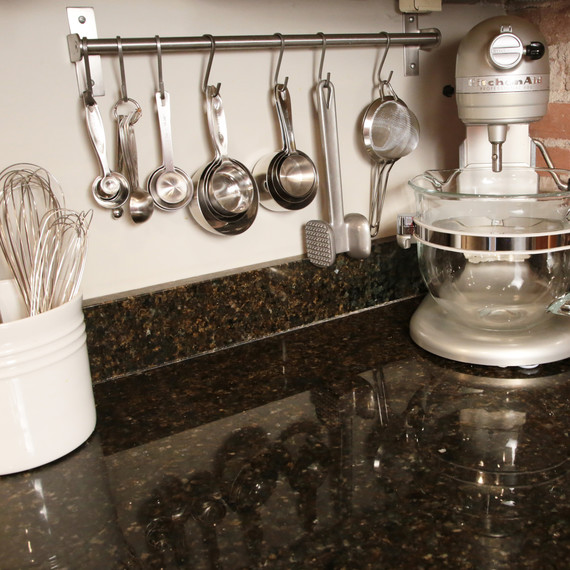 Because of our minimum drawer space, I installed this simple stainless-steel bar from Ikea to store all of the measuring cups and spoons. The way to keep these from looking cluttered is to make sure they are the same color -- in this case, silver. I love having multiple measurers around because it is inevitable that the one I just used will be the one I need for the next step.


Are you looking for new opportunities to maximize your own kitchen? Do you have any tips that you have used to make your smaller kitchen feel big?