So, what is a fairy garden?
For those of us with human-sized gardens, fairy gardens appear to be a new phenomenon. In fact, these delightful flights of fancy have been quietly popular since Victorian times. According to miniature garden guru Janit Calvo of Seattle, Washington, when she started showing her miniature gardens at fairs in her area, many people expressed delight in seeing a craft they remembered from childhood.
Fairy gardening is basically real gardening in miniature. Think: You are building a garden for a fairy to live in. Children tend to love them because they get to learn about nature and tap into their own creativity. And parents love them because they are projects the whole family can work on together (especially during cold winters). But not all people do it for the fairies. Garden-lovers with limited space or mobility can "garden" to their heart's content -- with no aching back at the end of the day!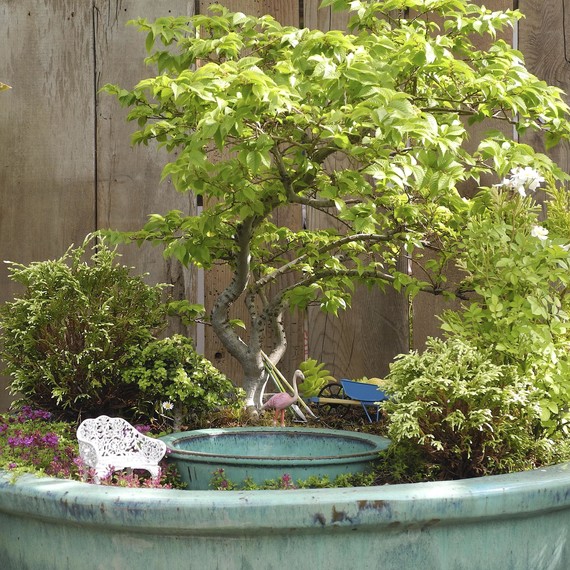 So you want to try it?
Start your project by choosing a container, about 8 inches deep, just about anything will do....a basket, a drawer, a baking pan, a broken pot...make sure the container has drainage or line it with black plastic if it will sit indoors. Choose a good quaity potting soil and shape it into a landscape by making hills and valleys. Visit your local nusery for miniature plants such as dwarf conifers, mini-ground covers like thyme, or small succulents for seaside landscapes. 
Let nature be your guide for what goes into your design. Walk in the woods or on a beach to collect small stones (for pathways, twigs, driftwood, tiny hemlock pine cones, bits of moss and delicate shells. Examine these natural elements and discover ways to, for example, make a fence from twigs or roofing tiles from pieces of pine cone.
Miniature gardens are most often recreations of existing landscapes, in reduced size, with the decorative handmade objects. Fairy gardens are small-scale worlds created using mostly natural materials, but featuring small houses, benches, other furnishings, and of course, resident fairies. Most important, this craft is a gateway into gardening for people who have never gardened, and those looking for a project to do with children (boys love dinosaurscapes), says Lynne Phillips, manager of Natural Art Garden Center in Toms Brook, Virginia. Most important for small garden success, reports Lynne, is picking the right plants for the conditions and not combining sun-loving with shade plants. Talk to your nursery person about the plants that will thrive in the environment you plan on setting the container. Location will determine which plants you select.
With the right soil, the right container, and the right plants, your miniature garden will thrive. Wherever your imagination takes you, making a miniature garden is a great way to tap into your own creative spirit.
Photography by Janit Calvo.
If you enjoyed the fairy garden, check out how to plant a butterfly garden!