Have Fun!
Perhaps the most important rule when updating an office space is to have fun. You want your space to have items that make you happy and bring out your smile. I particularly fancy my shop's own stationery sets and notepads. They look beautiful, help me stay organized, and make the tasks at hand a little more fun.
Add Some Personality
Everyone's workspace should have little hidden hints about their passions. For my own workspace, that meant elements of vintage postal passion -- with one-of-a-kind vintage finds like an old U.S. mail bag and a brass snail decoration. It's easy to bring these items in and sprinkle them in your space to add a bit of personality that is all your own. It's important to choose carefully, however, and avoid over-cluttering your space.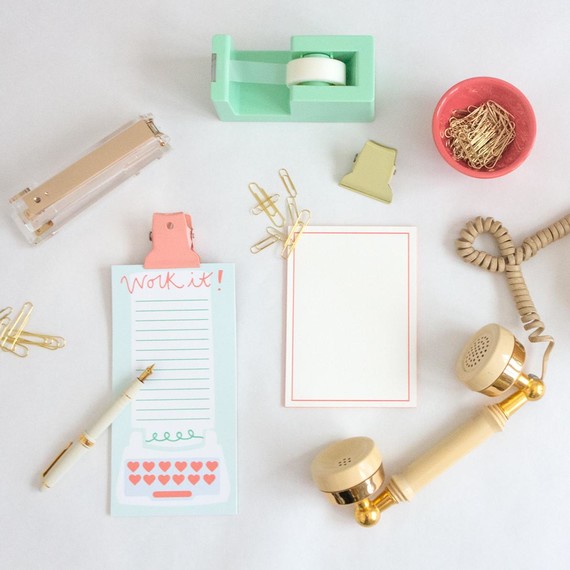 Add Color
Color is SO important! Pick out colorful items that are both functional and fun. My favorites include all the bright office supplies from Poppin (I love my mint green tape dispenser); colorful desk accessories; and updated, modern storage solutions like these colorful storage drawers. Adding these little pops of color is a sure way to instantly make your work space brighter.
Stick with the Classics
Classic office items like a phone, stapler, scissors and a pen are a must for everyday work. Make them even more important by investing in vintage-style versions -- they'll give these seeminly mundane daily actions a greater sense of satisfaction. For example, I purchased a beautiful fountain pen a few years ago with which I sign extra-important documents. Every time I write with it, I have an immediate feeling of importance and pride in my work. Other favorites here include a gold and acrylic stapler, a working vintage rotary phone, and even smaller items like golden paper clips.
In need of more office inspiration? Check out my Pinterest board "Desktop Details" to get a few of my favorite office supply finds!