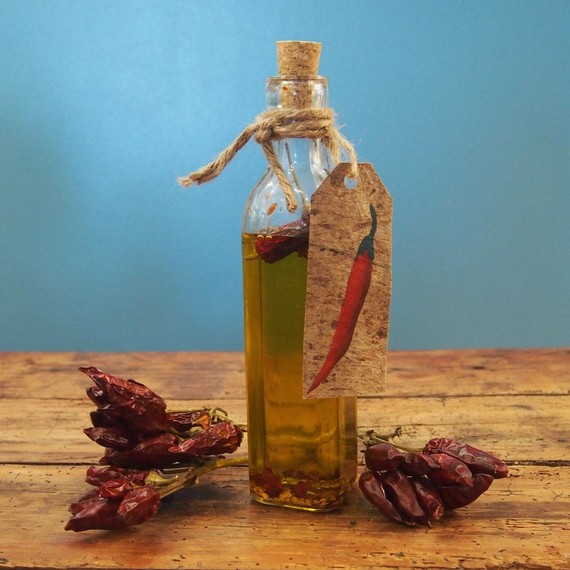 1. Chile-Infused Olive Oil
Olive oil can be easily infused with a vast amount of flavors -- chile, herbs, lemon peels ... I had a bag of delicious Calabrian dried peppers so I decided to make a spicy olive oil.
To make: Pour a high-quality olive oil into a glass decanter, and crush a few chiles (with your fingers) into the spout. Add a few whole pieces of chile to brighten up the presentation and write or paint your own chile label.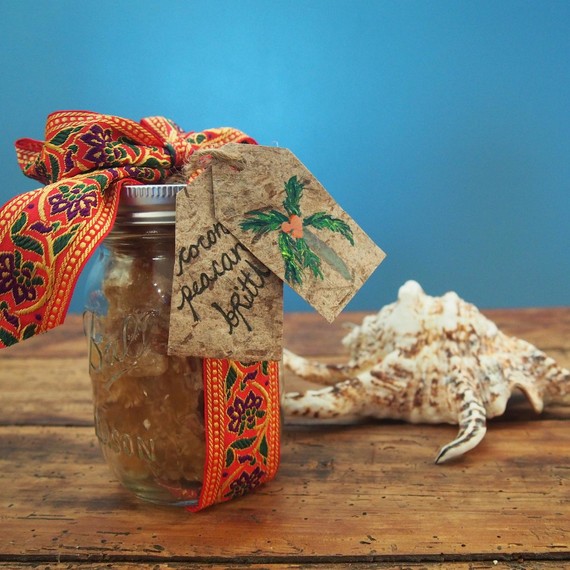 2. Coconut Pecan Brittle
Peanut brittle is something I always had in my pantry growing up, and my mom especially loved the ones that were homemade or from a gourmet grocer. I found some extra pecans and shredded baking coconut and decided to reinvent the staple with a twist.
To make: Follow a good recipe for nut brittle and use any nut of your choice. Add shredded coconut to the mixture prior to heating. When cooled, crack the brittle into pieces using a meat-tenderizing hammer.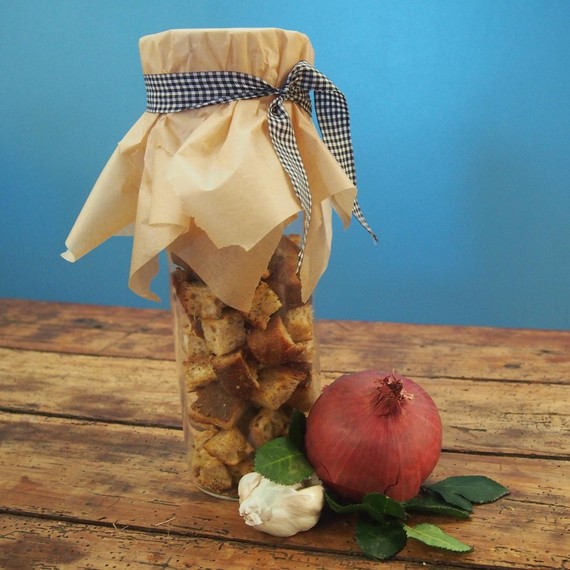 3. Truffle Italian Croutons
Gourmet croutons are a luxury. A delicious Caesar salad becomes even more decadent with large wonderfully seasoned croutons, and a cup of soup is so much more comforting with a few sourdough chunks.
To make: Preheat the oven to 350°F. Cut a loaf of day-old bread (I love using sourdough) into one-inch cubes -- don't worry about being exact, the more imperfect, the better. Put the cubes into a large mixing bowl and pour three tablespoons of good-quality olive oil. Sprinkle some truffle salt and Italian seasoning (or anything you want -- a curry powder mix is delicious, as is grated Parmesan and lemon zest, or diced rosemary) onto the bread and mix with your hands until thoroughly integrated. Set on a cookie sheet and bake until the bread cubes are hard and dehydrated. Once cooled, store croutons in an airtight container.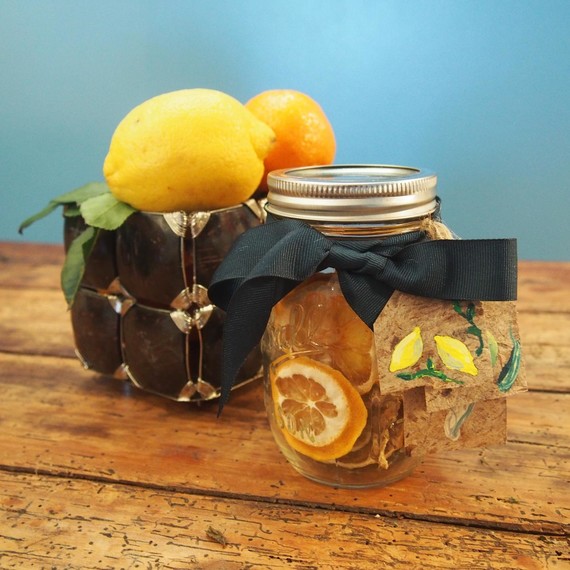 4. Lemon, Lime, and Ginger Tea Mix
Tea infused with dried citrus and ginger is so comforting and ideal, especially during the heart of winter.
To make: Preheat the oven to 170°F and slice one lemon, lime, and ginger root into thin wheels. Arrange on top of a cooling rack and place the rack onto a baking sheet in the oven. Leave untouched for two hours, after which, rotate the wheels on the baking sheet and bake for another two hours. Depending on the thickness of the slices, some pieces may be dehydrated before others, so watch over to ensure that the slices do not get burned. Once cooled, place tea mixture into an airtight container and decorate with a pretty label.