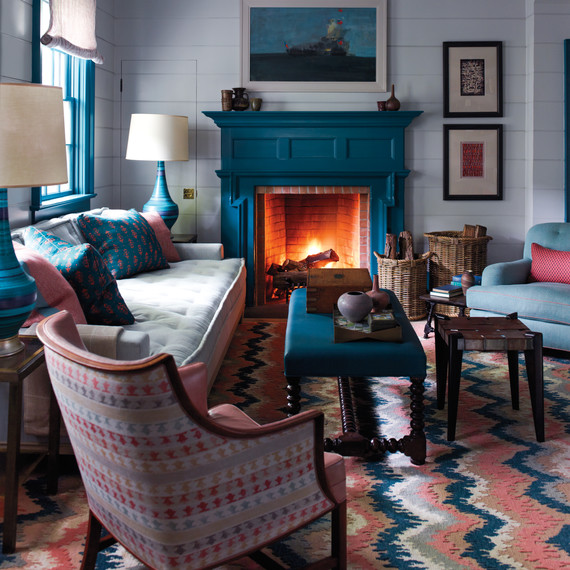 Martha has long admired the work of interior designer Steven Gambrel. When she met with the esteemed New York City–based decorator recently, they had a lively discussion about a subject central to the work of any decorator —indeed, to anyone interested in enhancing the spaces they love. They discussed color.
Gambrel has a degree in architecture, but almost immediately after graduation he turned to interior design. Still, his training is evident in what he creates as principal of S. R. Gambrel Inc.—and especially how he creates. He designs with a room's proportions and architectural details in mind, and instead of employing brick, mortar, and steel, he uses color—in textiles, artwork, wall paint, and more—to construct interiors that feel at once timeless and modern (like the Sag Harbor, New York, home he designed for clients that's featured in this post). He attributes his mastery of color to being unafraid of bold gestures: "If you don't take risks, you end up with watered-down results."
[DARK WALLS: When to Go Bold In Your Home]
According to Gambrel, the key is to think beyond paint. "Sometimes people will ask me what colors to choose for their walls, and I have no idea how to direct them, because it's really difficult to build a storyboard without a full story," he says. Details—the welting on a pillow, the pattern on an armchair, the type of molding on the walls—all inform his palette and design decisions. "So a throw pillow, for instance, may seem like a tiny detail that can be skipped, but that's how you can get the whole story. It's these little defining moments that make the room come together"—and in the case of Gambrel's work, come together beautifully.
Lesson One: Textiles First
For Gambrel, there is no chicken-or-egg debate when it comes to a room's palette. "Start with the textiles—always," he says. "Then the paint colors, which push the color story a little further." The palette for this library, for instance, was inspired by shell-pink porcelain vases, bottom center. It was only after the pink and teal textiles were selected that Gambrel turned to the paints, ultimately deciding on light-gray walls and a peacock blue for the trim, mantel, and bookshelves. "A darker color for the trim defines the edges of a room in a nice way."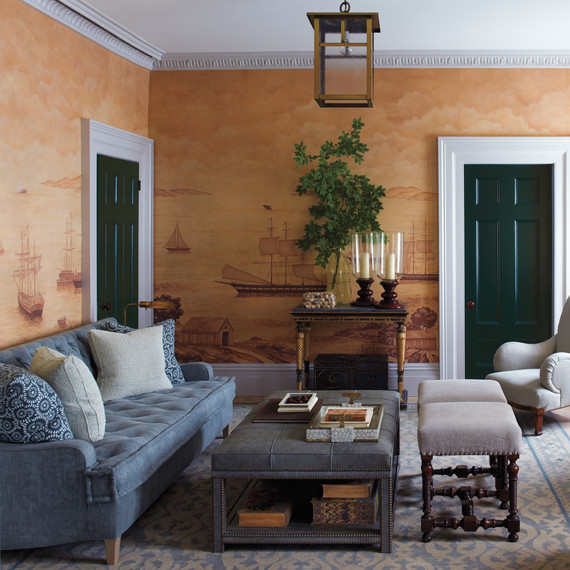 Lesson Two: Highlight Architecture
"Use color to help make the architecture the best it can be," says Gambrel. Here, he added drama to the hand-painted wallpaper in the living room by choosing a historic-looking coach green for the original 1835 doors, which stand in stark relief against light-gray frames. "I think dark doors are a great way to define a door as architecture," he says. Along the same lines, he recommends treating "the mullions on a window differently from the frame on a window, differently from the walls," as shown, below.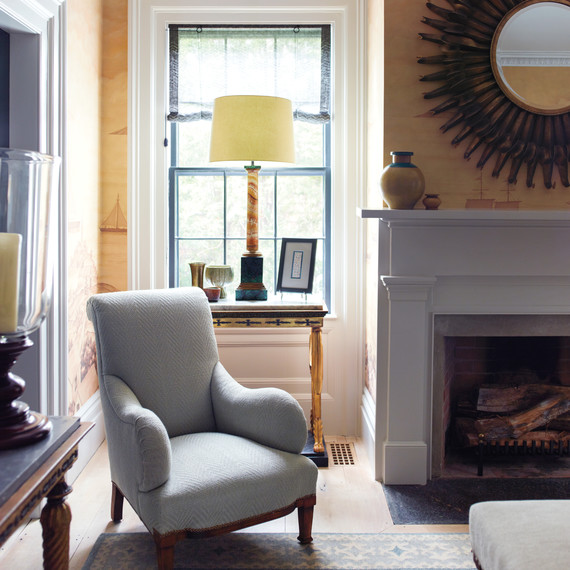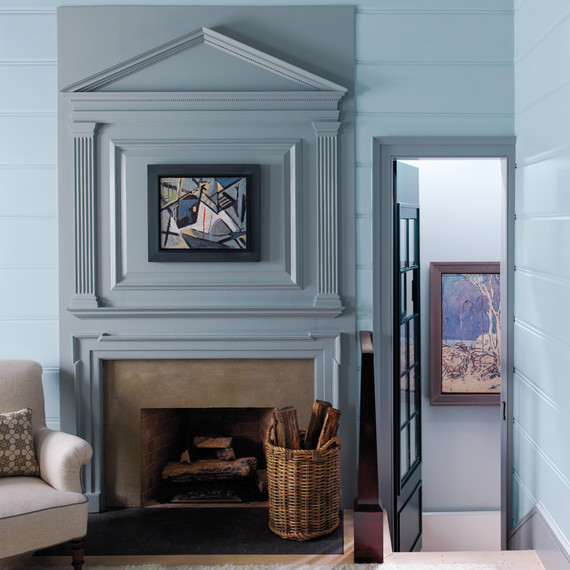 Lesson Three: Consider the Light
Because this bedroom doesn't get much light, Gambrel chose a dusky palette for it. "No matter how lightly you painted it, it would appear dark because of how natural light comes into the room. So why not make it dark?" he says. (A satin finish was chosen for its light-reflecting properties.) He emphasized the handsome fireplace mantel, salvaged from another house, by having it painted entirely in a dark blue-gray that stands out against the paler-blue walls.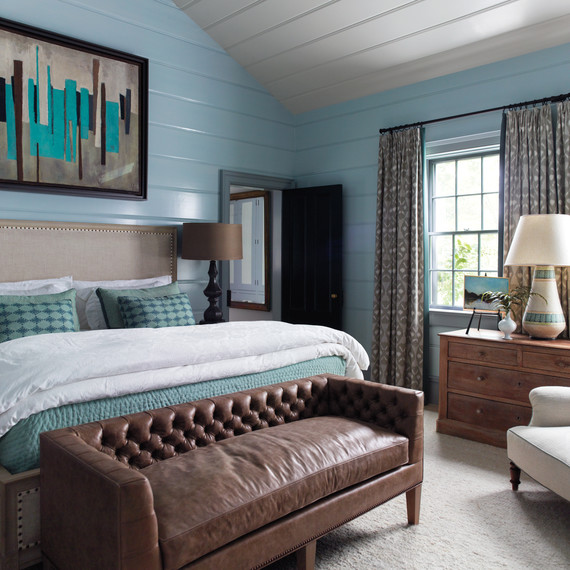 Lesson Four: Unify Rooms
"There's usually a color thread that runs through the homes I design," says Gambrel. For instance, despite different palettes, there is still a sense of cohesiveness in this Sag Harbor home, thanks to certain color themes: Every interior door is painted the same saturated dark green, and a few big-impact colors recur in multiple rooms. Here, the hits of teal in the bedroom's artwork, bedding, and lamp refer to the vibrant peacock blue that's so prominent in the library.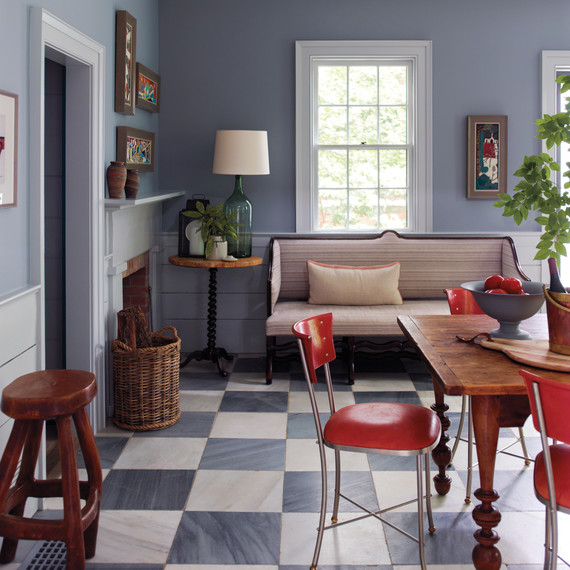 Lesson Five: Handle with Care
"Don't use color as a weapon or as an irreverent way to create a point of view," warns Gambrel. "I would be hard-pressed to paint a room a strong color just because I like it." Instead, use a bolder color discriminatingly. In the kitchen, as an example, Gambrel made the muted gray palette (inspired by the room's reclaimed Italian-marble floors) more youthful and "zippy," as he puts it, by adding red chairs and a red-edged pillow that reference the tomato color in the library. The effect isn't exactly balanced but is nonetheless considered.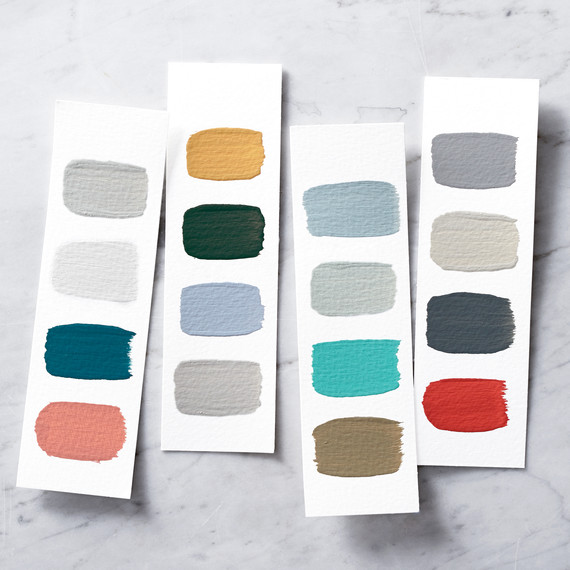 Behind the Palettes
Interested in replicating Gambrel's color schemes in your own home? We detail the paints he worked with and offer paint suggestions for the upholstery accents he chose.
From left to right
Library: Rich and Sumptuous
"The peacock blue has a hit of deep green that makes it more exciting and unexpected than a pure blue. It also reacts very well to the warm tone of the salmon. The peacock trim and gray walls could have been reversed, but I wanted to see the pieces that I was trying to express—the mantel and the bookcase—in a strong color," says Gambrel.
Paints from top down:
Winters Gate, prattandlambert.com.
White, benjaminmoore.com.
G21030, finepaintsofeurope.com.
Coral Rock, benjaminmoore.com.
Living Room: Classic and Elegant
For the living room, Gambrel selected a light-gray trim to frame the tobacco-yellow wallpaper. "I used blue because it's an inviting color against the parchment shade of the wall murals," he says. Rather than a pure black, he opted to go with a dark green for the antique doors: "It feels historic and has more depth."
Paints from top down:
High Plateau, by Behr, homedepot.com.
Coach Green, finepaintsofeurope.com.
Skysail Blue, by Behr, homedepot.com.
Agreeable Gray, sherwin-williams.com.
Bedroom: Calm and Collected
Gambrel brushed a deep blue-gray on top of a paler base coat for a subtly textured strié effect on the bedroom walls. In lieu of a stark white, a soft gray was used on the sloped ceiling. "We wanted something soothing here, not high-contrast," he says. "The blues are neither too masculine nor too feminine, and they work well with strong architecture."
Paints from top down:
Parma Gray, us.farrow-ball.com.
Skylight, us.farrow-ball.com.
Teal Tone , benjaminmoore.com.
Smoky Ash, benjaminmoore.com.
Kitchen: Fun and Vibrant
The challenge of a gray palette is that it can feel cold. Gambrel turned the kitchen into a more family-friendly space by scattering wooden pieces throughout the room and punctuating the somber shades with bright-red chairs. "Red activates the space. At the same time, it helps calm the chaos of cooking ingredients and toys," he notes.
Paints from top down:
Timeless Gray, prattandlambert.com.
Granitine, prattandlambert.com.
Gunmetal, benjaminmoore.com.
Geranium, benjaminmoore.com.