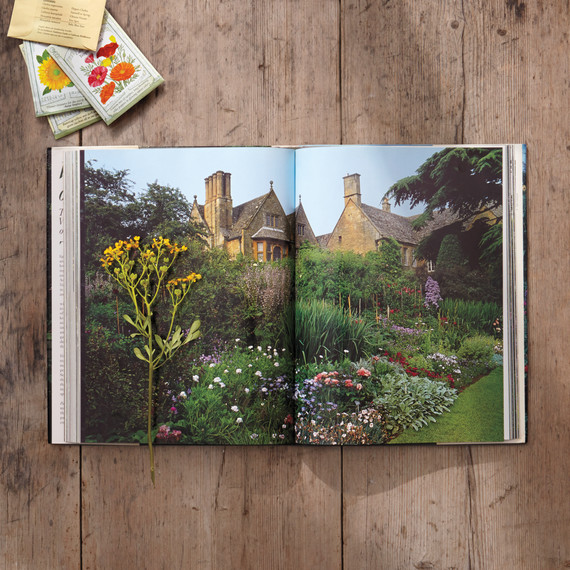 The Classics
1. Visions of Paradise
(Stewart, Tabori & Chang, 1985)
Including such gems as England's Hidcote Manor and California's Huntington Botanical Gardens, Marina Schinz's masterful book showcases exquisite cultivated landscapes of Europe and America.
$50, abebooks.com.
2. Dirr's Encyclopedia of Trees & Shrubs
(Timber Press, 2011)
Horticulturalist and tree-and-shrub expert Michael A. Dirr has put together an exhaustive A-to-Z of more than a thousand plants, complete with color photographs and detailed growing tips.
$80, bn.com.
3. The Explorer's Garden
(Timber Press, 2009)
Modern-day adventurer and naturalist Daniel Hinkley travels around the world to scout new species. In this volume, he presents rare and unusual perennials he has encountered on his expeditions.
$25, timberpress.com.
4. The Essential Earthman
(Indiana University Press, 1981)
In this witty, irreverent, endlessly entertaining collection of his columns for the Washington Post, the late Henry Mitchell eloquently conveys the trials and triumphs of gardening.
$14, abebooks.com.
5. The Garden Primer
(Workman, 2008)
Barbara Damrosch wrote the go-to gardening handbook. In her easy-to-follow instructions, she offers sage advice on everything from essential tools to best sustainable practices to how to grow edibles.
$19, workman.com.
6. The Wild Braid
(W. W. Norton, 2005)
"All my life, the garden has been a great teacher in everything I cherish," writes the late Pulitzer Prize-winning poet Stanley Kunitz in his beautiful meditation on nearly a century of life spent digging in the soil.
$19, amazon.com.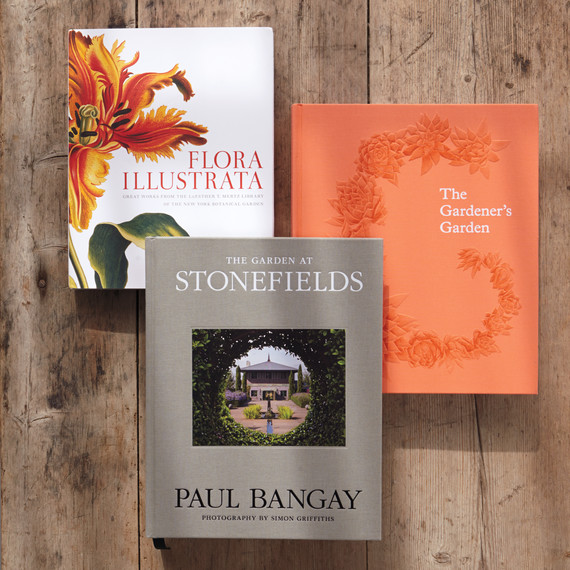 The New Favorites
1. Flora Illustrata
(New York Botanical Garden/Yale University Press, 2014)
The NYBG has one of the biggest libraries of botanical works, and this lovely tome reproduces some of the pages from those rare books, as well as illustrations dating back to the 12th century.
$50, nybgshop.org.
2. The Gardener's Garden
(Phaidon, 2014)
More than 250 stunning gardens by the world's top landscape designers, past and present, are collected in this comprehensive and informative -- not to mention gorgeous -- coffee-table book.
$80, phaidon.com.
3. The Garden at Stonefields
(Penguin, 2013)
Celebrated Australian garden designer Paul Bangay takes readers through the grueling process of designing and building a new estate that houses a potager, formal lily-pond garden, and rose garden.
$100, amazon.com.
4. Weeds of North America
(University of Chicago Press, 2014)
Richard Dickinson and France Royer's encyclopedic guide presents detailed information on more than 600 weeds, including photographs of various stages of growth.
$35, indiebound.org.
5. Attracting Beneficial Bugs to Your Garden
(Timber Press, 2014)
Jessica Walliser lets readers in on the secrets to a garden that buzzes with activity. Her profiles, on the insects that fight pests and the best plants for attracting them, offer clear, practical tips.
$25, bn.com.
6. Sissinghurst
(St. Martin's, 2014)
For 10 years, Sarah Raven lived at Sissinghurst, "one of the most heartrendingly beautiful" gardens in England. As she tells its origin story, she adds her voice to that of the garden's creator (and her husband's grandmother), Vita Sackville-West.
$35, bn.com.