What's for dinner is a big question for most of us. But really the question should be, "What can/should I make for dinner tonight?" because it's not a matter of what takeout place you'll stop by, but whether you already have the ingredients for dinner at home and a meal in mind that you can make before:
a) The kids start crying/fighting.
b) You are too weak with hunger to care and have opened a bag of chips, any kind of chips, no salsa.

The ideal scenario is that meals are planned out, shopped for, and some prep done ahead. This involves planning dinner a week ahead. (How did you manage to do that every week, Mom?) Reality bites too often for that to happen with me. I am moved to culinary creativity by what I bought at the farmers' market over the weekend or whether boneless chicken thighs were on sale at the market when I did my major weekly shopping. On those particular days, I'll have a strong idea for dinner, but on other nights I need help, and if that is true for you too, well, look no further.
Starting this week, we'll have a weekly list of suggestions: dinner recipes that take less than an hour of mostly hands-off time. Some recipes will be much faster than that. We'll suggest what you can do to prep ahead and cut down on weeknight work. Recipes will be family friendly, but we'll stretch the boundaries beyond chicken tenders and broccoli. Yes, there will be pasta and, yes, it will be delicious. So visit us every week for dinnertime inspiration.
Monday: Beef and Cheddar Hand Pies with Roasted Broccoli Rabe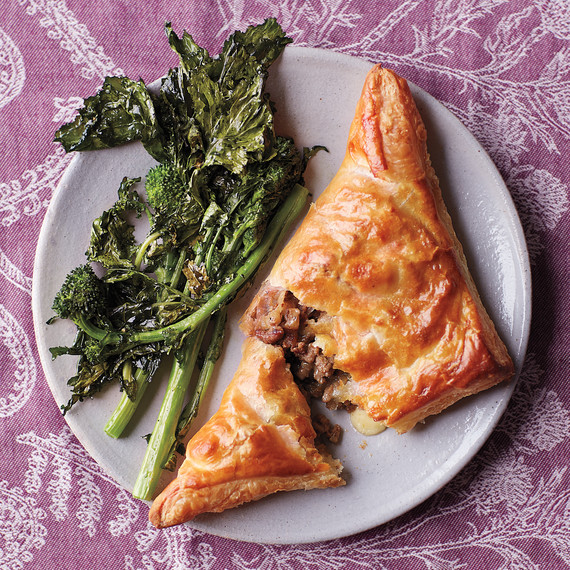 Sure, there's Meatless Monday and we are totally behind that, but this week we're going beefy to start. Fancy a pie, but have no time to make it? Frozen puff pastry is a staple you should always have on hand. It's super versatile (for potpies, vegetable tarts, and of course fruity desserts). And while these are called hand pies, we do suggest utensils for this meal, if only for the broccoli rabe!

Best of all, you can prep these hand pies ahead, refrigerate, and simply bake them and roast the broccoli rabe in the evening. Savory pie in no time at all!
Get the Beef and Cheddar Hand Pies Recipe
TUESDAY: Chicken with Mushrooms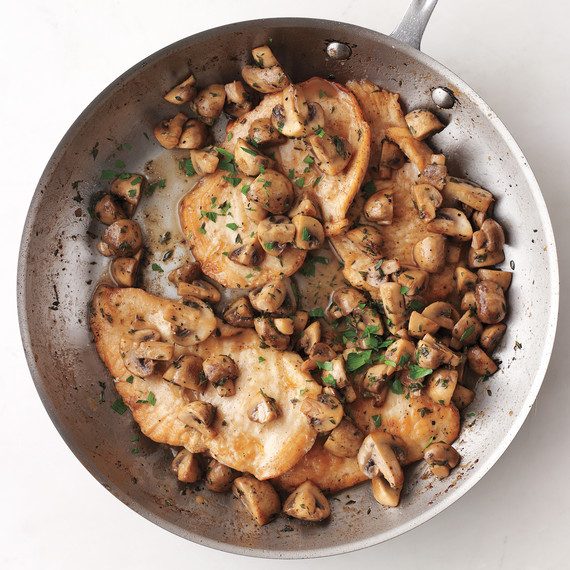 Quick and delicious, and elegant to boot: Chicken cutlets are another staple to keep in the freezer. Wrap them individually to make defrosting just the number you need easiest. Polenta goes really well with this, as does a crisp, simple green salad.
Get the Chicken with Mushrooms Recipe
WEDNESDAY: Winter Vegetable Red Curry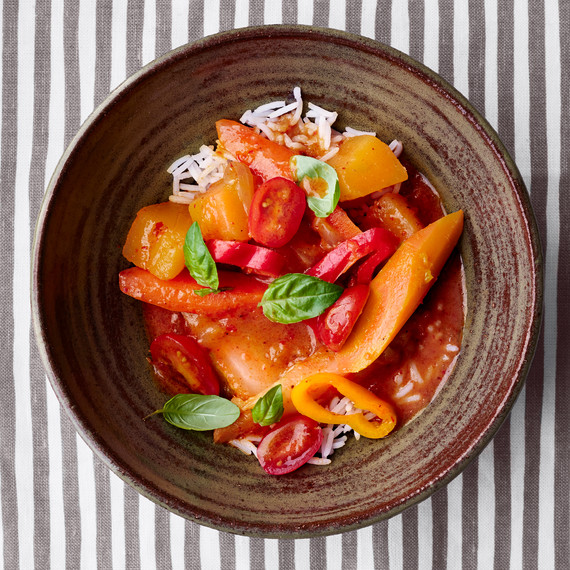 Not too spicy but lively enough to warm everyone on a winter night, this coconut milk veggie curry stars butternut squash and carrots. And this recipe is easy street: It yields two nights of dinner. Freeze the second meal and you'll have a delicious dinner for one of those difficult nights when both time and energy are in short supply.
Get the Winter-Vegetable Red Curry Recipe
THURSDAY: Rigatoni with Sausage and Fennel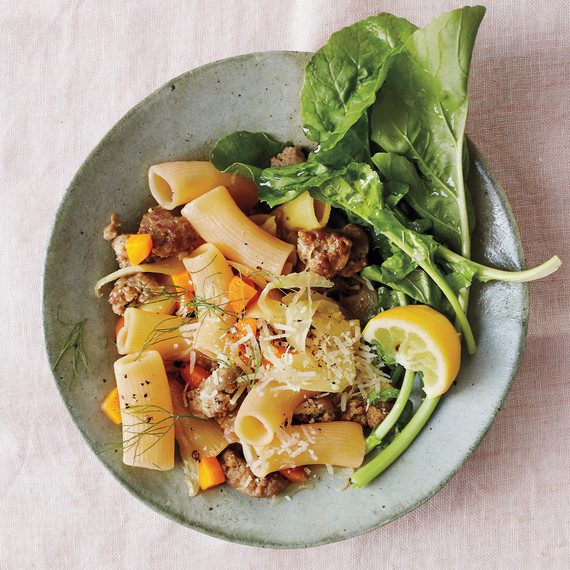 If, like me, your cooking energy lags sometimes during the week, that's time to reach for the bag of pasta. Pasta is an easy start point for a meatless dinner, but this week we're feeling meaty, remember? Maybe it's all the cold weather. Use your favorite sweet Italian sausage in this recipe -- be it pork or turkey.
Get the Rigatoni with Sausage and Fennel Recipe
FRIDAY: Baked Fish and Chips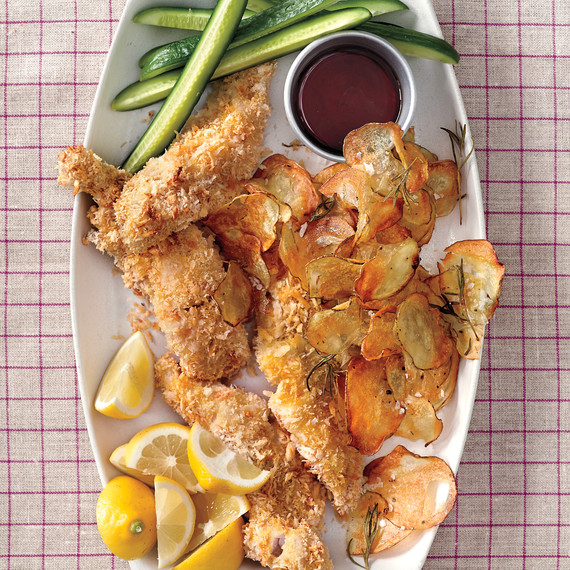 We're traditional but with a healthy twist for dinner tonight. Fish and chips is a favorite for many, but who wants to deep fry? This recipe is baked not fried, uses olive oil and panko, and it's all cooked in the oven. It's Friday: Sip a glass of wine while the oven does the work.
Get the Baked Fish and Chips Recipe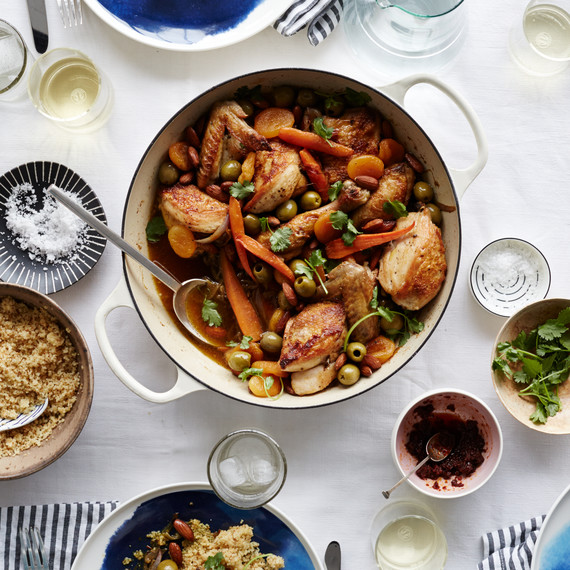 The weekend comes, and all bets are off. Maybe you ate so much for brunch that dinner is irrelevant? Hopefully you are trying that new restaurant or have been invited out. If you're hosting, don't stress. Go casual, comfy, delicious, and a touch exotic with this Moroccan menu. The entree, chicken tagine with almonds, apricots, and olives, is really a luscious chicken braise by another name.
Get the Easy Moroccan Menu
Sunday: Get Ahead -- The Efficiency Kitchen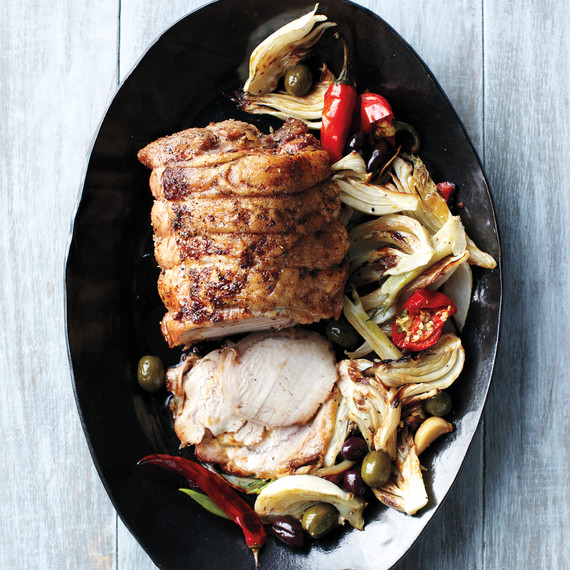 Maybe this is the day someone else is cooking for you. If not, get ahead in the kitchen by making a dinner that yields leftovers or elements you can use in one or two meals the coming week. Turn on the oven for roast pork and lots of roasted vegetables.
Get Our Efficiency Kitchen Strategies