The Basics
Dessert wines start with grapes that have a very high sugar content. During the fermentation process, that natural sugar is converted into alcohol -- and wines that have all the sugar fermented out of them are referred to as "dry." In the case of dessert wine, when we want to keep some residual sugar, the fermentation is stopped early on so the natural sweetness remains. Dessert wines can be red, white, and rose, and then can range from just a whisper of sweetness to a full-on-sugar-bomb in your mouth. The key to a fantastic dessert wine is high acidity -- which keeps all that sweetness from being too cloying and gives complexity, vibrancy, and "lift" to the experience of drinking it!
Breaking Down Sweet Styles
Dessert wines are a diverse family. The lightest are delicate with just a hint of honey, and the richest are bold, luxuriously mouth-filling sippers. Both are equally lovely tippling on their own on or drizzling over ice cream. Check out some of these different styles and discover your new favorite.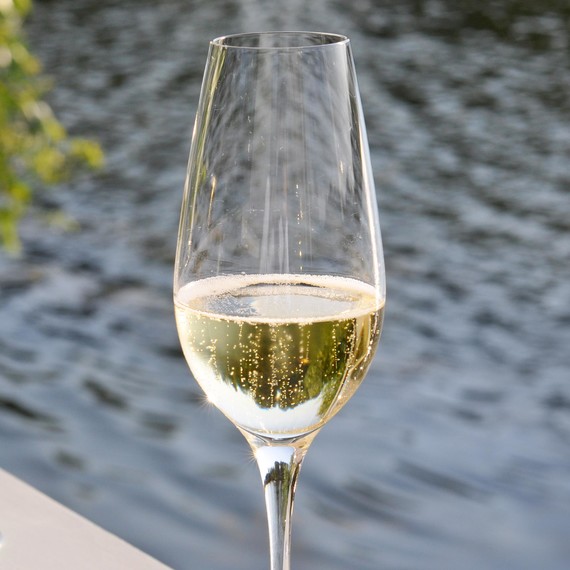 Sparkling Dessert Wine
If you're seeking something sweet for brunch, an afternoon picnic, or a day at the beach, look no further than sparkling dessert wines. Light, effervescent, and typically low in alcohol, the bubbles make these wines festive and fun for any time of day. Look for sweet sparklers made from Muscat, Brachetto, Riesling or Torrontes grapes.
Pair With: Fresh strawberries and peaches.
Ones to Try: Cascina Castellet Moscato d'Asti 2013, Elio Perrone Rosato Bigaro 2012, Familia Schroeder Torrontés Deseado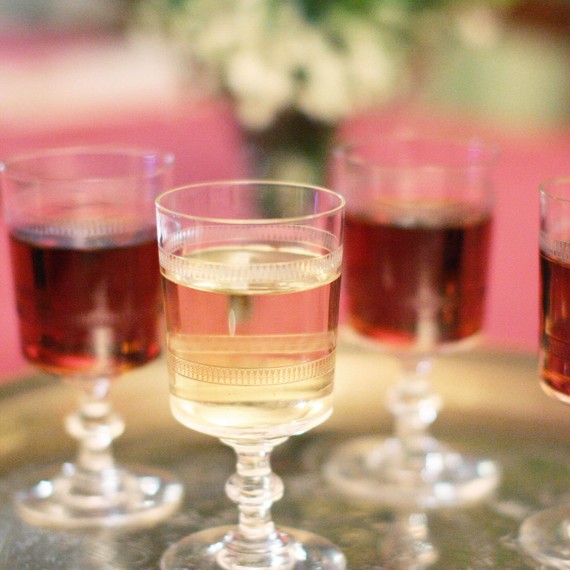 Sherry
Not just for Grandma anymore, sherry is a fortified wine from Andalucía on the southern coast of Spain and runs the whole spectrum from bone-dry and delicate to insanely rich and sweet. The dry styles are making a comeback on bar menus everywhere, as both an accompaniment to food and a base for cocktails. However, for dessert, look for sherries in these three styles: cream, moscatel, and Pedro Ximenez (PX). Dessert sherries have incredibly decadent flavors like chocolate, toffee, nuts, and figs.
Pair With: Flan or creme brulee
Ones to Try: Lustau East India, Valdespino Moscatel Promesa, Sandeman Rare Royal Ambrosante Pedro Ximenex 20 YO
Concentrated, Rich Dessert Wine
There are a few different ways to make these incredible wines. In all cases, the sugars in the grapes get concentrated prior to crushing. Methods include "Late Harvest" wines -- leaving the grapes on the vine very late into the growing season so they essentially turn into raisins, sometimes even through the first frost (ie, "Ice Wine"). Some producers use the "Passito Method," where they dry the grapes on straw mats before turning them into wine. And finally, some grapes take on a fungus called Botrytis (or, "Noble Rot"), which evaporates the water and concentrates the sugars (it sounds unpleasant but trust me, the result is magical). All of these rich dessert wines have a luscious, thick viscosity and are the very best thing with complex flavors like honey, marmalade, flowers, and spices.
Pair With: Blue Cheese
Ones to Try: Fèlsina Berardenga Vin Santo 2004, Chateau Rieussec Sauternes 2008, Santa Julia Late Harvest Torrontes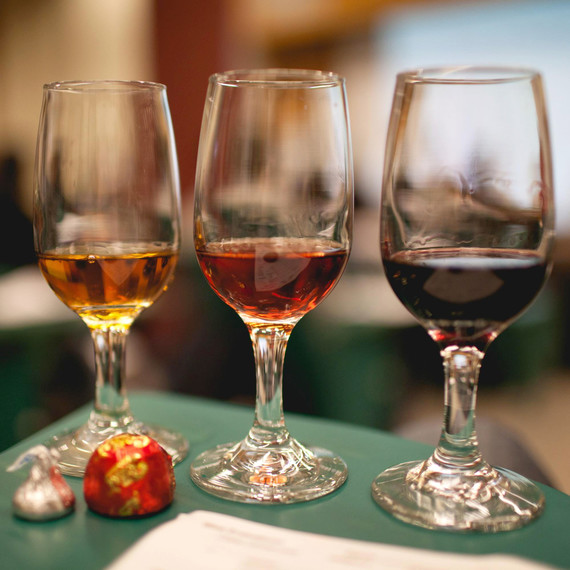 Port
Coming from the Duoro region in Northern Portugal, port wines are made by adding some brandy to the grape juice to stop the fermentation and preserve some of the residual sugar. It's a nice little kick of booze -- perfect for keeping warm in the cold winter months. Ruby Port has more dark, rich fruit to it. Whereas Tawny Port is more on the butterscotch/caramel tip. Pour some by the fire and prepare to get cozy!
Pair With: Chocolate, chocolate, or did I mention chocolate?
Ones to Try: Quinta do Noval Late Bottled Vintage Port 2007, Taylor Fladgate 20 Year Tawny Port, Graham's '6 Grapes' Oporto
Put your wine knowledge to the test with this White Sangria recipe!