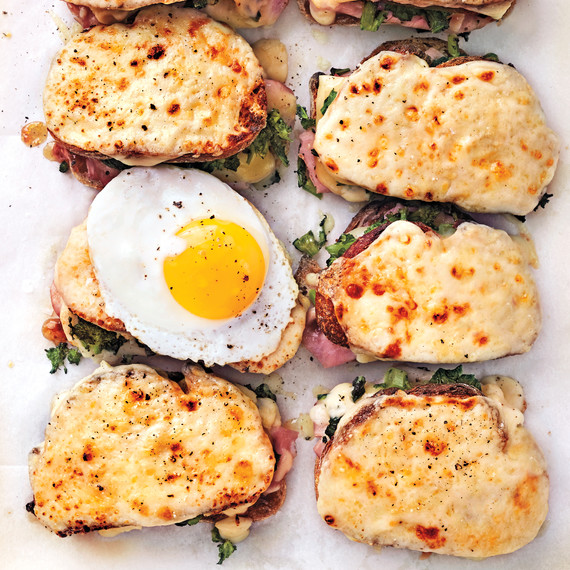 You know a grilled cheese is a good thing, especially during the winter when its warm, crispy, gooeyness is particularly comforting. Well, we knew we could make a good thing even better: That's why a grilled-cheese sandwich was one of the recipes on food editor Shira Bocar's list when she was developing recipes for our melted cheese story. Shira wanted to explore which cheeses melted best and were most delicious in different recipes.
Learn More About Melting Cheese
While she adores the classic American-style grilled cheese, Shira wanted to take the sandwich "to the next level." She did by adding broccoli rabe for a pleasant touch of bitterness againts the buttery ooze of the melted fontina; her cheese of choice, which has a mildly tangy flavor and is renowned for its superlative melting quality.

For the cover image, Shira explains, "We converted it into a croque monsieur and croque madame -- because bechamel makes everything better!" The classic French croque monsieur is simply a hot ham and cheese sandwich topped with bechamel sauce, more cheese, and baked -- not grilled. The madame goes a step further, it's topped with an egg. These are luxury sandwiches, just the thing to brighten a bleak, cold winter day.

Our new favorite recipe is not entirely traditional, after all we're using Italian fontina cheese and not the traditional Swiss Gruyere (which is what you will find on a French sandwich), and adding the broccoli rabe, but it is absolutely delicious.
Get the Croque Monsieur and Croque Madame Recipes
And the pic? Shira explains the power of an overhead image: "It's very striking and graphic. We used a lot of sandwiches because that seemed abundant, like a fleet of sandwiches. We decided to add one in with an egg because an egg makes it inviting." And, she admits, the croque madame is her favorite.
Get Shira's Melted Cheese Recipes

What's your secret to grilled cheese glory? Tell us which recipe and which cheese you like to use.
Watch the steps for making another delectable melted cheese recipe, our Meatball and Mozzarella Casserole: