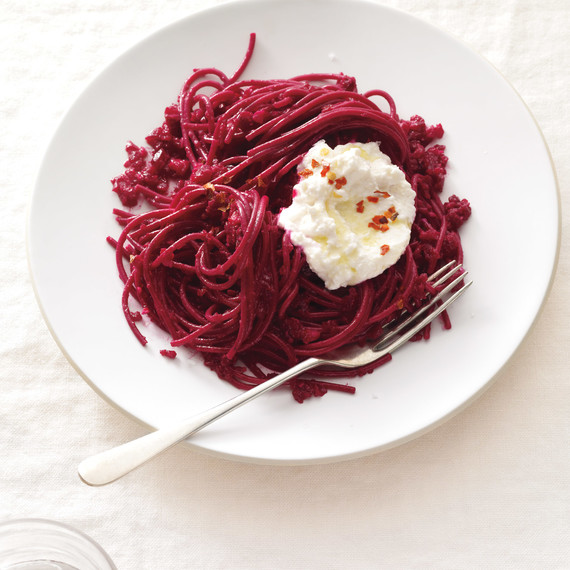 Beet Pasta with Ricotta
Beets keep your heat beating. They are a prime source of potent B-complex vitamins, minerals (like iron and magnesium), and nutrients (like betaine) -- all of which lower the levels of compounds in your blood that attack your arteries and increase your risk for heart attacks. In this dish, pureed beets are mixed into farro spaghetti, which is rich in blood-pressure-lowering fiber. Just one cup of farro has 10 grams of fiber -- that's 40 percent of the daily recommendation for women and 27 percent for men. Additionally, the tangy sun-dried tomatoes (rich in lycopene), flavorful olive oil (rich in healthy fats), and hearty walnuts (rich in fiber) are tossed together into the mixture for quite the delicious meal.
Make the Beet Pasta with Ricotta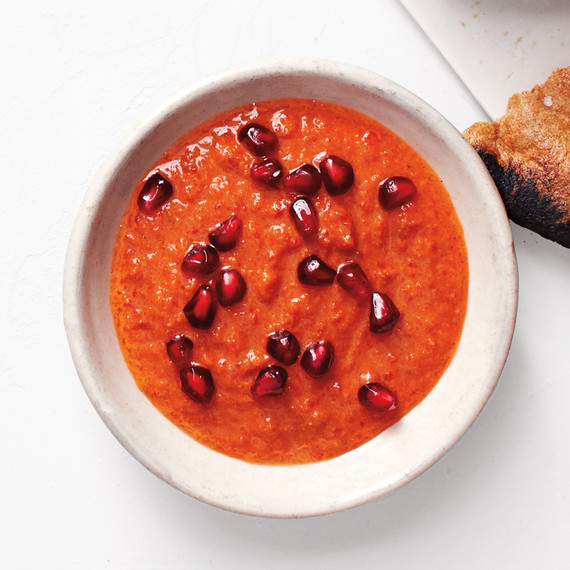 Red Pepper and Walnut Dip with Pomegranate
One of our dietary mantras from "Clean Slate": Snack smart. This homemade dip -- a savory twist on the classic Middle Eastern dip called muhammara -- is loaded with heart-healthy ingredients including pomegranates, walnuts, and red peppers. Walnuts are rich in potent antioxidants that are believed to reduce heart disease; and even a half cup of roasted red peppers provides you with almost your entire recommended daily amount of vitamin C (this vitamin helps to reduce high blood pressure and strengthens your arteries). Process these and garnish with tangy pomegranate seeds. Specifically, pomegranate seeds are a good source of two essential vitamins -- C and K -- which TKTK. Besides being a tasty treat, this dip is a treat for the eyes -- just look at that bright red color!
Make the Red-Pepper and Walnut Dip with Pomegranate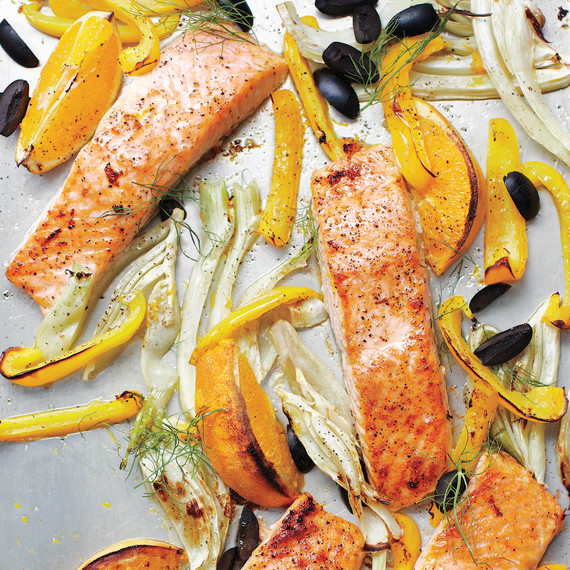 Salmon with Fennel, Bell Pepper, and Olives
You've likely heard that salmon is good for your heart -- just make sure it's salmon fillets of the wild variety. These are a prime source of omega-3 fatty acids, which help to lower blood pressure, stabilize your heartbeat and reduce inflammation. Pair with fresh fennel (this has a light licorice flavor and contain nutrients like fiber and vitamin C) and juicy bell pepper (also rich in vitamin C), and garnish with orange zest and kalamata olives (rich in monounsaturated fats that can help to lower cholesterol levels). Toss these together with olive oil and seasonings, and you have a fresh winter meal! Oh, and did we mention that it can be whipped together in 30 minutes?
Make the Salmon with Fennel, Bell Pepper, and Olives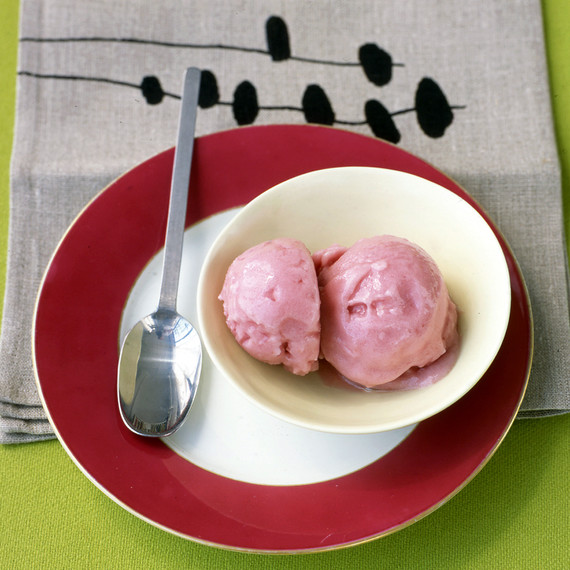 Red-Wine and Pear Sorbet
If you're looking to kick the late-night ice cream habit, you don't necessarily need to ditch that sweet creamy treat altogether. This dish combines two ingredients commonly associated with heart health: red wine and pears. The long-held wisdom is that a glass of red wine a day is good for the heart, but this isn't straightforwardly true. It is the antioxidants in red wine, which prevent the development of clots in blood vessels and particularly the coronary arteries connected to the heart. Pears are rich in fiber.
Make the Red-Wine and Pear Sorbet
Vegan Dark Chocolate Coconut Oil Truffles

As if you needed a reason to eat chocolate. Traditionally, truffles are made with heavy cream -- steer clear of this. Instead, swap it out for virgin coconut oil. Coconut oil is about 2/3 medium-chain fatty acids, which are sent to the liver and converted to energy rather than being stored as fat. For sweetness, choose dark chocolate over milk or white varieties (70 percent or more makes it "dark") -- dark chocolate raises good cholesterol and lowers blood pressure. We suggest that you aim for a 1-ounce serving per day. (Yes, indeed an excuse for chocolate!)