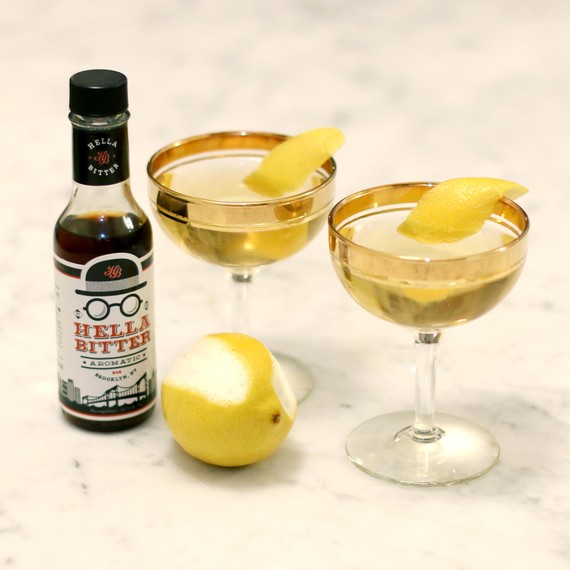 Traditionally this classic cocktail is incredibly simple -- just a sugar cube, bitters, Champagne, and a lemon peel. To make this cocktail unique and perfect for a cold winter night, we introduced the richness of boiled cider. Boiled cider is a little known but fantastic ingredient popular in northern New England. It's a great topping for pancakes, but our favorite use is as a wintertime replacement for simple syrup in cocktail recipes. 
The dry, toasty sparkling wine combined with the rich boiled cider, spicy aromatic bitters, and bright lemon zest results in a cocktail reminiscent of your favorite apple pie. 
Midnight Royale
Ingredients
Champagne (Cava or prosecco work fine too)
1 boiled cider sugar cube or .25 oz of boiled cider (directions below)
3 dashes of aromatic bitters
Lemon peel
To make the boiled cider:
In a heavy-bottomed saucepan add 1 gallon of apple cider and gently simmer over medium heat for 5-8 hours, stirring occasionally.
Remove from heat when the color deepens to a dark ruby and it coats the back of a spoon. The finished volume should equal about 1 pint (16 oz).
Optional: Strain through fine chinois or a cheesecloth.
Note: You can make boiled cider ahead of time, it will last up to 4 weeks in the fridge. If you don't have time, order a bottle here.
To make the boiled cider sugar cube:
Take a rough cut sugar cube and saturate it with boiled cider.
Use the sugar cube immediately or make a large batch and dehydrate them by spreading the cubes out on a cookie sheet and placing in a cold oven for up to 3 days -- they will still be a little sticky to the touch.
To make the cocktail:
In a stemmed glass, add the cider sugar cube (or boiled cider) and 3 dashes aromatic bitters.
Top with Champagne.
Gently twist the lemon peel over the Champagne and delicately slip it into cocktail. 
Visit Hella Bitters online for more cocktail recipes and shop their products in the Martha Stewart American Made Market!