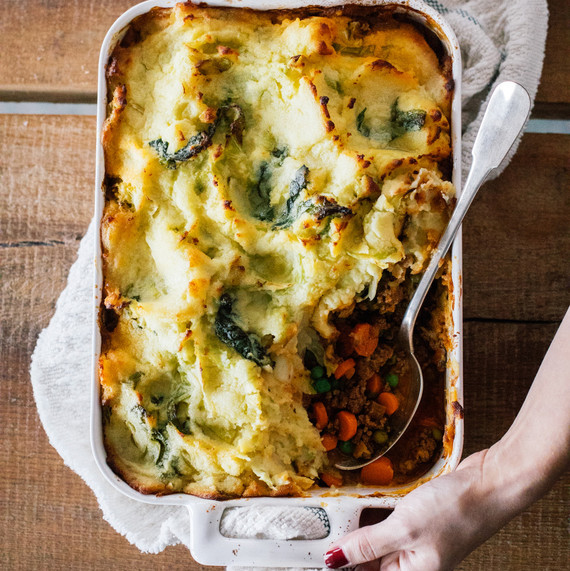 Maybe you grew up on pasta or rice. If your family is of Irish (or Scottish, or English or Welsh) origin, chances are you ate a lot of potatoes and not so much pasta. Mashed, roasted, or baked, potatoes are versatile and cheap, and they last in the pantry (no refrigeration required).
Because the potato was the staple food for the Irish through many a hard time, thrifty cooks created many recipes that use a lot of potatoes and a few other ingredients to make a simple, substantial, and tasty dish. In honor of St. Patrick's Day, we wanted to share a few of these potato sides. You need something to go with your roasted leg of lamb!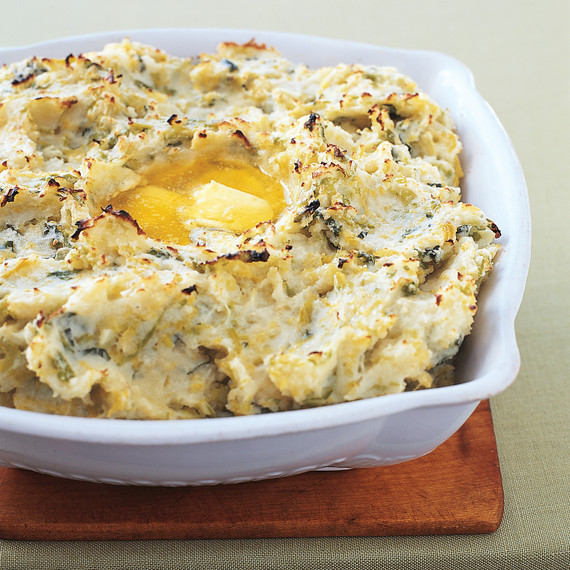 Colcannon
Author and Irish food authority Malachy McCormick says that Colcannon is Ireland's national dish. (For the record, he dismissed or corned beef and cabbage as a New World creation.) Of course, he's right: This is a dish of mashed potatoes and cabbage or kale dressed up with a little butter and milk--the kind of food people ate regularly. Our recipe also calls for leeks, which definitely elevates the mash.
Take it up a Notch and Make our Colcannon Shepherd's Pie
Boxty
A great name for a great dish: Boxty is where mash meets pancake, and also where cooked potato (the mash), meets raw potato (the grated). In addition to its distinctive name, boxty has a fabulous texture that's the result of combining the raw and the cooked spud. Have boxty for breakfast (in place of the fried bread or as well as) or serve it with bangers (that's pork sausages if you didn't know).
Get the Boxty Recipe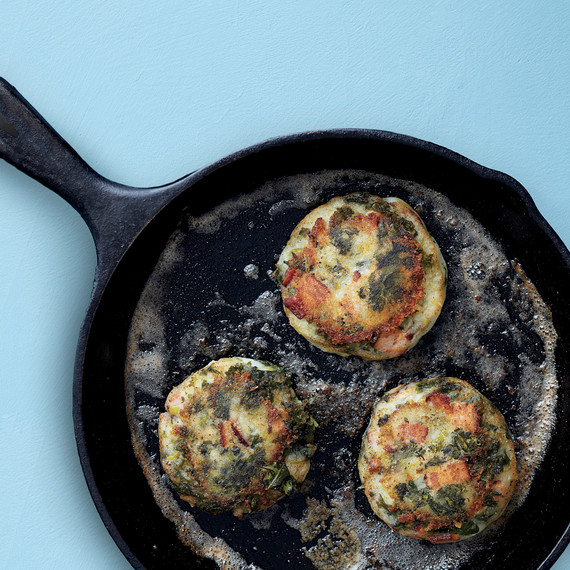 Mashed Potato and Kale Cakes
So, yes, we Brits have a dish called Bubble and Squeak. It's a great name: The leftover potatoes bubble and squeak as they gently fry in the skillet with leftover cabbage or other leafy green. You make it on a Monday because you have those leftovers from the Sunday roast dinner. This delightful kale and potato dish is a riff on the traditional dish. It takes the basics a stage further because you actually have to form the mixture into cakes, which do look a lot better than the rather ragged format of Bubble and Squeak. Make this with leftover boiled or mashed potatoes by all means. And of course, kale makes everything better.
Get the Mashed Potato and Kale Cakes Recipe