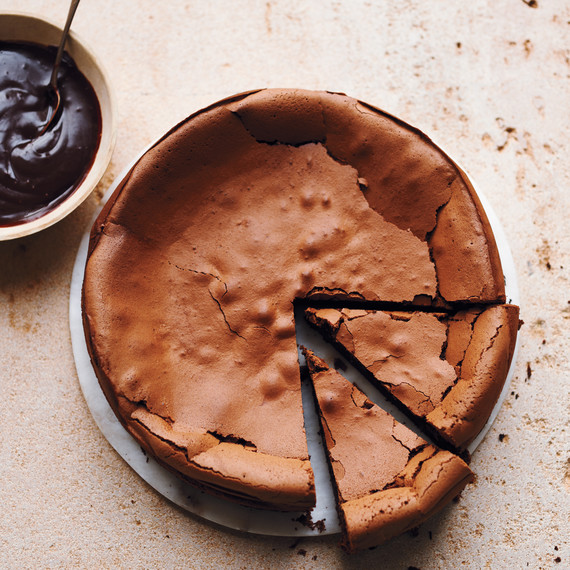 I mean, who can resist such luscious, fudgy cake? Okay, maybe the chocolate hater or dedicated dieter. Being flourless, this cake is perfect for Passover or those who cannot consume wheat or gluten, as well as for those who just plain love rich, gooey chocolaty flavor -- oh, and it works pretty nicely as a Valentine's Day dessert too.

So, is a cake without flour -- without even a non-wheat flour or ground nuts standing in for the flour -- really a cake? Well, the Austrians think so -- they have a rich heritage of flourless tortes (try this one). And we bet you'll no longer care about definitions after one bite of this creation. It is intensely chocolaty, extremely rich, and it's a cinch to make -- even on a weeknight -- but definitely worthy of a dinner party or special celebration. Really, this is a cake to love, to devour, and to make over and over again.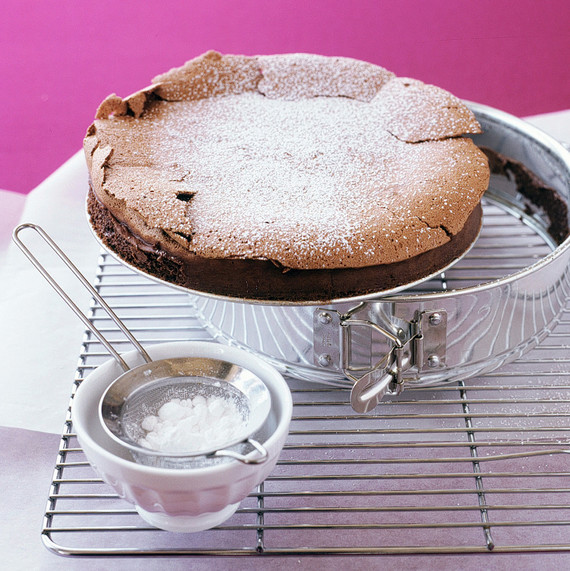 What makes it so rich is a lot of eggs, and butter -- and chocolate. Be sure to use top-notch ingredients; as this cake has so few ingredients, their quality really matters. The method is straightforward: Chocolate and butter are gently melted, eggs are separated, and the whites whipped with sugar and gradually added. Some recipes add the yolks with chocolate and butter, others mix them with some of the butter and then add them to the melted chocolate mixture. The cake bakes at a moderate to low temperature to retain its gooey deliciousness: The edges and top become crisp and crackly while the interior is moist and fudgy. Variations abound; our favorite is to add a little espresso powder to the batter for the ultimate mocha experience.
Bake our Flourless Chocolate Espresso Cake
Some say it's so rich you just need a little piece. I need another slice while I consider that proposition.
Watch how to make our quick, easy, and totally delicious Flourless Chocolate Cake: