The holidays are over and the constant supply of sugary treats has come to an end. Our kids are back to their normal school routines, but the question remains: "What do our kids really eat during the day?" Even if you pack a nutritious meal, there's a good chance more fruits and vegetables will make it into the Dumpster than into your child. And who knows what kinds of less-than-optimal snacks they are buying with their spare change? Of course, you could ask your children to report on their daily eating habits, but there's no guarantee you'll get an honest answer.
At Georgie Porgie, we believe that healthy eating should be fun. There are some terrific ideas out there, such as transforming ordinary fruits and veggies into fantastical creatures or making creative bento boxes -- which are fabulous -- if you have the time. But who does?
A quick way to make healthful foods more appealing is to label lunch containers with funny pictures or messages. For example, make a side salad of shredded winter greens and roots (tossed in a lemony vinaigrette) and put a fun tag on it that reads:  "SLAW down and enjoy your lunch!" This is a sneaky way of teaching your kids some more advanced food vocabulary while also making mealtime fun. During the winter months, you can add some refreshing color and vitamins to their lunch bag with delicious citrus fruits that are at their peak of flavor. Attach a sweet and silly note like, "For you, my darling -- CLEMENTINE!"  And of course, you can always reach for dried fruits when fresh ones are not in season.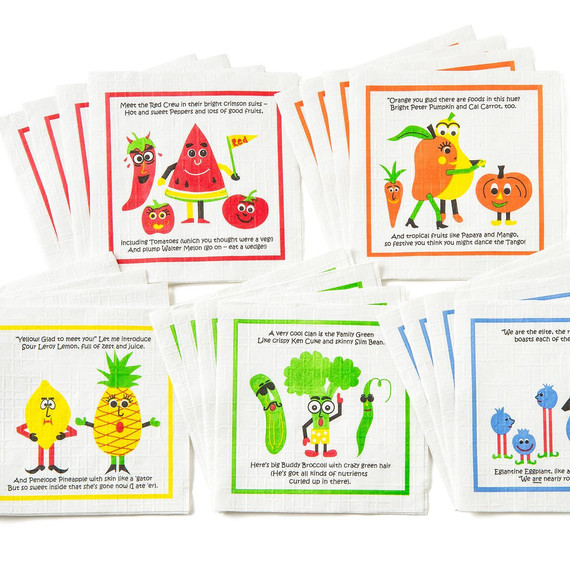 If you aren't the artistic type, but still want to send your kids to school with a fun lunch -- toss in one of our "Lunchbag Lessons: Produce Pals." This set of paper napkins is designed to encourage healthy eating by introducing kids to different families of fruits and vegetables through the use of color and rememberable characters. They come complete with funny pictures and easy to memorize rhymes, such as "Yellow, glad to meet you! Let me introduce sour Leroy Lemon full of zest and juice." Use them every day and your kids will make friends with "Penelope Pineapple," "Big Buddy Broccoli," and the rest of the gang. What kid wouldn't want to eat healthier? Throw some fun into your kids lunch and encourage them to eat a rainbow every day!
Shop Georgie Porgie's products in the Martha Stewart American Made Market!