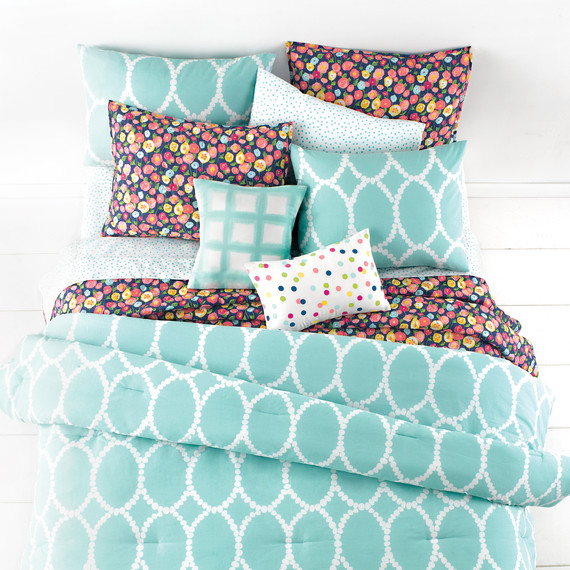 1. Whim feels young, fashion-forward, and sophisticated – all at once. What was the inspiration behind this fresh new collection?
Throughout the process, we were continually inspired by our own homes and personal taste. When we first started working on Whim, Martha wanted to know what products we love and what our bedrooms looked like. So we brought in images of our own rooms and objects that represented our personal style, and shared those with one another. The result is a line of bedding that's fun and fresh, and something we'd want to find in stores ourselves. (It's also 100% cotton!)
2. What sorts of products from the new line can we look forward to owning?
The bedding can be purchased in five-piece sets, which contains a comforter, two standard pillow shams, and two decorative pillows. That's a great starting point for any bedroom. Then, you can layer in sheet sets and quilts, which are also offered in colorful prints and cheerful solids. We love that you can mix and match these as you see fit to truly make the bed your own.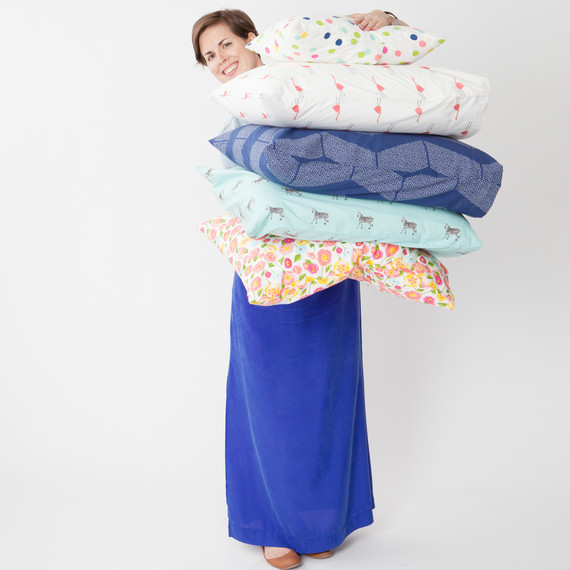 3. Got a favorite pattern?
If I had to choose, I'd go with the flamingo sheets! They've been a fan favorite around the office since we first showed it in artwork form. I love that they add a touch of whimsy to more subdued designs, and they pair so well with our "Happy Poppy" comforter set, too.
4. Describe your workspace within the MSLO headquarters.
We are lucky to have huge windows that keep us sun-drenched and inspired with the view of the New York City skyline. That's just amazing. And each one of us designers has a bulletin board that shows off our personality (I personally have a lot of Whim-related items on mine). We're constantly surrounded by inspiration, from fresh flowers to fabric samples of all different textures and colors.
5. What kind of person do you envision owning Whim collection bedding?
I envision someone fun, cheerful and happy -- someone who'd like to showcase their personality in the style of his or her home. But there's a lot to love in the Whim collection. We think there's something for everyone.