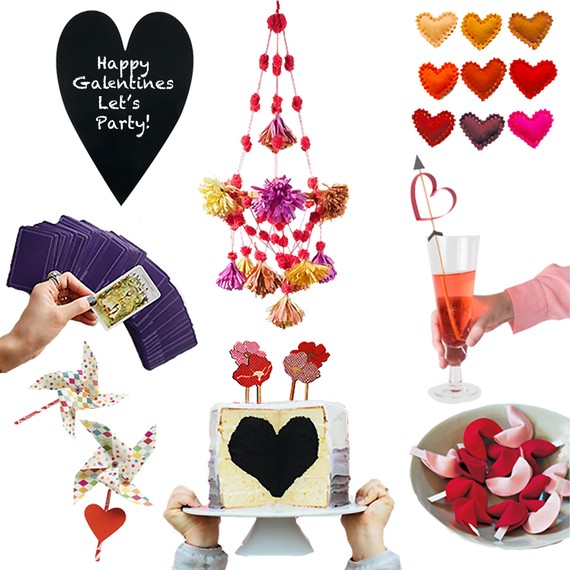 It's that time of year when red hearts and couples start emerging from the woodwork and suddenly take over your field of vision. It may seem like everyone's paired up around this time of year, but not being in a relationship shouldn't stop you (or anyone!) from celebrating this festive day. Throw a Galentine's Day party and show your girls just how much you appreicate them. Here is a list of decoration ideas, DIYs, and recipes to try. 
Decorate
Welcome your guests with a heart chalkboard. You can write out some of the fun activities you've planned or use it as a menu board. Don't have to time to order one? Cut a heart out of cardboard, coat it in chalkboard paint, and punch two holes on either side of the heart once it's dry. Pass a red ribbon through each hole and secure with a knot at each end.
Dress up your home with a paper pouf pom-pom chandelier. Bonus points if you make it yourself!
Add some whimsy to your decor with these fun pinwheels. They also make great take-away gifts.
Celebrate
Find out if love is on the horizon (or on its way out!) with tarot cards. You may be surprised at what the cards have in store!
Have your guests make these super cute, DIY felt heart pins from Purl Bee. They are a snap to make, and will add just the right touch to any outfit.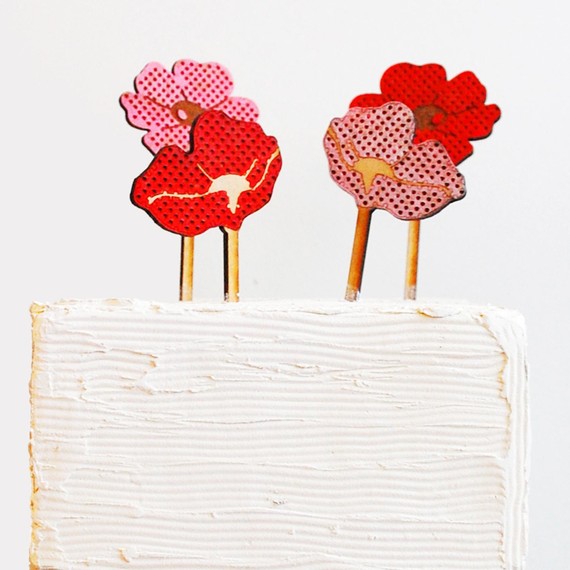 Have Your Cake and Eat It Too
A Galentine's Day party isn't a party without something sweet. You can go for bite-sized, decorative treats, or go for something a little more ambitious, like this black heart cake. It will definitely surprise and delight your guests. The cake topper is the best part!
Go the extra mile and serve a Valentine's Day-inspired cocktail. And for the nondrinking crowd, make an easy pink drink by mixing sparkling water with some cranberry juice and serving it over ice. No matter what kind of drinks you serve, this DIY cocktail adornment is a fun and easy way to make any beverage look Instagram-worthy.
Once the evening is done, send your gals home with these adorable felt fortune cookies (stuffed with chocolate, obviously).
Want more ideas for your Galentine's Day party? Check out my Valentine's Day Pinterest Board!
Like Madeline's post? Check out her amazing products in the Martha Stewart American Made Market!