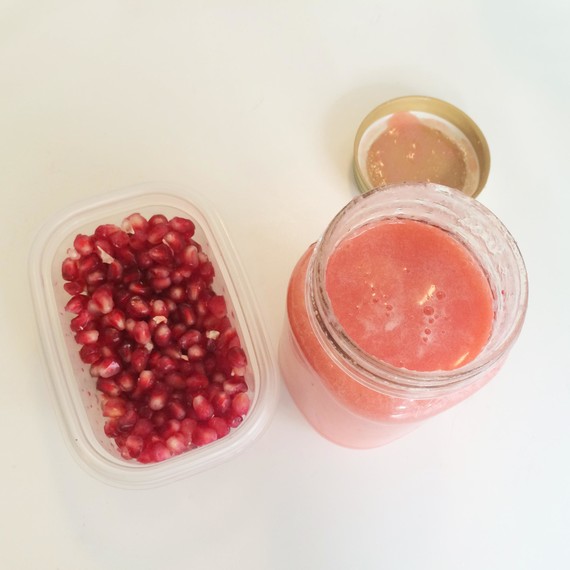 It's day two of the Clean Slate Challenge, and I wake up feeling sore and hungry. The barre class I took yesterday has caused muscles that haven't been used in a while to scream for attention. I stretch and move a little gingerly as I start to make my breakfast and lunch for the day.
My morning is much more relaxed than the day before. As I'm finishing the salad, I also whack the seeds out of half a pomegranate -- it is my favorite fruit when in season, and I know I'll want something to munch on besides the smoothie.
On the walk in to work, my stomach grumbles, and I start daydreaming about the salad I will be eating later, most likely at my desk. It's normal for our team to chat while we eat at our desks, but I often think about the downsides of that habit. The Clean Slate Challenge has definitely made me more aware of how small, unhealthy choices throughout the day can add up, whether it's eating at my desk and not taking an afternoon walk, or getting one too many beers after work with my colleagues.
Even though I woke up pretty hungry, I find the fiber in both the smoothie and the pomegranate keeps me well-satiated until lunch. Opening the salad container, I realize I forgot the sunflower seeds. Whoops! The perfectly ripe avocado and crunchy veggies are still delicious, however.
I don't think the lack of sunflower seeds is the culprit here, but by about 6 p.m. I am very hungry. We are cranking out new features this week at SproutVideo so I don't have time to even consider getting a snack during the workday. While doing my grocery shopping after work, my butcher offers a sizable sample of kielbasa to help with my decision-making process, and I can't resist ... it's delicious.
I run a couple more errands and find that chips and salsa somehow made it into my basket while I was picking up soy milk. Cracks are appearing in my resolution to follow the challenge to a T.
At dinner I find that the soup is more delicious than the day before, although Robbie's kielbasa and rosemary-roasted potatoes smell tantalizingly good. The dill complements the flavor of the broth particularly well, and it is surprisingly filling. I do steal one or two potatoes from Robbie's plate, however. 
Even though I cheated a little bit on the challenge, I don't feel too bad about it. For me, maintaining some semblance of balance is important. After not drinking all week, exercising, and eating nourishing whole foods for two days, I am feeling really good. So far I have managed to follow the challenge within the parameters of the 80/20 rule, in which 80 percent of the time you are a saint, and the remaining 20 percent of the time you are more indulgent, and that's good enough for me.