When I heard about the Clean Slate Challenge, I was really excited to get started. Everyone's on a health kick in January, and I am no exception.
To me, fitter means stronger, faster ... and the ability to score more goals on my coed soccer team! Healthier means eating more whole foods, and reducing my intake of meat, dairy, and alcohol. Healthier means making more time for myself to engage in wholesome activites I enjoy -- playing with Obi, my adorable rescue dog, doing sun salutations and meditating, and catching up with friends in far-flung places. 
Day one of the Clean Slate Challenge actually began the night before. As the head of marketing for SproutVideo, a video hosting startup, I have really busy mornings, and often find I am pressed for time. I purchased all the necessary ingredients for the three different Clean Slate recipes (strawberry and grapefruit smoothie, beet and avocado salad, carrot and spinach soup with dill) on my walk home from work to save time.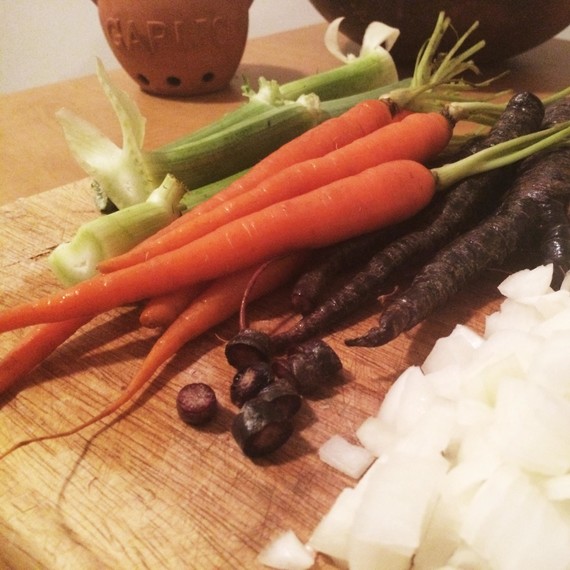 I prepared the broth for the big batch of soup while making dinner for Robbie, my fiance, and me. I threw in some purple carrots from our CSA-style grocery delivery service, Quinciple, and the broth turned a rich reddish purple from the mixture of carrots. The kitchen smelled lovely.
In the morning, I set out to prepare the smoothie and the salad after my daily hour at the dog park with Obi. My usual routine for breakfast and lunch is just a couple minutes long, and doesn't usually require this much chopping! Although I'm kicking myself for not doing this the night before, I realize I'm happy to be taking the time to make a better lunch than usual, even if I might be a bit behind schedule.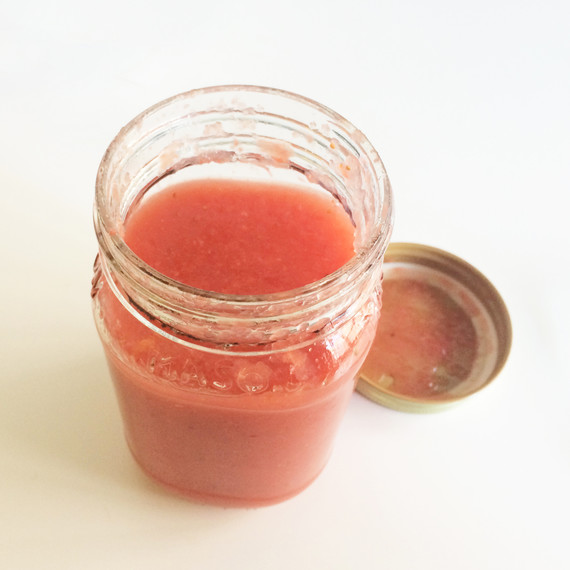 The smoothie is really tasty! I love the tartness and the thicker texture. I share a glass with Robbie, who also approves.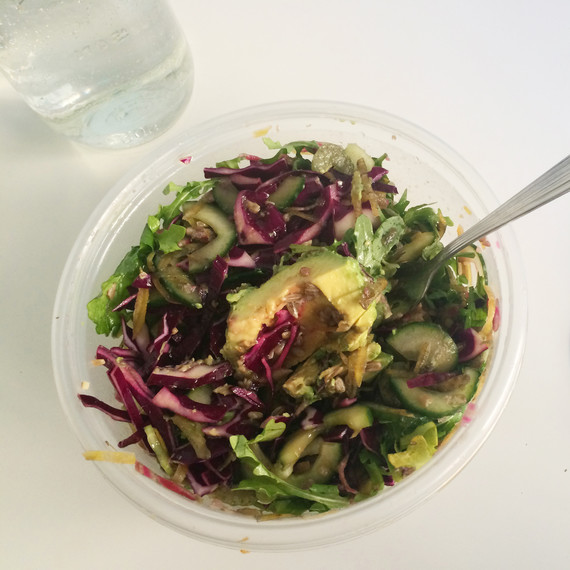 The smoothie is surprisingly filling, and by 2 p.m. I'm really excited for the salad. The avocado is really creamy and full of flavor, and I like the combination of the crunchy sunflower seeds and peppery arugula. After another hectic day, I rush to a class at Pure Barre.
After a really tough workout and some time chatting with friends, I started thinking of the delicious soup I'd prepped and rushed home for a late dinner.  The soup is really comforting on an extremely cold night.
Even though my schedule was hectic and I felt a little more pressed for time than usual, I think that easily could have been avoided had I just spent a little more time planning and preparing. I really wasn't hungry throughout the day, and each meal included in the Clean Slate Challenge was really tasty. I'm feeling a lot better about continuing with the challenge now that most of the prep is out of the way.
My one concern is the overall lack of protein in the meals, since there are no legumes or nuts included in the recipes. I mentally note that subbing almonds for the sunflower seeds and adding white beans or chickpeas to the soup would make these more substantial meals, and would probably taste pretty good too. Then my head hits the pillow, and I sleep until the sun rises and I get to take it all on again.