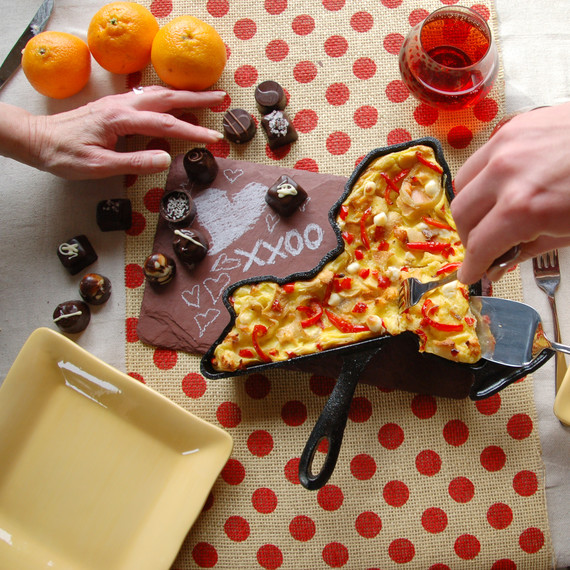 When it comes to concocting a brunch to remember, leaving the house is completely optional. Think of it this way: If you choose to make brunch yourself, you don't have to dress up (unless you want to), you don't have to worry about choosing from a big list of menu choices (unless you really are an overachiever), and you'll probably end up saving a bit of money. Plus, you get bonus points for effort, right?
Here's the menu:
Instead of the expected mimosa, try a pink-hued vodka-Champagne aperitif. The Rose Noir Cocktail is not only the perfect color for a Valentine's Day meal, but it's bubbly and light enough to match up well with whatever is on your menu. Go the extra mile and add a touch of DIY to your tablescape. Buy a long length of burlap -- enough to go the full length of your table and then some -- and add red, pink, or white polka dots with a pouncer.
When it comes to the main course, presentation is key! Cheese is always a safe choice as an appetizer, not to mention it'll go great with the cocktail. Plate your dairy on a beautiful board from Brooklyn Slate. It's got sizes for all crowds, and you can mark it up with chalk (the perfect love-note opportunity!). To top everything off, a Roasted Red Pepper and Kale Fritatta is just fancy enough for a special occasion without the added effort. Make it in the shape of the state where you met or she/he is from.
Get the look by shopping the American Skillet Company's products in the Martha Stewart American Made Market.